Mourinho warranted in his concerns over defence
With the dust still settling after Chelsea's frenetic 6-3 victory over Everton at Goodison Park on Saturday, Blues boss Jose Mourinho will have spent the past 48 hours reflecting on the positives and negatives of the result.
The positives are many. Six goals scored, Diego Costa's form, the link-up play of Cesc Fabregas, and the fact that three games into the season Chelsea are top of the Premier League -- all these things have given Mourinho an extra spring in his step ... but it is the negatives that will be preying on his mind, as three goals were conceded.
Speaking after the game, the Special One highlighted his concerns. "I know they are a good offensive side but to concede three goals is too much," he said, serving notice that work needed to be done at the back. "All of them I can clearly define the mistakes, the people involved and where we failed."
Historically, a key feature of Mourinho's title-winning teams has been resolute defending and the clean sheets that result. In the process of winning the PL in 2004-05, Chelsea conceded just 15 goals in 38 games. A decade later the Blues have already shipped more than 25 percent of that total in just three matches.
It's not calamitous, because those games have been won, but it needs attention because Mourinho's backline will face sterner examinations this season -- and his forwards might just have an off day. Look what happened to Manchester City at the Etihad on Saturday. Bristling with firepower, they failed to breach a stubborn Stoke City defence and were undone by a breakaway goal. Citizens boss Manuel Pellegrini described it as a "bad day" -- and Mourinho will no doubt have watched the highlights and shivered at the prospect of his creative players having a similar "bad day."
So far this season, Mourinho's outfield defensive setup has mirrored that which he preferred during the last campaign. Branislav Ivanovic at right-back, naturally right-sided Cesar Azpilicueta at left-back, and a centre-back pairing of captain John Terry and Gary Cahill shielded by Nemanja Matic. The one key difference in the whole equation has been the introduction of Thibaut Courtois as goalkeeper.
- Hirshey: Say goodbye to 'boring' Chelsea
- AC Milan sign Marco van Ginkel on loan from Chelsea
- Worrall: Recovered Costa crushes Everton
During the summer, Mourinho signed left-back Filipe Luis from Atletico Madrid for 15.8 million pounds, but has yet to start the player, knowing that in doing so he would either have to drop Azpilicueta or move him to the right at the expense of Ivanovic. The versatile Serbia international can play at centre-back, but to retain his services, which include creating and scoring goals, would mean dispensing with one of Terry or Cahill.
It's an intriguing conundrum for Mourinho, but following his comments after the Everton game, when Luis was introduced as a late substitute for Eden Hazard, there is a feeling of inevitability that a change is in the offing.
A quick analysis of the four goals that Chelsea have conceded this season adds weight to Mourinho's words of worry.
Against Burnley at Turf Moor, the Clarets took the lead when Scott Arfield volleyed home sweetly, having been picked out by an unmarked Matthew Taylor following a poorly cleared corner.
While the Blues kept a clean sheet against Leicester City in the subsequent game at Stamford Bridge, it's worth noting that but for the agility of Courtois, the Foxes might have had the lead when David Nugent was played in on the break by Riyad Mahrez, with Chelsea's attacking full-backs nowhere to be seen. It was such a scenario that proved Man City's undoing against Stoke.
Against Everton, each of the three Toffees goals were preventable.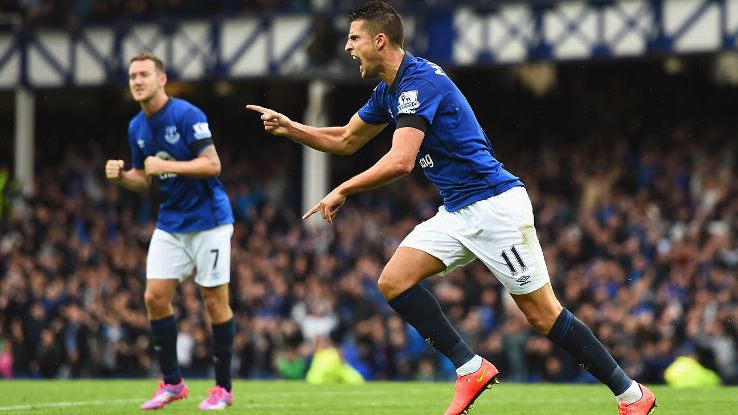 The first saw Seamus Coleman power down the right unmarked, where he was found by Aiden McGeady. Azpilicueta was late arriving to challenge and Coleman had time to cross the ball into the box where Kevin Mirallas beat Gary Cahill to the ball to head powerfully home.
The second saw McEady waltz past Ramires, Matic and Cahill and set up Steven Naismith who had stolen in behind Ivanovic with a neat pass. Naismith finished precisely.
Finally, Chelsea old boy Samuel Eto'o met a perfectly flighted Leighton Baines free kick, getting between Costa and Ivanovic on the edge of the box to glance the ball past Courtois. Mourinho will have watched these passages of play again and again and again. Would Luis have been better coordinated as a left-sided player to deal with Coleman? Would Ivanovic have blocked Mirallas? Questions, questions.
The Chelsea manager has a couple of weeks to figure out the answers before the Blues entertain second-placed Swansea City in what promises to be an entertaining Premier League encounter.
Garry Monk's side started the campaign with a 2-1 victory over Manchester United at Old Trafford, so a trip to Stamford Bridge will hold no fear for the high-flying Swans. Of course with Costa and co always capable of scoring more than they concede, Chelsea will be favourites, but if they have a Pellegrini-esque "bad day," what then?
Perhaps those three Everton goals will turn out to have been a blessing in disguise, as by then at least Mourinho will have restructured the Blues' defence.
Mark Worrall is one of ESPN FC's Chelsea bloggers. You can follow him on Twitter: @gate17marco