Chelsea and Mourinho face uphill struggle for Premier League top four
Jose Mourinho had a new target. A winner of 22 trophies including eight league titles and two Champions Leagues was reduced to setting his sights on a top-four spot. The downgrading of his, and Chelsea's, ambitions was rather obscured by the rest of his seven-minute monologue after the 3-1 defeat to Southampton on Oct. 3. Understandably, too.
The Portuguese claimed referees were afraid to give Chelsea penalties, thus inviting the inevitable Football Association charge. He accepted that his team, seemingly constructed with indomitable winners last season, now have the mentality that when they go behind, they cannot recover. He correctly insisted he is Chelsea's greatest ever manager and seemed to challenge the board to either back him or sack him. They duly took the former option.
Yet buried beneath some more incendiary comments was his new goal.
"I am more than convinced that we finish [in the] top four," Mourinho told Sky Sports. In its own way, it was remarkable. Mourinho's lowest league finish when he has been in charge for a full season is third, in 2014. In every other season, he has finished first or second. This seemed a tacit acceptance that the Manchester clubs and Arsenal will finish ahead of Chelsea; an admission that his worst start to a season will have the worst final position. He conceded the title before most of the autumn leaves have fallen.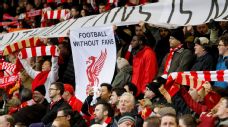 In one sense, predicting a top-four finish seems uncontroversial. Were the season starting now, Chelsea's group of players would seem a safe bet for a position in the league's upper echelons. They have one of the four biggest wage bills. Didier Drogba and Petr Cech were useful squad members but they have not lost any of last season's first-choice team and have brought in Asmir Begovic, now the Premier League's best stand-in goalkeeper, and Pedro, a three-time Champions League winner. Only John Terry of the supposedly key men is over 31, so a collective decline should not be setting in.
Yet no side has ever finished in the top four of the Premier League after making such a poor start. Chelsea's tally of eight points from as many games is 14 fewer than they had at the equivalent stage of last season. A side that has averaged one point a game would need to more than double that.
Over 10 seasons, the team finishing fourth has taken an average of 71 points. The lowest they have got was 67 (Arsenal in 2005-06) and the highest 79 (Arsenal again, eight seasons later). Perhaps Chelsea's troubles will lower the target -- after all, only Liverpool, Tottenham and Everton (once) of the chasing pack have recent experience of mustering such totals. Yet history suggests otherwise. When United dropped out of the top four in 2014, four teams recorded at least 79 points. When Liverpool did so four years earlier, 70 were required for a top-four finish. When a void is created, someone else fills it.
So Mourinho's team probably need another 63 points. While his sides have tended to be fast starters, they have also finished strongly. In his five full seasons at Stamford Bridge, Chelsea's final 30 league games have brought 65, 65, 64, 67 and an extraordinary 75 points respectively. Yet while they only dropped 15 points from their final 30 games the 2004-05 season, they also only conceded 15 league goals in 38 games. Now, they have been breached 17 times in eight games.
And here is one of the major reasons to doubt Chelsea's chances of a top-four finish. Unless their defending goes from porous to watertight, statistics suggest they are just too generous to opponents. Over 10 seasons, fourth place has conceded an average of 37 league goals. For Chelsea to do that, their defensive record would have to be three times better, from conceding two a game to two every three matches and only 20 in 30. It is not impossible, but it is improbable.
There is, admittedly, one anomaly. Liverpool came second in 2013-14 when they conceded 50 goals. Yet that, much like the 101 they scored, is an outlier. Thus far, there are few signs that Mourinho's Chelsea, who have struck 12 times in eight games, will be centurions.
Instead, Liverpool provide another precedent. Sides who lose momentum and their immunity to defeat early in a season can struggle to regain it. Rafael Benitez's team were runners-up in 2009, losing just twice in 38 matches. They lost three of their first eight games the following campaign. Chelsea, beaten three times last season and defeated in four of eight meetings this season, may sense an unwanted parallel.
David Moyes' Manchester United offer another warning from history. They only took 11 points from their first eight games in 2013-14, leaving them eighth. They finished seventh. They proved that the winning habit is easier to mislay than regain.
The only encouragement comes courtesy of one of Mourinho's old adversaries. Arsene Wenger, the man he dubbed a "specialist in failure," has a track record of turning a subdued start into a top-four finish. After eight games, Arsenal had only 13 points in 2005-06, 10 in 2011-12, 12 in 2012-13 and 11 in 2014-15. They recovered on each occasion.
But on none did they begin quite as badly as Chelsea. The last champions whose defence of their crown was as wretched were the Blackburn team of 1995-96, who took seven points from their first eight games and eventually limped to the finish in seventh place.
It has ranked as the poorest performance by any Premier League champions, something that seemed unchallenged until Chelsea's remarkable start to the season. Now the serial winner Mourinho is reduced to targeting fourth place. A man who has made history many times -- becoming the first manager to win domestic titles in England, Italy and Spain; recording a historic treble with Inter; posting the highest points total and best defensive record ever in the Premier League -- has to do so again, but in a very different way.
Richard Jolly covers the Premier League and Champions League for ESPN FC. Twitter: @RichJolly.