Reborn Ever Banega has Inter Milan soaring ahead of Torino test
As if beating their last two opponents -- Cagliari and Atalanta -- by an aggregate score of 12-2 wasn't enough, Inter Milan have also witnessed the resurrection of one who was thought to be a lost cause: Ever Banega.
As recently as Inter's 1-0 win over Palermo in January, the Argentine maestro found himself lost in the opposition half, seemingly unable to find space or provide a reference point for his teammates. Banega's status as a luxury was seemingly confirmed when Joao Mario waltzed on in the second half, promptly scoring the winner and keeping Inter's winning streak going under manager Stefano Pioli.
Torino
Internazionale
Game Details
It's always seemed, for all of Banega's talent, that this Inter team wasn't ready to accommodate a midfielder who contributed little to the defensive phase.
Then came the Cagliari game, in which the 28-year-old morphed into a monster, scoring a beautiful free kick -- Inter's first of the campaign -- and pinging the ball about with the kind of elegance that no one had seen in awhile. For an Inter side that had often failed in front of packed defences, this was nothing short of a miracle.
Things would surely not go so swimmingly the following week, with Giampiero Gasperini's remarkable Atalanta coming to town. Surely the team that had beaten Napoli on their own patch would keep the score down, right? Wrong. Banega was at it again, firing two identical goals into the back of the net before collecting his own match ball at the final whistle, adding the final flourish to a 7-1 rout.
Even after this sensational run, however, the average Inter fan has reason to fear that Banega could revert to the form that got him dropped, especially against a four-man defence, which Torino will field Saturday when Inter visits Stadio Olimpico Grande Torino. After all, his success against Cagliari and Atalanta came against three-man defenses, with the latter's particularly open to the counter.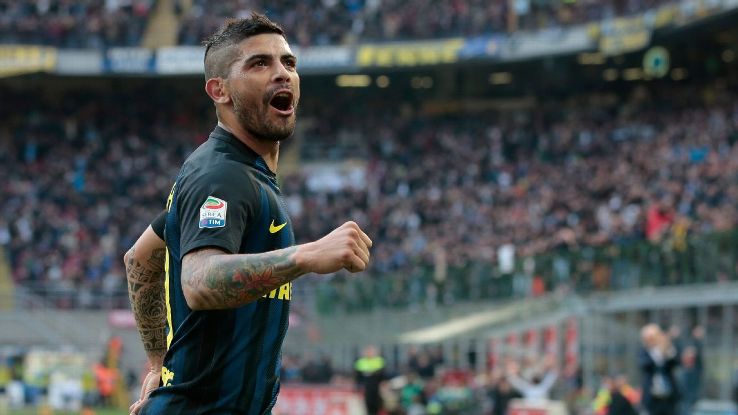 That said, Torino's back line may just be what the doctor ordered for the Nerazzurri: Despite the arrival of manager Sinisa Mihajlovic, defender Leandro Castan and goalkeeper Joe Hart, it seems the Granata would struggle to keep a clean sheet against a Sunday league team. One correspondent moaned not so long ago that the current midfield "doesn't tackle," while Daniele Baselli has struggled for form despite Mihajlovic throwing the kitchen sink at him.
Even recent addition Sasa Lukic makes less than one tackle per match, which pales in comparison to the sterling work Roberto Gagliardini and Geoffrey Kondogbia are doing on a regular basis.
One hopes that Pioli isn't tempted to revert to the 3-4-2-1 we saw in recent weeks, if anything because it seems to make all the Inter players feel uncomfortable.
The current setup allows for a tight unit that has scored more goals (37) than Juventus (33) have since Pioli took the reins.
As contradictory as this sounds, setting up shop with a three-man defence to better mark Torino striker Andrea Belotti is not the answer, irrespective of his 22-goal haul. Why use that formation against 4-3-3 and risk pinning back the wing-backs, a position where the reborn Antonio Candreva doesn't feel at home?
As Alberto di Vita wrote a few weeks ago, Inter need to establish an identity now, not just adapt to the opposition as previous manager Roberto Mancini did. After all, if they're going to be intimidated by this Torino team, who isn't going to scare them once the Champions League rolls back into Milan?
Edoardo Dalmonte covers Inter Milan for ESPN FC. Follow him on Twitter: @EdoDalmonte.