Bernardo Silva is the future for Manchester City
When Roots Manuva, backed by the melancholic strings of the Cinematic Orchestra, crooned that "I'm All Things To All Men," he could have been singing a future ode to Bernardo Silva. The Portuguese footballer is not a jack-of-all-trades; he is a master. He has the trickery of a winger, the vision of a No.10, the energy of a No.8 and the tenacity of a centre-back.
He is clearly the player that can take Manchester City forward, and with the news on Wednesday that the club have signed Bernardo to a long-term contract extension through 2025, it's clear that they believe it too.
Take his performance in City's 2-1 Premier League victory over Liverpool in January, where he did not produce a heat map so much as a solar wind. During 90 furious minutes, widely regarded as the best Premier League game of the season so far, Silva travelled almost 14 kilometres -- over 8½ miles -- the most by any player since the current campaign began. Footballers this technically accomplished aren't meant to be so kinetic.
Silva was typically effervescent against Schalke 04 in the UEFA Champions League last-16 second leg too, scoring in and orchestrating City's 7-0 win over the bewildered Bundesliga side. Overall, it was an emphatic statement to many, including his own manager, that his team are ready to win this season's tournament. He is now arguably more influential for City than his namesake David, something that would have been unthinkable just months ago.
Some would describe Bernardo Silva as a box-to-box midfielder, but that doesn't do him justice. We have to look to basketball to find Silva's parallel and to understand truly his appetite for relentless excellence. If Silva were playing in the NBA, he would be Paul George of the Oklahoma City Thunder, an equally intense and effective force at both ends of the game. George, like Silva, is having one of the seasons of his life, an unassuming accomplice who people are rapidly acknowledging as the alpha.
George, previously known for his selfless displays in defence, has now emerged as an elite attacking threat -- a quality Silva has shown this season, as he stands to score more goals in a single season than he has before. (Silva's previous high was 11 goals in 58 appearances for Monaco; now, despite all the other tactical tasks Pep Guardiola has given him, he already has nine in 40.)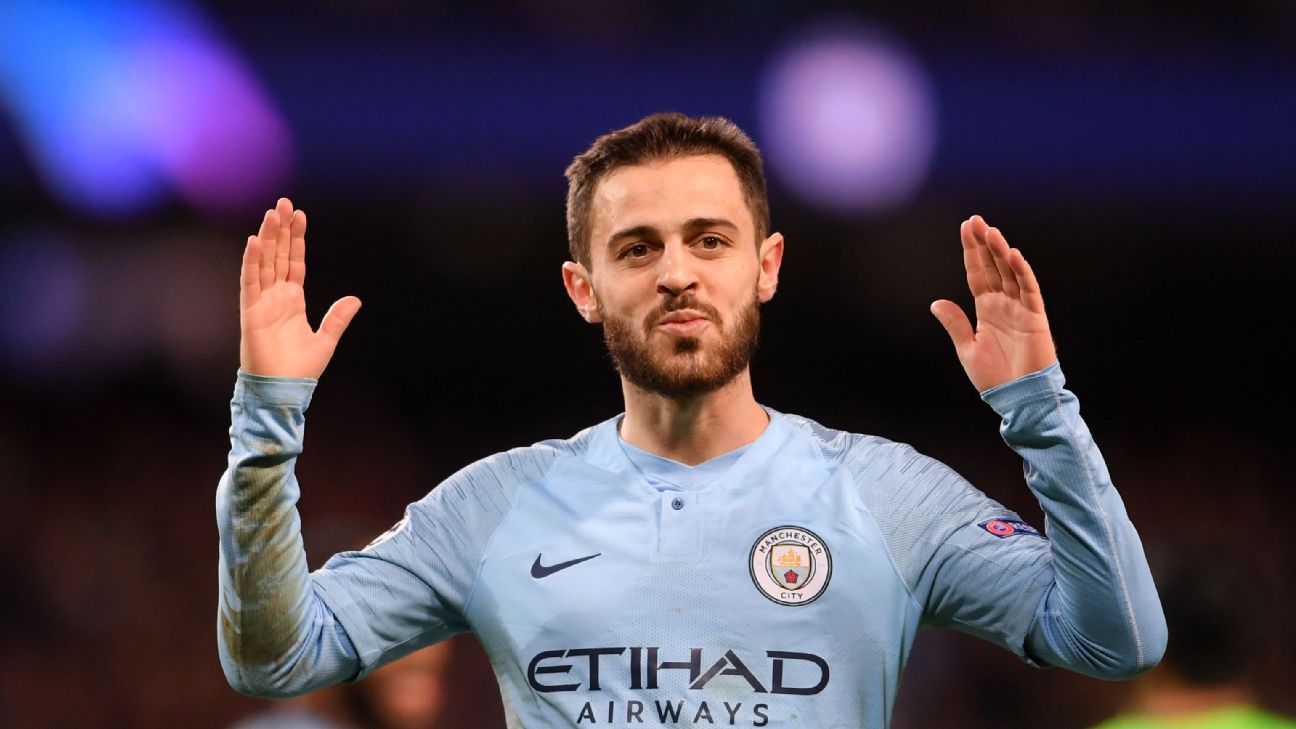 Unsurprisingly, Guardiola describes his player in rapturous terms.
"He has everything, one of the most talented I've ever seen," the Manchester City coach said in February. "He can play three or four positions. ... Maybe this season he's been one or two of the best players in the Premier League."
This versatility is what makes Silva stand apart: He could plausibly be a disciplined midfield anchor or a roving wide forward and boasts the nous to perform both roles in the course of the same game. (At one point during that match against Liverpool, he was even tracking opposing wide forwards as diligently as if he were a full-back.)
It's fitting that one of the footballers Silva most resembles in modern times is Deco, one of Portugal's finest playmakers from the previous generation. They are almost exactly the same height, they are similarly elusive when seeking space beyond defenders and they share a surprising toughness when regaining possession. (Deco, it must be said, seemed much more susceptible to collapsing in agony whenever an opponent entered his orbit.)
Looking around Europe, the only confusing thing is that none of the major clubs fought harder for his services when he was leaving Monaco. Across town, Manchester United might look enviously at the development of Silva under Guardiola, with some concern as to whether Fred -- who cost a similar amount from Shakhtar Donetsk -- will represent as sound an investment. Manchester City signed him for not much more than €50 million, a sum that, in this market, is startlingly small for a player who within a few months could have materially improved Real Madrid, Bayern Munich or Barcelona. Indeed, as Real look for a successor to Luka Modric, Ivan Rakitic ages at the Camp Nou and Niko Kovac looks to introduce fresh dynamism alongside Thiago Alcantara, you wonder if the Continent's biggest clubs privately rue having let Silva get away.
The truth, of course, is probably more mundane -- that, at first, it was not clear to many just how good Silva was. Surrounded by luminous talents such asKylian Mbappe and Thomas Lemar in Ligue 1, maybe Silva -- rather like Deco next to Ronaldinho and Samuel Eto'o while at Barcelona -- simply passed under the radar. How were they to believe that there was a single footballer who could play on either flank and in any one of the three midfield positions at an elite level? Such an individual was surely a unicorn: they only pass through the footballing universe once every few years, if not in a generation.
Surely all but the most discerning eye could not be blamed for missing them. Unfortunately for those scouts who overlooked Silva's subtle genius, the decision will end up as grave a strategic misstep as the England national team's decision to play Paul Scholes on the left wing.
As teams continue to rue their error, Silva and Man City had the easiest Champions League night in midweek, and they are regaining full strength ahead of their FA Cup quarterfinal at Swansea (Saturday, 12:20 p.m. ET, ESPN+). It's clear that wherever Silva is deployed on the pitch, he will end up taking centre stage.