Rooney in decline vs. Barkley on the rise as Man United face Everton
A star in the ascendancy meets a star on the wane this weekend at Goodison Park as Wayne Rooney's Manchester United visit Ross Barkley's Everton, Rooney's former side. On balance, you would understand if Rooney decided that his injured ankle needed a little more rest. In this part of Merseyside, Everton fans used to love him as much as they now love Barkley. These days, Rooney tends to be welcomed at Everton much as you welcome a cat dragging half a rat through the cat flap -- with a combination of rage and disgust.
The reception granted to Rooney at Duncan Ferguson's testimonial earlier this year suggested something of a détente, and his obvious affection for the region displayed in a recent documentary may have taken the edge off the hate, but resentment still simmers even 11 years on.
It wasn't so much that Rooney left; it was the manner of his departure that upset so many. In the months preceding his exit from Goodison Park, he accepted £250,000 for a series of interviews in The Sun, the newspaper which is unpopular on Merseyside for its controversial coverage of the 1989 Hillsborough disaster.
A front-page apology, for what the publication called "the most terrible mistake in its history," featured photos of the then-18-year-old. There was resentment in the player's camp as he became embroiled in criticism directed toward The Sun.
There is something of Rooney in the way Barkley plays; the same fearlessness Rooney showed as a young player, the same unshakable belief that if someone would just put the ball at his feet, he could sort everything out with one lung-bursting run. Now they share something else in common; the feeling that England's continuing underachievement could be rectified if a team was built around their talents. Rooney used to be the talisman of the nation; now there's a growing sense that England are a better team without him. Something else for Barkley to note, as well.

Everton

Manchester United
Game Details
For club and country, the Rooney factor is diminished. News that he would miss out on playing for England last week, but had a chance of being fit for United, brought a lukewarm response from United fans. With the exception of his display against Club Brugge in the Champions League qualifier, they have yet to see a good performance from their captain. He has scored just once in the league this season, when Anthony Martial blasted the ball into him against Sunderland and it ricocheted into the net.
This was supposed to be the campaign that Rooney shook off the challenge of the departed Robin van Persie and assumed the lead striker role for himself. It hasn't worked out like that.
For much of the campaign, Rooney has cut a subdued figure. He has looked lethargic and sluggish, his first touch clunky and his finishing wayward. And that's on the odd occasion that he gets a shot off. For all of Harry Kane's frustrations at Tottenham, the young forward has put twice as many shots on goal as Rooney and made more chances for his teammates.
Rooney has managed only 14 shots so far this season; Jamie Vardy, playing for a weaker team that enjoys less possession, has scored seven times, notched one assist and clattered in 28 shots, form that has thus far justified his inclusion in the England team. A comparison with Barkley does Rooney no favours, either. The younger man has made more goals, scored more goals, taken more shots, completed more passes and completed a higher percentage of passes, albeit with 90 more minutes under his belt.
Barkley, who recovered from a serious injury in 2010, has had his own run-ins with the Everton fans in the past. His uninhibited playing style can be spectacular when it works, and profoundly frustrating when it does not. The sooner he realises that he holds no monopoly over possession of the ball, the better a player he'll become. His selfishness is part of what makes him so compelling, but a better balance could still be struck between raw desire and intelligent passing. At Watford, striker Troy Deeney has told friends that he's entirely unconcerned by his failure to score in the Premier League and has told them, with a straight face no less, of the pleasure he takes in creating goals. Someone needs to get him and Barkley together for a chat.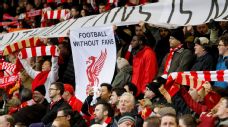 Backing for Rooney did arrive this week from a most unlikely source -- Sir Alex Ferguson himself. The two men did not part well in 2013, but the Scotsman still believes that it's only a matter of time before Rooney returns to form.
"It'll happen," he told ESPN FC. "He'll go on a run, don't worry about that."
But is that the company man speaking from his position in the boardroom? More than anyone, Ferguson always knew when a player had drifted past his use-by date. He must surely look at those tired legs trudging into a 14th season of senior football, approaching their 700th excursion, and he must fear that Rooney is a spent force. He will look at Barkley and feel a frisson of excitement, perhaps wonder what he could have made of such a talent.
Rooney has his 50th England goal and his place in history, but the future belongs to Barkley, if he wants it. There will be no starker contrast this weekend than this.
Iain Macintosh covers the Premier League and Champions League for ESPN FC. Follow him on Twitter @IainMacintosh.