Wayne Rooney is struggling but should not be counted out
Wayne Rooney is already England's all-time leading scorer and, with 236, has scored so many Manchester United goals that it took MUTV two hours to show them all.
Rooney is only a goal behind Denis Law, the original King of the Stretford End and 13 behind the club's all-time leader Sir Bobby Charlton. The Liverpudlian has scored more United goals than George Best, Jack Rowley, Dennis Viollet and Ruud van Nistelrooy.
But we know about his goals so forget Rooney's scoring feats for a moment; look instead at his appearances.
As he turned 30 on Saturday, Rooney had played 677 games of professional football for Everton, Manchester United and England. That doesn't include friendlies, nor games for England at Under15, -17 and -19 level.
At 30, he's already 10th on United's all-time appearance list and has played more games than some of the greatest players did in their entire career. He's played well in most of those matches, but he's not playing well now.
Rooney has been off-form this season. He knows that and he's tried and tried to work his way through his bad patch. His performances haven't been adversely affected because of off-field distractions or because he is sated at his achievements.
You won't find a single United player who'll criticise his levels in training, nor his status as captain. You'll find players who don't think he's the player he was and that's because he's not the player he was. He's not as sharp, he doesn't take the risks he did.
Seventy minutes into Sunday's derby, Anthony Martial stole forward to an accompanying roar and played the ball to Rooney, who'd made an intelligent run behind City defender Nicolas Otamendi. The Rooney of old would have forced a shot on goal; the Rooney of today tried an unsuccessful pass to substitute Jesse Lingard.
But is there any other player who, at 30, was the same as he was at 20? Ryan Giggs wasn't; he'd lost what's known in football parlance as "a yard of pace". So, what did Giggs do? He managed his game to extend his career.
He never stopped being of great use to United and his career totals went through the roof as a result. He surpassed records everyone at the club considered were unsurpassable, most notably Charlton's mark of 759 games. By the time Giggs retired in 2014, he had beaten it by 205.
Giggs was 34 when he came on as a substitute to play the last 33 minutes of the 2008 European Cup final, a game in which he hit United's seventh and final penalty low past Chelsea goalkeeper Petr Cech. Giggs was still playing 45 games per season, yet 10 of them were as substitute. When he didn't start a game, it was no big deal.
Rooney still starts every game at a club where the players are training harder than ever. They have double sessions, extended sessions and sessions in the morning and afternoon. There's no let up.
If Rooney was dropped -- and he knows that he will be dropped if the poor form continues -- there would be a furore. There shouldn't be. He's in his fourth decade; he's allowed to slow down and not play twice a week.
Rooney's confidence is down and there's no shortage of detractors on his back, or let up on his body. Under Sir Alex Ferguson's management, players would be given time off to recharge their batteries.
At Barcelona, Lionel Messi gets to enjoy every Christmas in Argentina. That's not the case for Rooney. His wife and kids might get to see the sun in Barbados, the one place where he loves to switch off, but the United captain is playing football almost every day of the year.
Rooney is toiling up front for United in the one area of the team which has underperformed in the past two and a half seasons. There have not been enough goals and not enough magical moments of the standard befitting the club's status.
Other forwards such as Robin van Persie, Radamel Falcao, Danny Welbeck and Javier Hernandez have all been criticised and allowed to leave. There have been other attacking departures, including Nani, Shinji Kagawa, Angel Di Maria and, on loan this season, Adnan Januzaj.
That's a lot of very good attackers who have departed in a short space of time. Were they happy with the system United played? What do you think? Forwards generally prefer to be playing alongside other forwards, to work off each other and for each other.
Rooney has aired his grievances and those of the team to manager Louis van Gaal. That's normal; a strong line of communication is important and appreciated by both manager and player, but the fact remains that whoever plays up front in Van Gaal's preferred 4-2-3-1 system will always be the one.
Does Rooney combine well with the players behind him, the Ander Herreras or Juan Matas? Is that the fault of any of them?
As one of his former teammates told me after the Manchester derby: "If Rooney was playing with someone who could run past him all the time and give him space then that might help, but he's playing with two attacking midfielders. Do the three of them complement each other? Not really."
Rooney is bearing the brunt of the criticism for United's less than spectacular form -- they have scored just 15 goals in 10 league games -- up front. By contrast, Memphis Depay, mediocre at best so far as he settles in at the club, can be taken out of the firing line and nobody blinks. Rooney starts every week, a diminishing force in a team still finding its way.
Rooney does as he's told and follows Van Gaal's instructions precisely. He sets others up, holds the ball up and lays it off, so there's not much room for the risk which once characterised his game.
Rooney usually does those tasks well, but with his confidence down he passes the ball back more and with each struggle of a game, fans who have largely been patient in their support for him, start to think that he's on the wane. By his own high standards that is the case, but does that mean United should get rid of him, as they've done with so many other strikers?
Even if United do that, which will be very difficult given that Rooney signed a five-and-a-half-year contract in February 2014 that made him the club's best-paid player, then which world-class striker would want to come and play as a lone striker?
"It's not for me to tell Manchester United what to do, but they need another out-and-out striker, a Ruud van Nistelrooy, a Van Persie at his peak," former Manchester City player and football analyst Fred Eyre told me after the derby.
"They need another out-and-out number nine, a spearhead. It would take so much pressure off Wayne. That would give him the chance to do the things he's best at and means he'd not be battling with giant centre-halves and getting cut heads. He could concentrate on the finer points of the game. I don't think he's finished."
Eyre might be Blue, but he's a Rooney fan.
"He has had already a 14-year career at the sharp end, the top end. That's a long time. I hope it continues for a few more years because he's a very, very good player. There's another thing; he's never objected to being shoved on the graveyard shift out left, to be dropped back into midfield or played as an out-and-out striker. He does anything that he's asked to do and he does it better than most other players. As a reward for all that he's put into the game, I'd like to think there's a few more years in him yet."
Rooney's down, but he shouldn't be hounded out. Every footballer has a spell of poor form and many, including Giggs, come out of it.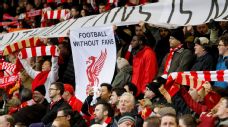 People were quick to turn on Patrice Evra and he was allowed to leave United because he wasn't as good in 2013-14 as he was between 2007-10. History has shown that be a mistake.
Not only did Evra show his quality by playing in a Juventus side which won the Italian league and cup and reached the final of the European Cup last season, but he could have been of use when Luke Shaw struggled in his first United season. Or when Luke Shaw was injured in this, his second term. Evra didn't want to leave United and nor does Rooney.
Rooney might have to adjust to not being the main man, just as great players before him had to adjust, but that doesn't mean that he should be sold and doesn't mean that his experience on and off the field can't be put to good use.
He doesn't have a clause in his contract that he must start matches and, given that his contract is heavily incentivised, United wouldn't pay him anything like what he's currently earning if he didn't play.
United's dressing room has lost too many players who set the tone for a winning team. Rooney is one of those, a good captain who has matured greatly, but the solution with every struggling player isn't merely to get rid and replace him with whichever star sparkles brightest, but to manage him back into a force that can help the team.
Andy Mitten is a freelance writer and the founder and editor of United We Stand. Follow him on Twitter: @AndyMitten.