Is Minnesota this bad? Comparing the Loons to MLS' expansion strugglers
When Minnesota United made its home debut on Sunday, there were plenty of sober-minded observers prepared to write off the team's first game, a 5-1 road loss to the Portland Timbers, as an aberration that did not reflect the actual pattern of the game.
In front of their own fans, and with fellow expansion team Atlanta United playing in radically different conditions to the ones they'd scared the New York Red Bulls in the week before, surely the Loons could recalibrate the doomsday expectations to a more realistic level?
As it turned out, reality came in the form of a blizzard of Atlanta goals. If Minnesota had any thoughts of the weather as a 12th man, it was disabused of that notion in just three minutes, as Josef Martinez and Miguel Almiron combined to score the opening goal of six.
Martinez left with the match ball after his hat trick and Almiron himself had two goals and a sublime assist, as Atlanta's South American contingent continued to justify the hype around them.
Minnesota, meanwhile, is now the holder of a bunch of unwanted records for expansion teams. The 11 goals the club has conceded in its first two games makes the six Toronto FC conceded in the same period in 2007 seem positively respectable as the next worst. And Sunday's 6-1 defeat was the heaviest loss for an expansion team ever.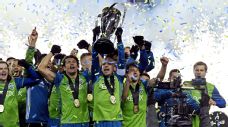 Subscribe to MLS LIVE today!
- MLS LIVE is back with an all-new platform for 2017
- Get the most matches ever, LIVE and ON DEMAND
- Packages start at only $14.99 a month
- Watch MLS on your phone, computer or TV
- Subscribe today at live.mlssoccer.com
The loss coming against its ambitious expansion colleagues made Minnesota look like an MLS 2.0 team lost in an MLS 3.0 world.
0-2
There's no doubting that on the field at least, Minnesota blew its chance of a positive first impression, but it's also true that whatever the very real warning signs for the rest of the year, we're looking at a very small sample size of action. History sends some mixed signals about teams who've been 0-2 at this stage of their debut seasons.
Another cold-weather team got off to an infamously cold start in 2007. Toronto didn't play at home until its fourth ever MLS game, by which time the team was already 0-3-0 on the road. The Reds would lose that first home game 1-0 to the Kansas City Wizards before finally earning the franchise's first win on May 12 with a 3-1 victory over Chicago.
Two other teams lost their first two expansion games: the reborn San Jose Earthquakes lost 2-0 in LA at the start of 2008 before losing their first home game to Chicago, while in 2011 Portland lost 3-1 in Colorado and 2-0 in Toronto.
Of course, the latter team had an ace up its sleeve: its home form and the spectacle of games in Portland. Like Toronto, the Timbers didn't get to play at home until their fourth game, and they would go on to win that game 4-2 over Chicago, before following up with a 3-2 win over Dallas just a week later.
Recovering from bad starts
If there's some hope for Minnesota, it might come in the fact that none of the teams who went 0-2 in their first two games went on to become the worst expansion teams in terms of points per game. Toronto's 0.83 PPG looks very respectable compared to the 0.56 Chivas USA managed in securing 18 points from 32 games in 2005, or the 20 (0.63 PPG) Real Salt Lake managed in the same season. And for what it's worth, both those two teams managed a draw in their first two games.
And Toronto actually finished with a better record in terms of PPG in 2007 than Vancouver did in 2011. The Whitecaps announced their presence in MLS by beating Toronto 4-2 in their first ever game, but would go on to take 28 points from 34 games (0.82 PPG).
What now for Minnesota?
If there's reason for Minnesota not to panic, there's always the possibility it can get worse. The manner of Sunday's loss, with the abject defending and marking by Vadim Demidov in particular, was bad enough to mandate immediate changes.
But Adrian Heath and Co. have to tread carefully. Minnesota's management has already spoken of taking a prudent approach to the team's personnel in its first preseason -- though using TAM to pay down Demidov's salary hardly looks like prudence in the wake of that performance.
Still, there's something to be said for having the flexibility to address debut-season problems as they are identified, though the challenge now is not to panic as events and results rapidly overtake contingency planning. If that were to happen, Minnesota could design themselves into problems that would take more than a rough first season to resolve.
Graham Parker writes for ESPN FC, FourFourTwo and Howler. He covers MLS and the U.S. national teams. Follow him on Twitter @grahamparkerfc.