Borja Mayoral on the way to becoming Real Madrid's new Raul
Borja Mayoral's rise through the Real Madrid ranks has been astronomical. It's clear that Los Blancos have big plans for the 18-year-old.
Rafa Benitez brought him into the first team fold for preseason after the Castilla striker returned from international duty with Spain under-19s at the European Championships in Greece. La Rojita were victorious and Mayoral was the tournament's top scorer, finding the net three times in five games, including in the final.
He has been doing that throughout his career in Real's youth ranks, which he joined from AD Parla in 2007.
In just two seasons with the Juvenil sides, Mayoral racked up a Cristiano Ronaldo-esque 102 goals in 77 games. After debuting with Juvenil C in 2013-14, Mayoral was promoted to the A side the following season and then to Castilla before that campaign had even finished, scoring two in five appearances for Zinedine Zidane's side. Among all the fanfare surrounding Martin Odegaard's January arrival at Valdebebas, Mayoral's prolific scoring passed largely unnoticed.
That will not be the case for much longer. The striker is destined this season to spearhead Real Madrid Castilla's drive for promotion to Segunda Division, which has become an obsession at the club after the reserve team's relegation at the end of the 2013-14 season. That year Jese and Alvaro Morata were missing, having been promoted to the senior side. Mayoral has all the attributes to follow in their footsteps and, possibly, even further.
Real Madrid finally may have produced the new Raul Gonzalez.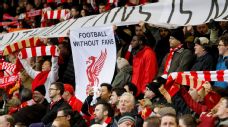 The similarities are striking. Both players hail from the working class southern periphery of Madrid and both moved swiftly through the Juvenil ranks at Real Madrid (although Raul passed briefly through the Atletico academy en route). Raul made his debut at 17; Mayoral was first called up to a senior match day squad by Carlo Ancelotti last April, days after his 18th birthday. He didn't get on the pitch on that occasion but he trained with the seniors several times and displayed self-confidence reminiscent of the great number 7, even trying to make a mug of World Cup-winner Toni Kroos in a light-hearted "rondo."
Mayoral finally made his first team debut against Tottenham last week at the Audi Cup but it was far from the sort of preseason reward regularly handed out to Castilla members. Mayoral is being prepared for the first team and it seems he will be fast-tracked in a manner similar to that of Morata. The now-Juventus forward made his debut aged 18 in the 2010-11 season, when he alternated between Castilla and the first team. Mayoral seems set to be Benitez's fall-back option this campaign, behind Karim Benzema, Jese and any either one of Ronaldo and Gareth Bale when injuries and suspensions take their toll.
The old football saying "if they're good enough, they're old enough," applies to Mayoral: he is certainly good enough. Raul was, and so was Morata, as he is proving now with Juventus. But despite the obvious parallels there is one key difference between Mayoral and Raul. The same eye for goal is obvious, but his movement, dribbling skills and balance also make him a fine attacker running from deep.
Commentating a Valerenga game, during which Mayoral came on as a second half substitute, Victor Fernandez, the well-travelled Primera coach who is now a youth team coordinator at the Bernabeu, noted: "He is a lad who has come off a brilliant performance at the under-19 Euros. He is good at losing his marker, he links up well and everybody has a lot of faith in him."
So much so that there have been numerous reports in Spain this week that Eibar asked for Mayoral on loan to link up with fellow bright young thing Borja Gonzalez, who banged in 23 goals on loan at Zaragoza from Atletico last season. No dice, according to the Bernabeu, who are not keen on letting Mayoral out of their sight. Benitez has apparently stated his preference for the young striker to stay within easy reach and Zidane is certainly counting on Mayoral to keep up his remarkable overall return in the youth ranks of 1.27 goals a game at Castilla next season.
If he does, Mayoral can expect promotion to the senior side for the 2016-17 season. In the meantime he will be used by both Benitez and Zidane as the Bernabeu carefully manages the finest talent to have emerged from La Fabrica since Jese and Morata.
Whether Mayoral goes on to become the new Raul in terms of stature within the club remains to be seen but the early signs are encouraging.
There will be plenty of subplots to the upcoming campaign at the Bernabeu. For long-termists, Mayoral's progression will be of the greatest interest.
Rob Train covers Real Madrid and the Spanish national team for ESPN FC. Twitter: @Cafc13Rob.