Tottenham focusing on long-term plans as opposed to Prem's top four
For a manager who ended last season talking about Tottenham Hotspur's "need to be ambitious" and unstintingly aim for the top four right now, it was a surprisingly realistic -- or perhaps defeatist -- admission from Mauricio Pochettino on the eve of a new campaign.
"You just have to look to the investments made by Liverpool, Manchester City, [Manchester] United, Chelsea or Arsenal during this summer," the Spurs boss told Spanish radio station Onda Cero this week, after what has been a rather quiet summer of their own with just four fairly low-key signings. "We have five teams above us when it comes to spending."
By saying that, Pochettino was also intimating that he knows Tottenham are likely to have five teams above them when it comes to the final table. It all fosters this rather drab sense of drift about Spurs, that we know exactly how the season will end even before it begins. The wonder is how and why it's got to this.
The club now feels a long way from the days of 2009-13, when there seemed such a sense of potential and genuine hope they could at least be semi-regular Champions League qualifiers. What says as much as anything is that, as they travel to Old Trafford for the opening game of the season, a meeting with Manchester United is no longer being billed as a possible top-four match.
A lot has changed since last March, when Louis van Gaal's side set much of this in motion by crushing Spurs 3-0. Much more has changed since 2013, when they were on the brink of a breakthrough. That four-year period up to Gareth Bale's departure could well be seen as a great wasted opportunity for one of England's historic clubs. It is all the more galling because they do possess such a bright young manager in Pochettino, who should be a source of high optimism.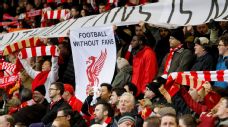 Instead, after the Argentine started last season stating that one of his most important objectives was to change Spurs' entire mentality, it is as if the endless attrition of being Spurs has changed his own mentality.
Except, it's not quite that simplistic, nor is Pochettino being that defeatist.
For one, the mood within the squad does not reflect the indifference about Spurs outside the club. The players remain in thrall to Pochettino. As the representative of one squad member told ESPN FC, "they love him."
There is at least a sense of focus and direction within the team. Part of that is because the manager has been allowed to complete one of his major aims in the transfer market this summer, even if they haven't made many signings. Chairman Daniel Levy granted Pochettino the total freedom to get rid of everyone he considered "deadwood." All of Etienne Capoue, Younes Kaboul, Paulinho and Benjamin Stambouli have gone, with Aaron Lennon and Emmanuel Adebayor likely to follow.
This also begins to address one of the major reasons why the club has drifted since 2013. While you don't have to look much further than the drastic difference in turnover between Pochettino's club and last season's top four, it can hardly be said Spurs have invested their limited money well.
There's actually been a strong degree of dysfunction in their approach to the market. It is not just that they've signed bad players, or that the triumvirate of Levy, technical director Franco Baldini and whatever manager happened to be in charge have so rarely been in sync.
Spurs have signed many players that just didn't really fit. It was often as if they bought someone on the basis of his performance in a specific system, only to then try and force him into a framework that didn't suit him. Roberto Soldado and Erik Lamela have arguably been cases in point.
This situation has also conditioned the questionable character of recent squads, which Pochettino has seen as so important to improve. One Spurs source tells the story of how, with one recently departed player, some at the club would take bets on what minute of training he would announce he felt "an injury." These announcements were virtually guaranteed if the team had a particularly arduous European away trip coming up. That lack of commitment was apparently not unique to that player.
This is what Pochettino has made it his mission to erode. From there, with the right mental base and a change in collective mentality, he can properly build. That almost makes this season the manager's real start at Spurs.
The question, though, is why the club hasn't made any real statements in terms of buying players in order to back him. Pochettino will probably get the extra striker he badly wants to complement Harry Kane, as well as a midfielder, but they're unlikely to be bombastic. There's an argument that they shouldn't be bombastic.
It again comes down to the financial context, and a new way of looking at things, especially given that they'll be playing in a new expanded White Hart Lane by 2018. Right now, Spurs know that the immense resources of the rest of the top sides make it virtually impossible to reach the top four, unless absolutely everything comes together for them like when Luis Suarez inspired Liverpool to a second-place finish in 2013-14. There's a sense that, no matter what they do or what they spend, they will still just finish fifth to seventh again.
If that's the case, and they know that a rebuilt stadium will eventually start to transform their finances, why waste needless money on punts now? It's almost better to continue the trust in youth, thereby reinforcing recent strong connections with the local community, especially if it means they'll still consolidate a Europa League place anyway. It would almost be a scaled-down version of what Arsenal did around the move to the Emirates. Pochettino hinted at all this in his next sentence to Onda Cero, after talking about that top five.
"We finished fifth last season but our project is different to their project [of the top four and Liverpool]. We have young boys, mainly English people and what we are trying is to create a team for the future, to set the base of the following years."
New signing Dele Alli has already impressed in preseason, while there are high hopes for Alex Pritchard. Young players actually getting into the team and having an impact can greatly improve the mood around a side, as Kane proved last season.
They are reasons that things need not be so negative at Spurs, even if all the hope with Pochettino should be about the long term. It will just take a tweak in mentality.
Miguel Delaney covers the Premier League and Champions League for ESPN FC. Twitter: @MiguelDelaney.