Alan Pardew proud of Crystal Palace's strong start, still focused on survival
Crystal Palace manager Alan Pardew has dampened gathering expectations around his high-flying Eagles ahead of Saturday's top-of-the-table clash against Premier League leaders Manchester City.
Palace currently sit in second place and have been one of the form teams throughout 2015, with wins against City, Chelsea, Tottenham and Liverpool since the turn of the year.
After beating Chelsea at Stamford Bridge in the last round of Premier League fixtures, Pardew's side will take on table toppers City at Selhurst Park on Saturday and the Eagles boss is eager to keep his players firmly grounded as they prepare for their next big test.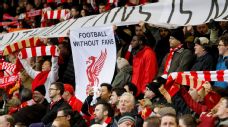 "We all look at the league table, of course we do, and it is good to hear people saying this weekend's match against Man City is a top-of-the-table clash, but we will not get ahead of ourselves," Pardew told ESPN FC.
"It's good fun for the fans that they can see us at the top end of the table, but we don't know how long we can stay there and the ambitions we have this season are still focused first and foremost on getting 40 points and securing our place in this league.
"What no one can deny is we deserve to be where we are and we deserved to beat Chelsea in our last match as well. We had good periods of control in that game at Chelsea and created a lot of chances. That encourages me to believe we have a good team here now.
"We beat Man City last year and needed a bit of luck to get that result, but the way we won at Chelsea in our last match showed that we have taken a stride or two forward here now.
"It is a vital year for everyone in the Premier League with the finances available from the new TV deal next season, and I'm not thinking about whether we can challenge for a Europa League place at this stage. Give me 40 points and then I will think about more."
Pardew told ESPN FC in May that he would not relish a return to the Europa League after his experiences in the competition during his time at Newcastle, but these comments may need to be revisited if his success at Palace continues.
"I would not want to be (in) the Europa League in the current format, that's for sure," he added. "Thursday night games are difficult to contend with given the level of physicality we deal with in the Premier League.
"We struggled with it at Newcastle and we were not alone in that among the English clubs. Until that issue is addressed, no Premier League team wants to be in the Europa League. That's the reality, even if some don't want to admit it."
Despite Pardew's caution, victory against City this weekend would bolster belief that Palace are ready to emerge as the surprise team of this season's Premier League. Yet he suggests his side face a tough task to repeat the victory they claimed against Manuel Pellegrini's side at Selhurst Park in February.
"They have purchased good players and Raheem Sterling has given them something different on that left side," he said. "Kevin De Bruyne is a player who has come off a great season of assists in Germany, but time will tell whether City have got value for money.
"There are not many clubs in the Premier League that can spend that kind of money on a player, but the rest of us are all trying to get closer to teams like Man City. The same goes for sides like Stoke and West Ham. We are edging closer.
"The finance in this league now means we can all buy players that are helping us to improve and that process will continue. The good news is that Man City can only field 11 players. If this was a 20 vs. 20 game, we might struggle, but that is not the case."