England's Raheem Sterling says team will 'give UEFA a chance' on handling abuse
PRAGUE -- Raheem Sterling has said that England's players will "give UEFA a chance" to resolve any potential incidents of racially-motivated abuse during the forthcoming Euro 2020 qualifiers away to Czech Republic and Bulgaria.
Gareth Southgate's team, who will secure qualification for Euro 2020 with a win in Prague on Friday, are preparing for their first competitive away games since England's black players were subjected to racist chanting during the 5-1 victory against Montenegro in Podgorica in March.
Chelsea forward Tammy Abraham said earlier this week that he and his England teammates would be prepared to walk off the pitch should a similar situation arise in Prague or against Bulgaria in Sofia on Monday.
- Euro 2020: Who will reach the finals?
- Euro 2020 qualifying: All you need to know
But speaking in Prague on Thursday, Manchester City striker Sterling said that England will back UEFA's three-step protocol -- which allows match officials to abandon a game if warnings to supporters are not heeded -- before walking off unilaterally.
"With the situation that happened in Montenegro, I don't think, that as a team, we were quite prepared and knowing that there was a protocol in place," Sterling told reporters. "We had a meeting as a group and Gareth [Southgate] sat us down and explained UEFA's protocol.
"Now, as players, we've got to give UEFA a chance to take that responsibility on board and deal with the situation. At this moment in time, yes, I have got full faith in UEFA."
Sterling, who has become a widely-respected voice on the subject of racism in football, believes that racist abuse is a result of "miseducation" and a lack of diversity in some countries.
"On the topic of racism, I think a lot of it's to do with miseducation and a lot of it's to do with not knowing a lot about other people's cultures," he said. "I think, especially in our country, where it's really diverse, getting to be around different ethnicities, I think that makes it a lot easier.
"Other parts of the world that you go, you might not have as much diversity, but as I said, a lot of it is down to not really understanding people's background and culture and kind of feeling threatened by it.
"But it's one where if you open up and show that love and respect and learning new cultures, you find out that everyone's just exactly the same, really. "
With Abraham's comments suggesting that the England squad were united in a readiness to walk off in the event of racism, Sterling's remarks point towards a change of approach.
England head coach Southgate insists there is no division within his squad, with the former Middlesbrough manager making a plea for understanding of the challenges his players face when asked about the issue.
"I'm so conscious, the most important thing for me, my players are being put in very difficult situations every time they're questioned on the subject," he said.
"You feel that one word out of place, one incorrect phrasing leads to possible problems that could be flagged towards another team, made to make a story towards another team or potentially made to look as if there's a split or a disagreement within our camp.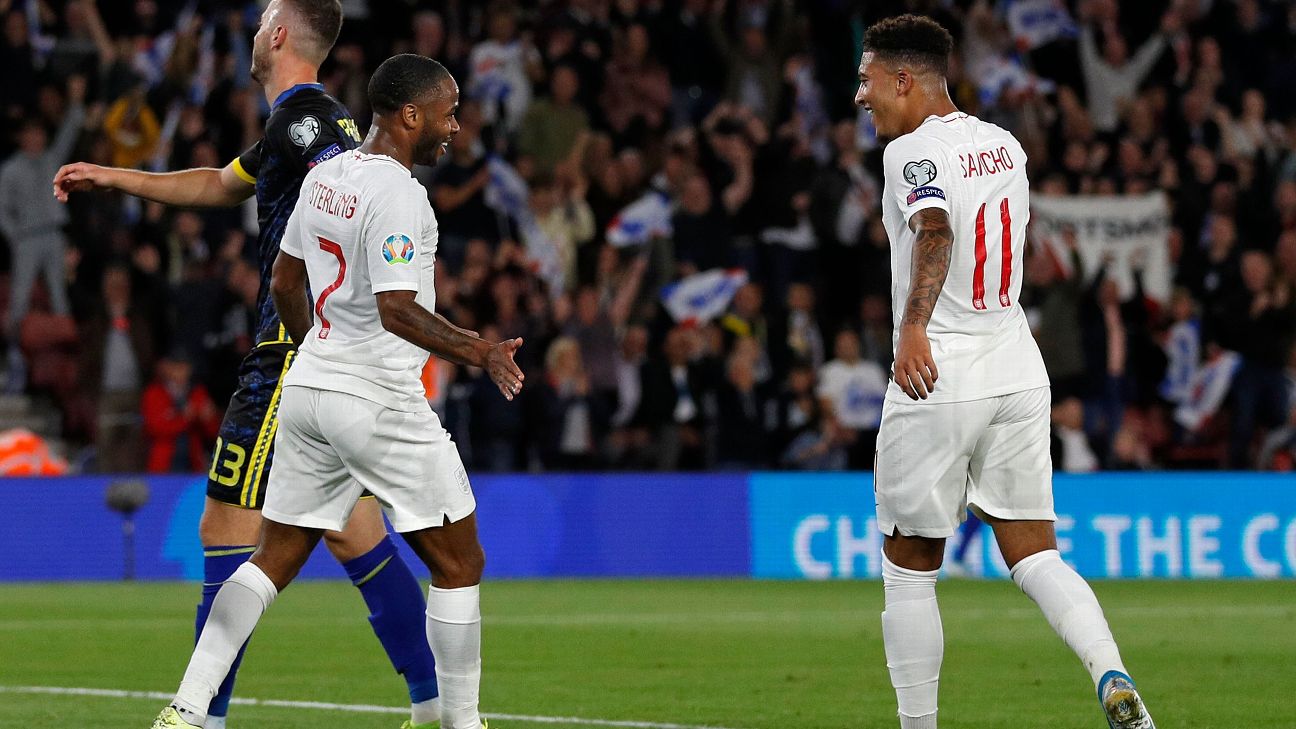 "We're 100% united on how we see things. As I say, I want the players to be able to concentrate on football.
"The most important thing for me was that all of the players and all of the staff know that they're supported, that we're together on every issue moving forward.
"Inevitably, because we've suffered a situation in Montenegro, we wanted to be clear what might happen if something happened in the future.
"We're very clear on that. There is of course the UEFA process and we need to have faith in that process.
"Recently, a game was stopped in Italy because of that and then everything else is hypothetical because we don't know the situation that we'll be in as a team, or that I'll be in as a manager.
"But, we're very clear in terms of all of the staff, what would need to happen."
Meanwhile, Bulgarian football chief Borislav Mihaylov said England players should face consequences if they breach UEFA protocols in the qualifying matches.
Bulgarian supporters made monkey chants at visiting black players when England last travelled to Sofia for a European qualifier in 2011, prompting UEFA to fine the Bulgarian Football Union (BFU) 40,000 euros ($44,072.00).
In an official letter to the European soccer body, the BFU president on Thursday expressed his "extreme disappointment" at the England players' comments ahead of the match and spoke of the "unjust branding" of local fans.
He said ignoring UEFA's three-step protocol for racism, which can lead to the referee abandoning a match if warnings to the crowd do not stop the abuse, "should be punishable according to the UEFA disciplinary regulations."
Mihaylov also wrote to UEFA last month to express indignation and disappointment over comments by Southgate about the prospect of racism at the Group A qualifier in Sofia.
In the latest letter, he said he felt the "fixation" on potential incidents during the game in Sofia could increase tension and did not do justice to the Bulgarian fans, the general public and the BFU's own efforts.
UEFA ordered the partial closure of Bulgaria's Vasil Levski stadium after racist behaviour by their supporters in Euro 2020 qualifiers with the Czechs and Kosovo in June.
Information from Reuters was used in this story.