Tottenham's defeat at Southampton a reality check about their limitations
SOUTHAMPTON, England -- Losing to Burnley was concerning, and being defeated by Chelsea was troubling. This loss, to Southampton, means Tottenham can officially panic.
The past few weeks have seen two Tottenhams. One version flexes aside Borussia Dortmund, barely breaking a sweat in the process. The other capitulates to teams either scrambling to preserve their place in the Premier League or in mid-table disarray. Much like the U.K. as a whole, Tottenham seem to be much better off in Europe.
Saturday's 2-1 loss at St. Mary's is by far the most troubling of their most recent results. Burnley were returning to last season's form, Chelsea are Chelsea, whether the players are doing what the manager tells them to or not, but this was a Southampton side whose only victory in their previous six games was against Fulham.
More importantly, this game should have been out of sight in the first 45 minutes. Spurs displayed maximum swagger around the St. Mary's pitch in the first half; Harry Kane and Dele Alli were together again after nearly two months apart and linking up as if they were one consciousness, while Christian Eriksen looked sparkier than he has been of late.
"The good thing was we were only one [goal] down," Southampton manager Ralph Hasenhuttl said.
But after the break everything fell apart, and the worst part for Spurs fans is that it didn't take much for it to happen.
Southampton didn't need to chop down a mighty oak with an axe; more like poke a hole in a wet piece of paper. Danny Rose may take most of the blame for donating Yan Valery's equaliser by dummying the ball in his own 6-yard box, a move you can file under "maverick" in any coaching manual, but that slackness was symptomatic of a wider malaise.
"I am a little bit worried," said Mauricio Pochettino, who was in the stands serving the first of a two-game touchline ban. "This change in the second half is about complacency; it's about arrogance in a bad way. In the first half we showed arrogance in a good way, but the second half was in a bad way."
Arrogance, complacency or brainless defending: take your pick of the reasons for the shocking turnaround. Another element was the absence of Toby Alderweireld, rested here but whose importance was emphasised by the guileless and panicky defending that characterised Tottenham's second-half performance. The Belgian is not only probably still the best defender in the Premier League, but so often the glue that holds Tottenham's defence together. Saturday's match offered a glimpse of life without him, and it wasn't pretty.
Of course, some praise is due to Hasenhuttl, who made two attacking substitutions at half-time in an attempt to shift the momentum of the game. "We went all-in at half-time," he said afterwards.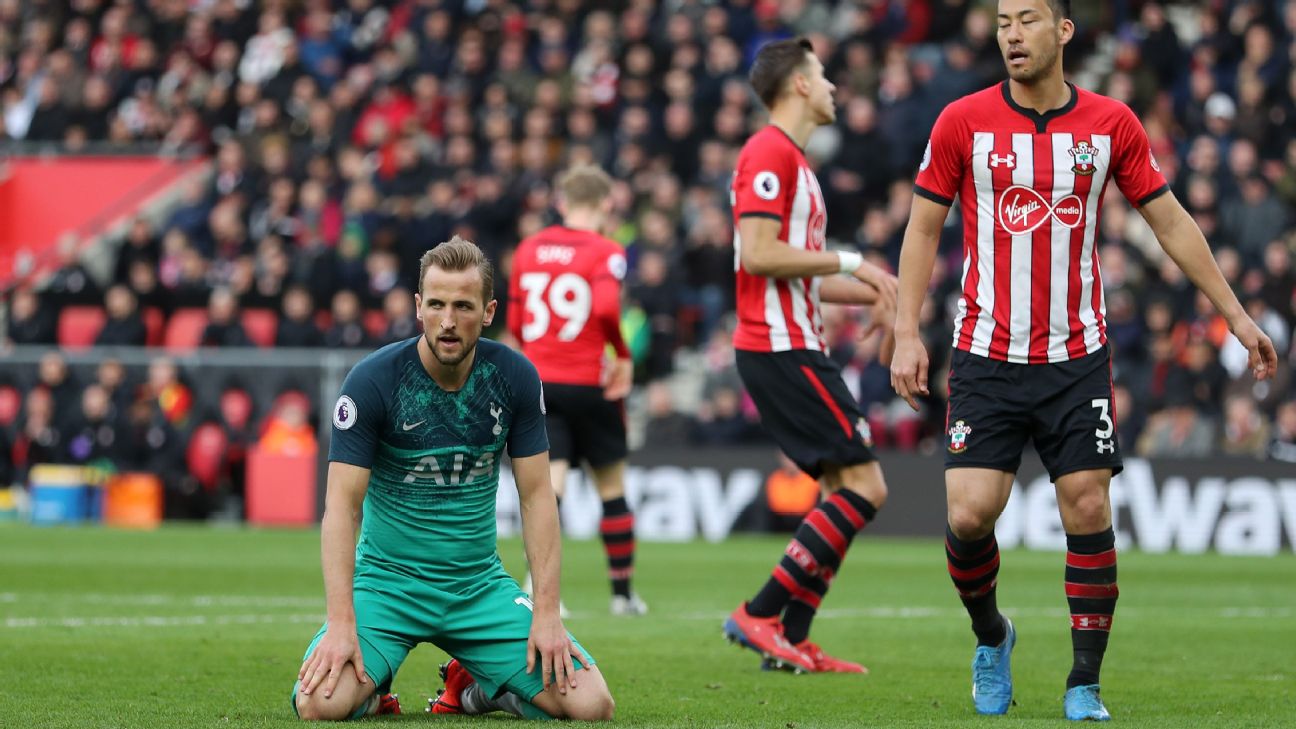 That said, they weren't bringing on super subs like a Gabriel Jesus or a Callum Hudson-Odoi. One of the players Southampton introduced was Josh Sims, a winger who spent the first half of the season on loan at Reading but could barely get into their team. When you're that troubled by a player who only started five games for a side that was second-bottom of the Championship when his loan was cut short, alarm bells should ring. Still, it was clear what Pochettino, who rejected the idea that he could have changed things had he been on the touchline, thought was the reason for the result.
"We cannot play for only 45 minutes, then say 'we are finished.' It's impossible to have a performance here, then drop to here," he said, holding a hand high, high above his head before lowering it way, way down.
From outsiders for the title a few weeks ago, Tottenham's place in the top four is now suddenly precarious. Manchester United could move above them in the table if they thump Arsenal on Sunday; so will Chelsea if they win their two games in hand.
"Yes, but it's good," Pochettino said when that point was made to him. "It's good because a lot of people now are going to realise our real level and will maybe stop talking about the perception. We need to be careful of how we assess ourselves. We have to live in reality. Before we were living more in perception. Today is the reality."
Does their reality honestly include losing to a team scrapping to avoid relegation? Perhaps not, but Pochettino's wider point was that Spurs are still punching above their weight, particularly in the Champions League. This is a team capable of remarkable results against big teams but has to strain to its breaking point to achieve them. Against Southampton, Tottenham broke.
Spurs now don't play for another three weeks, which if they had won would have been useful time to recuperate from a frantic few months. But after this defeat, it will feel more like a period where their own insecurities will fester. That next game after the international break, by the way, is against Liverpool.
"We're coming home," sang the Spurs fans before it all went south, celebrating the news that their stadium will open at the start of April. For a while it looked like their return home would be triumphant. Now, it will be wracked with nerves.
"It's so tough to analyse," Pochettino said. "I am so, so, so disappointed."
He won't be the only one.