Liverpool's minds or Man City's legs: Which will falter first in this high-pressure Premier League title race?
Perhaps it is nothing more than a coincidence that Manchester City face Crystal Palace at Selhurst Park this weekend on the same day that Liverpool host Chelsea at Anfield in what promises to be a compelling double-header in the Premier League title race. After all, every team has to play each other at some point during a league season, yet it seems as though somebody in the fixtures department is having fun at Liverpool's expense by throwing up another unwanted reminder of what happened the last time they met Chelsea with the title on the line.
Back in April 2014, Demba Ba's goal at Anfield -- following Steven Gerrard's slip and crucial loss of the ball -- proved to be the decisive moment in that season's title race with City. Liverpool lost 2-0 that day and, hours later, City won 2-0 at Palace to reclaim the initiative and ensure that their destiny was once again in their own hands. Manuel Pellegrini's team won their next three games to win the title and leave Liverpool -- and Gerrard -- haunted by that unforgettable slip against Chelsea.
"This wound has been open since my experience," Gerrard told ESPN FC last month. "I am not sure it will close because I can't change that experience."
But does what happened five years ago really matter in this year's title race? Not one player from Liverpool's starting outfielders that day remains at Anfield, while only Sergio Aguero, of the City side at Palace in 2014, is likely to be involved this weekend. These might be different times and different players, but when it comes to winning a title, the ghosts of the past and fear of what might happen always become an issue at this stage of the race.
Some managers and teams deal with it better than others. Rio Ferdinand, who won six Premier League titles with Manchester United, recalled in his book, "#2Sides," how Sir Alex Ferguson would always use deflection to protect his players from outside scrutiny if results went wrong.
"If anything did go wrong, he always took the stress off us by creating an argument in the media or picking a fight somewhere with someone," Ferdinand said. "It distracted attention from what had gone wrong on the pitch."
Ferguson used to call it "squeaky-bum time," an odd phrase to describe the tension and pressure that applies itself when the slightest mistake can have the biggest implications. Players are told to avoid reading newspapers by their managers, as it might spare them the damaging negativity that comes after points are dropped, while so-called mind games are played out in interviews before and after games.
When Newcastle threw away a 12-point lead and finished second to United in 1995-96, Ferguson's use of the post-match interview -- his version of "mind games" -- was cited as being the spark which lit the fuse when Newcastle manager Kevin Keegan exploded with his "I would love it if we beat them!" rant after a victory at Leeds. Keegan remembers it differently, of course, insisting in his autobiography that the drip-drip effect of conceding late goals was the real reason for his team's stumble.
"How come these last minute goals never went our way?" Keegan wrote. "Too many players were struggling with the tension and when we did play well, we were still coming away empty-handed from key fixtures. We did succumb to mental tension, but that was well before my outburst and it's a distortion of history to think the championship was settled by 'psychological warfare,' or whatever you wish to call it."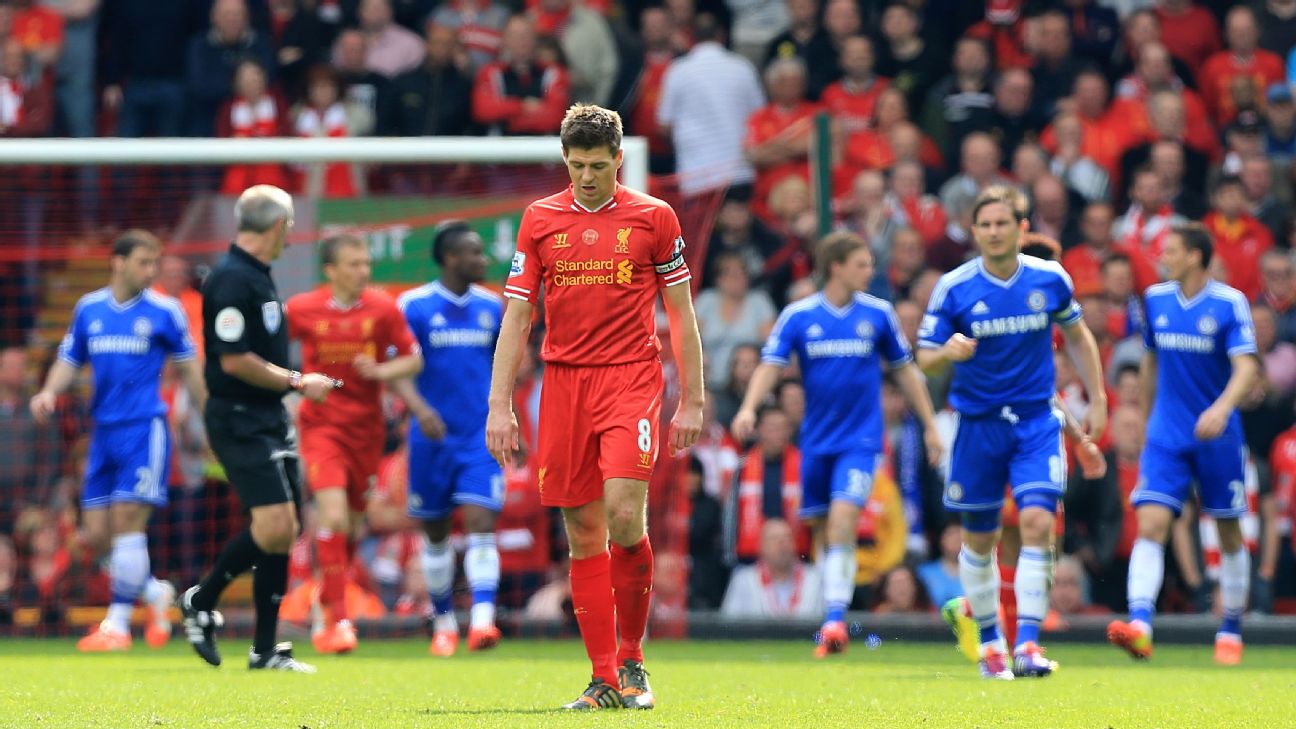 For many players, the pressure is at its height when the opposition are playing. Alan Shearer often tells the story of how, during Blackburn's tense race with Manchester United in 1994-95, he chose to paint his garden fence rather than watch United on television in an effort to escape the psychological torment. Ferguson would often head to the golf course to avoid being drawn into watching his closest rivals win again on television.
During Leicester's incredible title success in 2016, Claudio Ranieri would lighten the mood with jokes and an insistence that his team were only interested in avoiding relegation. He would also motivate his players by offering to buy each one a pizza whenever they kept a clean sheet, a ploy designed to trivialise the challenge in front of them and emphasise the fun of the game.
Jurgen Klopp has struck a similar note with Liverpool in recent weeks and months, with the German playing up the excitement of the race while, at the same time, attempting to turn the screw on City by claiming Liverpool must overcome the "best team in the world" to win the title. If you can't beat the "best team in the world" to win a title, that's no failure; at the same time, if the "best team in the world" can only finish second, what does it say about them? Klopp, all smiles, knows what he is saying and why.
Liverpool's challenge this season is different to City's, however. City are chasing their fourth title in seven years, but Liverpool are having to deal with the burden of expectancy and the sense of desperation that comes with not having won the league since 1990. When United ended their 26-year wait for the title in 1993, Ferguson applied the trusted techniques of urging his players to avoid all references to football in the media, but there was still no escaping the pressure, with midfielder Paul Ince admitting that "wherever you went, it was all anybody would talk about. You couldn't escape it."
"If you can, try to turn off being constantly on social media," Ince said. "Try to avoid a lot of the noise, get your head down and remember how you got to this stage."
Klopp's players face the same issues in 2019 as Man United did in 1993, but so far they are using the desperation as a positive and a source of motivation. Gerrard has insisted that the desire of the supporters to win the title should be embraced by the Liverpool players.
"I think it is only normal for the supporters," Gerrard said. "They want it more than anyone. They will help. When we were in that situation, I didn't feel suffocated by the fans. I actually felt they were right behind us and with us and wanted it so much.
"I saw it as a help rather than a hindrance."
There have been so many late winning goals for Liverpool this season, with the last two victories against Spurs and Southampton achieved in the closing stages, that a sense of fate comes into play. If players believe that fate is on their side, it can override the negative emotions, but Liverpool fell into that trap in 2014 and one slip, by one of their greatest-ever players, brought it all crashing down.
City have a different pressure to deal with due to the team's pursuit of a Quadruple. In the league they've looked almost serene at times, winning without having to over-exert themselves, but their fixture demands could trigger the fatigue which then becomes a psychological problem. Perhaps, then, the outcome of the title race will boil down to the simple equation of which falters first: City's legs or Liverpool's minds. The pressure of chasing a title will obviously drain both.
The sleepless nights, the endless analysis of the other team's remaining fixtures and where points will be dropped, and the unexpected twists and turns -- and slips -- on the pitch will all play their part. And the decisive moment might once again come on the day that Liverpool play Chelsea and City travel to Crystal Palace.