How VAR decisions have affected every Premier League club
VAR arrived in the Premier League this season but, despite much debate about how much it is impacting on the game, so far 19 goals have been directly affected by the video ref.
- Luck Index: How VAR may have affected results
- Marcotti: Luck Index 2019 - Here's what we found
- VAR in the Premier League: Ultimate guide
Here, we run through the league table of overturned decisions. Who will benefit most over the course of the Premier League season? Only Everton, Newcastle and Watford have yet to experience an overturn.
Total overturns: 19
Goals awarded: 4
Goals disallowed: 15
What will the VAR review?
- Goal/no goal
- Penalty/no penalty
- Direct red card (not second yellow card/caution)
- Mistaken identity (when the referee cautions or sends off the wrong player)
What will it not review?
- Any yellow card (including second yellow card leading to red)
- Any free kick offence outside the box (other than red card offence)
This relates purely to overturned decisions, so penalty appeals that stay with the on-field referee are not included.
Southampton +3
Three decisions
Game: Sheffield United (A; Sept. 14)
Incident: Oliver McBurnie's goal disallowed for offside, 52nd minute - FOR
Game: AFC Bournemouth (H; Sept. 20)
Incident: Josh King scored for the Cherries, but he was offside, 25th minute - FOR
Game: Wolves (A; Oct. 19)
Incident: Raul Jimenez goal ruled out for offside against Patrick Cutrone, 42nd minute - FOR
Leicester City +2
Three decisions
Game: Wolves (H; Aug. 11)
Incident: Wolves goal for Leander Dendoncker disallowed for handball in build-up by Willy Boly, 51st minute - FOR
Game: Tottenham (H; Sept. 21)
Incident: Goal disallowed for offside against Ayoze Perez, 16th minute - AGAINST
Incident: Son Heung-Min offside in build-up to Serge Aurier goal, 64th minute - FOR
Game: Burnley (H; Oct. 21)
Incident: Jonny Evans own goal ruled out due to a foul by Chris Wood, 80th minute - FOR
Arsenal +1
Game: Man United (A; Sept. 30)
Incident: Pierre-Emerick Aubameyang goal, originally ruled out for offside, overturned on review, 58th minute - FOR
Crystal Palace +1
Game: West Ham (A; Oct. 5)
Incident: Jordan Ayew goal awarded after originally being ruled out for offside, 87th minute - FOR
Norwich City +1
Game: Chelsea (H; Aug. 24)
Incident: Chelsea goal for Kurt Zouma disallowed for a foul on the goalkeeper by Olivier Giroud, 77th minute - FOR
Tottenham Hotspur +1
Three decisions
Game: Man City (A; Aug. 17)
Incident: City goal for Gabriel Jesus ruled out for handball in build-up by Aymeric Laporte, 90th minute - FOR
Game: Tottenham (H; Sept. 21)
Incident: Goal disallowed for offside against Ayoze Perez, 16th minute - FOR
Incident: Son Heung-Min offside in build-up to Serge Aurier goal, 64th minute - AGAINST
AFC Bournemouth 0
Two decisions
Game: Southampton (A; Sept. 20)
Incident: Josh King scored for the Cherries, but he was offside, 25th minute - AGAINST
Game: West Ham (H; Sept. 28)
Incident: Josh King goal, originally ruled out for offside, cleared by the VAR, 17th minute - FOR
Brighton & Hove Albion 0
Two decisions
Game: West Ham (H; Aug. 17)
Incident: Brighton goal for Leandro Trossard ruled out for offside by Dan Burn, who created the goal, 27th minute - AGAINST
Game: Aston Villa (A; Oct. 19)
Incident: Conor Hourihane goal ruled out for a foul by Wesley on Mat Ryan, 42nd minute - FOR
Burnley 0
Two decisions
Game: Aston Villa (A; Sept. 28)
Incident: Goal for Villa's John McGinn ruled out on review, Conor Hourihane offside in build-up, 25th minute - FOR
Game: Leicester (A; Oct. 21)
Incident: Jonny Evans own goal ruled out due to a foul by Chris Wood, 80th minute - AGAINST
Liverpool 0
Game: Chelsea (A; Sept. 22)
Incident: Chelsea goal ruled out after Mason Mount was offside in the build-up to Cesar Azpilicueta's goal, 27th minute - FOR
Game: Man United (A; Oct. 20)
Incident: Sadio Mane goal ruled out for handball, 43rd minute - AGAINST
Manchester United 0
Two decisions
Game: Arsenal (H; Sept. 30)
Incident: Pierre-Emerick Aubameyang goal, originally ruled out for offside, overturned on review, 58th minute - AGAINST
Game: Liverpool (H; Oct. 20)
Incident: Sadio Mane goal ruled out for handball, 43rd minute - FOR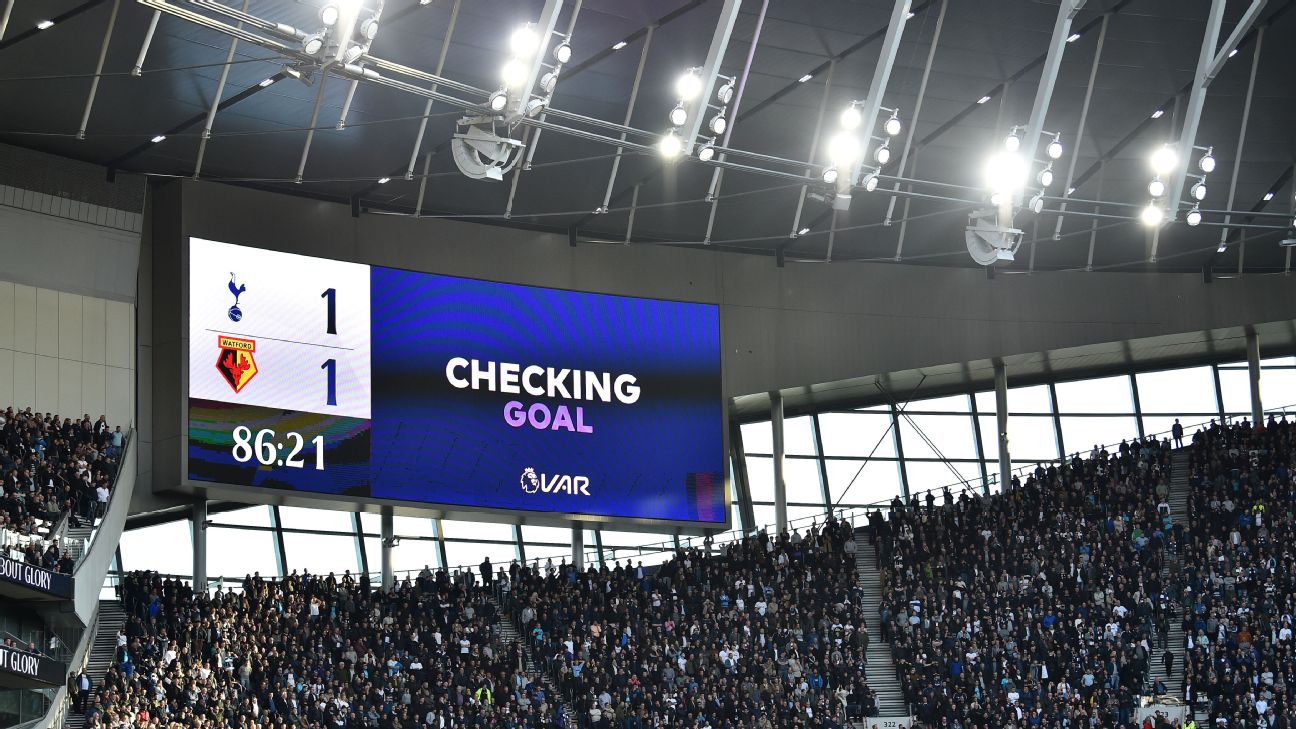 Manchester City -1
(three decisions)
Game: West Ham (A; Aug. 11)
Incident: City goal for Gabriel Jesus ruled out for an offside against Raheem Sterling earlier in the move, 53rd minute - AGAINST
Incident: Missed City penalty retaken due to encroachment by Declan Rice. Retake scored by Sergio Aguero, 86th minute - FOR
Game: Tottenham (A; Aug. 17)
Incident: City goal for Gabriel Jesus ruled out for handball in build-up by Aymeric Laporte, 90th minute - AGAINST
Sheffield United -1
Game: Southampton (H; Sept. 14)
Incident: Oliver McBurnie's goal disallowed for offside, 52nd minute - AGAINST
West Ham -1
Five decisions
Game: Man City (H; Aug. 11)
Incident: City goal for Gabriel Jesus ruled out for an offside against Raheem Sterling earlier in the move, 53rd minute - FOR
Incident: Missed City penalty retaken due to encroachment by Declan Rice. Retake scored by Sergio Aguero, 86th minute - AGAINST
Game: Brighton (A; Aug. 17)
Incident: Brighton goal for Leandro Trossard ruled out for offside by Dan Burn, who created the goal, 27th minute - FOR
Game: AFC Bournemouth (A; Sept. 28)
Incident: Josh King goal, originally ruled out for offside, cleared by the VAR, 17th minute - AGAINST
Game: Crystal Palace (H; Oct. 5)
Incident: Jordan Ayew goal awarded after originally being ruled out for offside, 87th minute - AGAINST
Aston Villa -2
Two decisions
Game: Burnley (H; Sept. 28)
Incident: Goal for John McGinn ruled out on review, Conor Hourihane offside in build-up, 25th minute - AGAINST
Game: Brighton (H; Oct. 19)
Incident: Conor Hourihane goal ruled out for a foul by Wesley on Mat Ryan, 42nd minute - AGAINST
Chelsea -2
Two decisions
Game: Norwich (A; Aug. 24)
Incident: Chelsea goal for Kurt Zouma disallowed for a foul on the goalkeeper by Olivier Giroud, 77th minute - AGAINST
Game: Liverpool (H; Sept. 22)
Incident: Goal ruled out after Mason Mount was offside in the build-up to Cesar Azpilicueta's goal, 27th minute - AGAINST
Wolves -2
Two decisions
Game: Leicester (A; Aug. 11)
Incident: Wolves goal for Leander Dendoncker disallowed for handball in build-up by Willy Boly, 51st minute - AGAINST
Game: Southampton (H; Oct. 19)
Incident: Raul Jimenez goal ruled out for offside against Patrick Cutrone, 42nd minute - AGAINST