Euro 2016: Five things to watch as qualifiers head to a conclusion
The international break is upon us again. Here are five things to watch as qualification for Euro 2016 heads towards a thrilling conclusion.
1. Albania play more than a game, and could get more than a win
The Albanians are aiming to qualify for the first time in their history, but must overcome the weight of political history and the cloud which still hangs over a reverse match that provoked more controversy than any other in this qualification campaign.
A year ago, Albania's trip to Serbia -- their first match against each other in decades -- caught Europe's attention because of a brawl that erupted after a drone flew over the stadium with Albanian motifs, igniting existing political tensions between the countries over Kosovo. It was eventually given as a 3-0 to Albania after being called off.
Now the fallout from that match, coupled with excitement around Albania's chances, should attract attention before their rematch in Elbasan. This is one of the games to watch, and one fact makes that clearer than anything: In the Albanian capital, tickets for the match are being sold for €150 to €500 more than the average monthly wage in the country. Those prices reflect how big a game this is.
If Albania win, they could effectively secure one of the two direct qualification places for Euro 2016, especially since Portugal host Denmark on the same day. The Portuguese head the group on 15 points, with Denmark three behind, and Albania on 11, but the trip to Lisbon is the Danes' last game of the campaign, which gives Albania the advantage.
The Serbian players are keen to take it away, however, which also reflects some of the tension around the game. "We all want to spoil their plans and beat them so that they do not qualify," Serbian goalkeeper Vladimir Stojkovic said recently.
Goals have been something of a problem for Albania -- given their top scorers are four players on one goal each -- but not conceding them has been an issue for Serbia.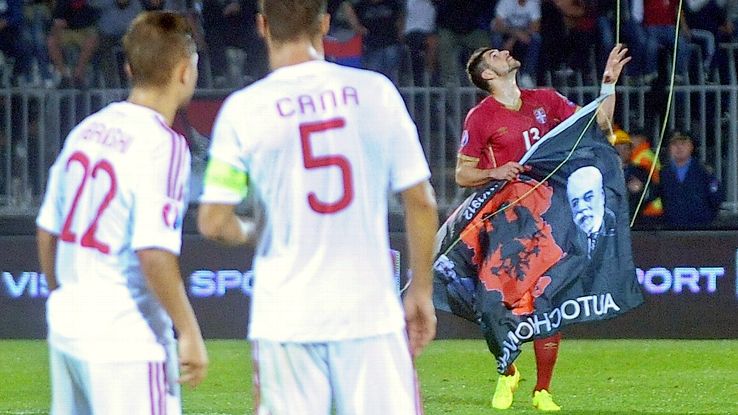 2. Can the Dutch save themselves, and save face?
It says much about how awful the Netherlands' campaign has been that, just two competitive games after succeeding Guus Hiddink as manager, Danny Blind was already being asked whether he would quit.
That's a fairly drastic state of affairs but then this is a fairly drastic situation. After defeats to Iceland and then Turkey in the September set of games, the Dutch fell behind the latter into fourth, meaning they are in danger of failing to qualify for a tournament for the first time since 2002. It also would be the first time they've failed to qualify for the European Championships since 1984.
Their fate is not in their hands, as they now need Turkey to slip up at least once, a situation Robin van Persie described as "terrible."
"I think it's really awful," the veteran said. "This whole qualification is very difficult, but we still have opportunities. We need to continue until the end anyway and winning the last two games."
At the least, the first of those games is relatively forgiving, away to Kazakhstan. The problem is that nothing about the Netherlands' recent games suggests they are in the right mindset or form to get a win. The biggest problem is the Dutch seem to have lost cohesion between young home-based prospects and stars like Van Persie, with a big debate going on about why the generation born between 1985 and 1990 have not produced international-class performers.
Now, they'll be without their best performer, as Arjen Robben is still out following the groin problem picked up in that defeat to Iceland. The Dutch must show they have more substance to them than stars.
3. Can Wales and Northern Ireland avoid disaster to attain deliverance?
It's so close they can almost taste it, but that only makes it feel all the more agonising, all the more elusive.
Wales have not qualified for any tournament in 57 years and just need a point to end that barren run. Northern Ireland have not qualified for any tournament in 29 years and need just two. Both tasks seem similarly elementary, but there is still some difference in the two.
The Welsh go to Bosnia-Herzegovina on Saturday and even if they lose there, they have a home match against Andorra as insurance. With Gareth Bale expected to be fit, they will surely have enough.
Northern Ireland don't have a player anywhere near Bale's level, or that insurance either. They face awkward matches: at home to Greece and then away to Finland, and there already have been signs of a few nerves.
This is the big issue. Will anxiety interfere with the excitement? Will a fear of losing what's in their grasp affect the assurance that Michael O'Neill's tight side have shown so far? Was Kyle Lafferty's stoppage-time equaliser in the September game against Hungary a sign that the determination is there to guide them through, or is the fact they needed it an indication that they're slipping?
Manager O'Neill at least betrays no such doubt.
"These players can write their legacy by going to a major tournament," O'Neill said. "The prize is great and it's something the players are determined to be part of. These opportunities don't come around for Northern Ireland players very often.
"I don't think motivation has ever been an issue for this team, if I'm honest. Even when results weren't going as well as we'd hoped I never had an issue in terms of the effort that the players have given me.
"The belief in the squad is fantastic."
It's time to pull off a fantastic feat.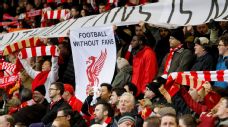 4. A Pole apart
Poland could be just one win away from the European Championships, so it's just as well they have one of the finest pure strikers in the world right now. Robert Lewandowski has been on a different plane of form at Bayern Munich of late, hitting 12 goals in his past four games for Bayern Munich, and also has represented the difference in this group behind leaders Germany. Whereas Scotland and Ireland have solid workmanlike squads, they don't have anything like the world-class quality of Lewandowski.
His 10 goals in this campaign have left Poland in second. Now, they travel to Glasgow for the faceoff that will condition the rest of the group. Fourth-placed Scotland know a defeat will eliminate them, while a Polish win will almost certainly put them through, given that Ireland, two points behind, host world champions Germany.
Lewandowski's form is bad enough for Scotland and Ireland, but it will be all the worse for Gordon Strachan's side if the striker is fired up, as seems to be the case. On the eve of the game, he was talking about the horror high tackle he received from Gordon Greer in Scotland's 2-2 draw in Warsaw last year.
"I hope the situation on Thursday is not the same as in Warsaw because after that foul by Greer I couldn't run," Lewandowski said. "If it turns into a battle, fine. I can handle myself in any aerial or physical combat. As long as it's within the rules."
Lewandowski was asked how he'd respond if Greer introduced himself during the game: "I would prefer it if I could say to him after we have won the game 'Remember me?'"
Because of those comments, one Scottish paper mocked up Lewandowski as a "big baby" complete with rattle. It's probably not the best idea to provoke one of the most prolific strikers in the world right now.
5. Can this series of qualifiers give us the ending, and upset, it deserves?
As good as any competition is, the lasting perception of it is usually set by its ending. You only have to think of how a dull final further emphasised how negative the 1990 World Cup was, or how Chelsea's procession to the title conditioned discussion of the 2014-15 Premier League. So far, the remodelled Euro 2016 qualifiers have demolished all prior discussion that they would be boring due to the expanded tournament, because it has been filled with excitement.
The best example of that is the fact that smaller countries such as Wales, Iceland and Northern Ireland have reached levels of performance that would have seen them qualify with a 16-team tournament.
To properly round it all off, though, it does feel like we need a last flurry of matches; the kind of fixtures where teams are feeling the tension and it produces all manner of drama. There was never been a better night of that in European football than the end of the USA '94 qualifiers: Santiago Canizares putting in the performance of his life for 10-man Spain against Denmark; Italy squeezing through.
This is what these qualifiers need. Even with some notional minnows getting through, a series of last matches that mean nothing would be exactly what people were worried about with the expanded tournament.
At the least, there are a number of games that look like they have that potential: Poland vs. Ireland, Italy vs. Norway, Netherlands vs. Czech Republic.
They may offer the crescendo that these qualifiers deserve.
Miguel Delaney covers the Premier League and Champions League for ESPN FC. Twitter: @MiguelDelaney.