Belgium a good bet for Euro 2016 as Hazard and co. top FIFA rankings
Brussels' King Badouin Stadium felt like the spot for a royal party Tuesday. Belgium were celebrating on a number of fronts -- having already clinched qualification for Euro 2016, they sealed top spot in Group B with a 3-1 win over Israel.
It was a victory that also meant they would become only the eighth nation to occupy the No.1 spot in the FIFA world rankings since they began in December 1992. The latest table is produced next month.
Little wonder that Barcelona's Thomas Vermaelen spoke of these being "great times" for the nation on his Twitter account after the game. Fellow defender Jan Vertonghen called the night in Brussels "the highlight" of the campaign in a television interview after the match. His eyes were still glowing from the players' joyous lap of honour, during which the big, brash synth stabs of Belgian artist Stromae's "Ta Fete" (Your Party) filled the night air.
Nobody was going to stick a pin in the balloons on the night. Not even anyone in the opposition camp, in fact.
"I've closely watched Germany, Argentina and Brazil," said Israel coach Eli Gutman in his postmatch news conference, during which he also announced his resignation.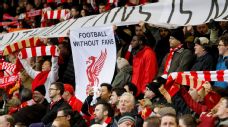 "At this moment, Belgium are at a superior level to those teams."
Everybody loves a magnanimous loser, but really? In the aftermath, it seemed like even the Belgians weren't totally convinced by this.
"We've done it. Even if it's a bit weird to be in front of teams like Argentina, Italy, then Germany and Spain, who are (respectively) the world champions and the team that's won the Euros twice in a row," a wide-eyed Thomas Meunier told reporters in the mixed zone as the night's events sunk in.
Dries Mertens, who opened the scoring in the second half, was slightly more circumspect when asked what it felt like to be on top of the world. "It makes me smile," grinned the Napoli winger.
It has all come together pretty quickly, which is one reason that Belgium's players appeared to be caught on the hop by the situation. As recently as mid-June, they were forced to examine their own shortcomings after a painful defeat to Wales, with Gareth Bale scoring the winner in Cardiff.
This loss saw Les Diables Rouges slip from top spot in the group, even if their place in France next summer never looked under serious threat -- due in part to the struggles of others, not least fellow 2014 World Cup participants Bosnia-Herzegovina.
Belgium's position is one by at least partial default and there is no outstanding candidate for next summer's tournament in France, as it stands. Spain's new generation has not developed quite at the rate anticipated and the loss in Slovakia earlier in the campaign is still fresh in the mind. Germany didn't mathematically qualify until the last game, while host nation France's current run of four straight wins followed a sequence of three defeats in four.
Netherlands endured an incredibly steep decline. The Oranje, having finished third at the World Cup in Brazil last summer, began the Euro 2016 qualification campaign some 8,000 points ahead of the Belgians in UEFA's own national team coefficient rankings (Belgium are now fifth, and Netherlands seventh).
Outside Europe, Argentina's stuttering start to South American qualifying for World Cup 2018 continued with a goalless draw in Paraguay. Tata Martino's team are in seventh place in the nascent table, with Brazil fifth.
So it's natural that Belgium have a sense of being handed a trophy before school sports day is underway. In part, it's a lingering sensation of unfulfilled promise hanging over from last summer in Brazil, even though Marc Wilmots' side reached the quarterfinals in the country's first participation at a major tournament in 12 years. That's the extent of the potential, a globally recognised truth endorsed by the fact that 10 of the 21 involved against Israel play in the Premier League.
These are no hidden up-and-comers, and knowing that, young players of the value of Yannick Ferreira-Carrasco, Michy Batshuayi and Dennis Praet still have only five caps between them. There is the chance, you sense, to dominate for years to come if it is played right.
Whether Wilmots is the right man to do that is open to debate. He has played his part in harvesting a crop that took a while to mature, after initially showing signs of promise when Belgium gained fourth at the Beijing Olympics in 2008. Eden Hazard represents the Wilmots effect in microcosm. The Chelsea man was frustrated, misused and often chastised by Georges Leekens, before his assistant Wilmots stepped up in 2012.
Wilmots is 20 years younger than his predecessor and it has showed. It has been a happier camp under his charge and that feeling of him just being one of the boys -- a big brother caretaker if you like -- is often there.
La Derniere Heure underlined that he was in the thick of Tuesday's frivolities, squirting his players with champagne as they did likewise. Even if his tactics seem unlikely to unlock the squad's full potential, many of the squad have let it be known that they didn't want him to go when his old club Schalke came in for him this summer.
Playing within oneself, as Belgium often seem to, could even be seen as a Euro finals hallmark. Look at Spain throughout Euro 2012, right up until their virtuoso demolition of Italy in the Kiev final.
We could even consider, in a slightly different way, Greece's triumph 12 years ago. When it's boiled down to results, there is little to complain about.
"The work we've done in the past two or three years has been almost perfect," Meunier emphasised after Tuesday's game.
That's why Vincent Kompany and Kevin De Bruyne had every reason to flag their ambitions to win the Euros without any hint of hubris after Tuesday's game. Even if their manner is frequently underwhelming -- and may continue to be so -- Belgium are serious contenders.
Andy Brassell is a freelance European football writer and broadcaster for the BBC, The Independent, ESPN, The Blizzard, Four Four Two, Talksport and others.