Karim Benzema denies involvement in Valbuena sex-tape blackmail scandal
Real Madrid striker Karim Benzema has insisted that he is innocent of any wrongdoing in relation to an alleged blackmail plot involving France teammate Mathieu Valbuena.
Benzema, one of France's key players, is facing charges of conspiracy to blackmail relating to an extortion scam over a sex tape featuring Lyon midfielder Valbuena. He is suspected of having played an active role in pressuring Valbuena to deal directly with the blackmailers.
Speaking publicly for the first time on Wednesday since becoming embroiled in the scandal, Benzema denied any involvement.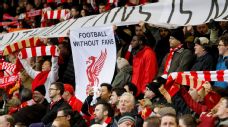 "I am being accused as though I were a criminal, of terrible things," Benzema said in an exclusive interview on France channel TF1, which was pre-recorded and aired on Wednesday night. "What happened is simple, I found out that there was a video made of him and I let him know but he was already aware. I told him that I could help him through a friend I had in Lyon. We talked about it, about whether he had let his family know and if they knew, about whether he should let it come out."
Benzema also accused the media of plotting against him.
"They have spoken of blackmail, I have heard them say that I was seeking money and my friend was as well," Benzema said. "That makes me crazy, I never spoke about money."
Benzema's involvement in the plot has not yet been fully determined but investigators believe he was approached by a childhood friend, Karim Zenati, to act as an intermediary and convince Valbuena to deal directly with the blackmailers.
Benzema, who denies any wrongdoing, has also been placed under judicial supervision, meaning he cannot meet with Valbuena during the investigation. If the case continues to drag on until Euro 2016 starts on June 10, France coach Didier Deschamps won't be able to call both players in his squad for the continental tournament.
"I don't know any blackmailers Zenati has been my friend since childhood. He has been in jail but he is out and has another chance. He has his past but he is my friend."
French Prime Minister Manuel Valls joined in the criticism of Benzema on Tuesday, saying he "has no place" in the national team, days after Valbuena said he felt betrayed by his France teammate.
"I am faithful to my friends and family, I am a good example to young people," Benzema said in defense of the comments made by Valls.
Asked about the criticism from Valbuena regarding his involvement in the incident, Benzema said: "When I spoke with Valbuena in his room he told me "'Thanks brother for giving me a heads-up.' I don't think that Valbuena believes what was said in the interview. I think the statements, the lawyers and all that came out at the time conditioned his comments.
"The only regret I have is joking with Zenati about the subject, that was idiotic. I would like to have spoken with Valbuena to ask for forgiveness. I do not understand why I am being implicated because I stayed on, I slept there and I was the one who said I wanted to make a statement."
Meanwhile, Benzema's lawyer Alain Jakubowicz said that he will file a law suit for breach of confidentiality of a judicial investigation after Le Monde newspaper published excerpts of the striker's first examination in front of the investigating judge.
"This is absolutely unacceptable, this case has been turned upside down," Jakubowicz told RTL radio. "Mathieu Valbuena, who is a victim and an honest man, has been influenced in his declarations. But how could it have been different?"
Le Monde published statements given by Benzema to the judge investigating the case after he spent a night in custody at Versailles police station last month. Benzema denied his implication in the plot and told the judge he was a victim of "a big misunderstanding."
Benzema said he just wanted to "help" Valbuena by letting him know about the sex tape and putting him in touch with his "best friend" Zenati, who is suspected of having played a central role in the scheme and has also been handed preliminary charges.