Hellas Verona's Luca Toni in Munich court over €1.7m church tax dispute
Hellas Verona striker Luca Toni appeared in a Munich court on Wednesday as a dispute over claims he owes German authorities €1.7 million in church tax continues.
Toni, 38, is suing his former tax adviser in Germany for compensation, arguing that during his time as a Bayern Munich player he was registered as a Roman Catholic without his knowledge.
The former Italy international played for Bayern between 2007 and 2009 and under the terms of his contract the German club were expected to look after tax deductions.
Toni denies having any memory of a conversation about Bavaria's eight percent church tax in December 2007 and said that the first he heard of it was from an Italian tax advisor in September 2010.
"I did not know that you have to pay so much money to be a Catholic here," he is quoted in Tageszeitung as having told the court. "For me, everything in Munich was new when I came from Florence in 2007."
According to kicker, Toni was registered for tax purposes as a Roman Catholic in 2008 by his new tax adviser. The player said he would immediately quit the church if he had to pay tax.
"If someone believes in God, he shouldn't pay the church," he said.
Wednesday's second day in court was required after a previous proposal to settle the problem was rejected in March. It was suggested then that the adviser and Bayern pay €500,000 each, while the former Fiorentina player would pay €700,000 of the €1.7m that is still owed.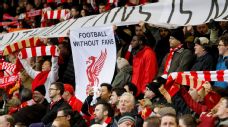 Toni said on Wednesday that he would rather spend his money on an orphanage than a church tax, while the court also heard that he had earned €43m during his time at Bayern.
Toni was the Bundesliga's top scorer in the 2007-08 season and in total found the net 38 times in 60 league matches for Bayern.
Last season, the veteran was joint top scorer in Italy's Serie A with 22 goals and he has agreed to play for at least one more year with Hellas Verona.