NYCFC's Frank Lampard says more time needed to jell with Andrea Pirlo
NEW YORK -- New York City FC star Frank Lampard believes his pairing with Andrea Pirlo will bring significant dividends as they jell and gain chemistry.
When NYCFC announced its signing of Pirlo, there was a mixed reaction to the move, with some hailing the club's recruitment of the Italian set-piece maestro while others wondered how the 36-year-old would fare playing with Lampard, who's 37. Would they be too slow to defend in MLS, which is known for having athletic players?
Lampard has no doubts that they will thrive in the league.
"No conflicts in playing style, we just need more time. I think Andrea is a fantastic player, he complements anyone because he's such a high quality player," Lampard told ESPN FC, after he was honored along with fellow NYCFC teammates Pirlo and David Villa by the Gray Line's Ride of Fame.
"When he's got the ball in his feet and you're making runs, you know he's going to find you. We've only played a few games together. Andrea's just came in and I've been injured, I'm still not completely match fit myself.
"When you see us both at our top, especially me being fit, I think we can really link up well here and be successful."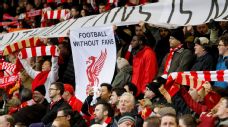 Inconsistency has plagued NYCFC in its inaugural year in MLS as its playoff chances are slim -- the club sits in eight place in the Eastern Conference -- despite having a star-studded roster. Frustrations at the club not meeting some of its expectations reached a boiling point towards the end of August, where manager Jason Kreis said he was "disappointed" in the team after losing to the Columbus Crew and stated that "it's tough to see it," in regard to the team's playoff chances.
Lampard responded to those comments, saying the team's results weren't "for the want of trying."
After that response, there was some speculation that Lampard and Kreis weren't exactly on the same page, but the former Manchester City and Chelsea player insisted that their relationship is fine.
"I have a very good relationship with him. I've found him to be very good to work with since meeting him quite a while ago," he said. "He's a very forward thinking coach and gets on very well with his players as a man manager.
"So I like him a lot. I think a lot of our problems this year have been just first year problems... I think we can be a bit more settled and learn from this year [next season], hopefully that's where we can push on."
Lampard believes that with a full preseason next year, he and his teammates will perform better in 2016. His late arrival to NYCFC, joining the club in July after originally saying his loan at Manchester City would end before the club's season started in March, lead to some public criticism but he insists that he has no regrets about that situation.
"Yeah, I never look back on things and have regrets," he said. "The way how Manchester City is, it is a strange situation, the fact that we're owned by the same owners.
"They wanted me to stay there, we were fighting for the Premier League at the time. It was a difficult position for me, your bosses are your bosses at the end of the day."
He added, "Of course, there were times where I was looking here [New York City] and knowing that this is what I signed for. But I couldn't please everyone at the same time. But what I have now is the desire and now that I'm here, I want to show I can do and help us win. "
While it is still early in Lampard's MLS career, he has enjoyed his time in New York and has been impressed with the quality of the league. He believes MLS will continue to grow but still thinks it needs more time before it can sign top players in their prime as opposed to the average Designated Player, who usually sign in their 30s.
"I think the MLS is smart and clever because this is a long game. They don't allow teams to throw money around and make the league a bit lopsided. It's a very even league," he said.
He added. "I'm not a man to tell MLS what to do but I think as time goes and if the league stays strong, maybe there'll be an extra DP and more quality players coming in. Guys coming in from Europe and the young American players and all of the sudden, the league will have its own credibility and strength. Then you'll see players come in who are younger."