Sergio Aguero sets record for fastest-ever five-goal haul in Premier League
Sergio Aguero was delighted to make Premier League history by recording the quickest ever five-goal haul in the division.
The Argentine emulated Andy Cole, Alan Shearer, Jermain Defoe and Dimitar Berbatov, the only previous players to strike five times in a match, as Manchester City beat Newcastle 6-1 at the Etihad Stadium.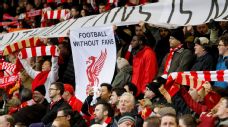 Aguero's five came in the space of just 20 minutes, making him faster than any of the others.
"I am really, really happy," he said. "I've just realised that I equalled this record, but the most important thing is that we won this game and got the three points."
Aguero had endured a 465-minute Premier League drought before he headed the equaliser against Steve McClaren's team.
And now he has set his sights on a run of goals, adding: "I hope to continue in the same way. I am happy to score all these goals because it was useful to win.
"I think it was four games without scoring any goals in the Premier League, so I am really pleased about my performance."
Manchester City
Newcastle United
Game Details
Manager Manuel Pellegrini said Aguero had required treatment on a hamstring problem at half-time and that he had removed the forward as a precautionary measure to stop him getting injured again.
Aguero said: "I had a problem with my hamstring in the last game against Borussia [Monchengladbach] in the Champions League against Borussia, but now I am feeling good.
"It was a good decision from the manager to change me, because it means no risk."