Manchester City 'still not ready to fight for the latter stages' of Champions League - Pep Guardiola
Pep Guardiola believes Manchester City are still not ready to compete for the Champions League despite taking a big step towards the quarterfinals with a 3-2 away win over Schalke.
City gave away two penalties and were down to 10 men after Nicolas Otamendi's second yellow card when they fought back to win in the final five minutes with a Leroy Sane free kick and Raheem Sterling winner.
But Guardiola was frustrated to concede two goals, insisting they have to make fewer mistakes if they are to compete in Europe.
"It was a great result but we gave away the first penalty, we gave away the second penalty, we gave away the red card, in this competition that is not good, too many things," he told BT Sport.
"We are still not ready to fight for the latter stages, that is the reality, but the result is really good.
"We played good but we lost some easy balls, which you are not allowed to do in this competition."
The City boss had no complaints about the award of either penalty. The first was given by the video assistant referee (VAR) after a three-minute delay, following a shot from Daniel Caligiuri that struck Otamendi on the arm. Referee Carlos Del Cerro Grande did not review the decision as the pitch side monitor was not working.
The Spanish official then gave a second penalty for Fernandinho's foul on Salif Sane with the defender not interfering in play despite being in an offside position.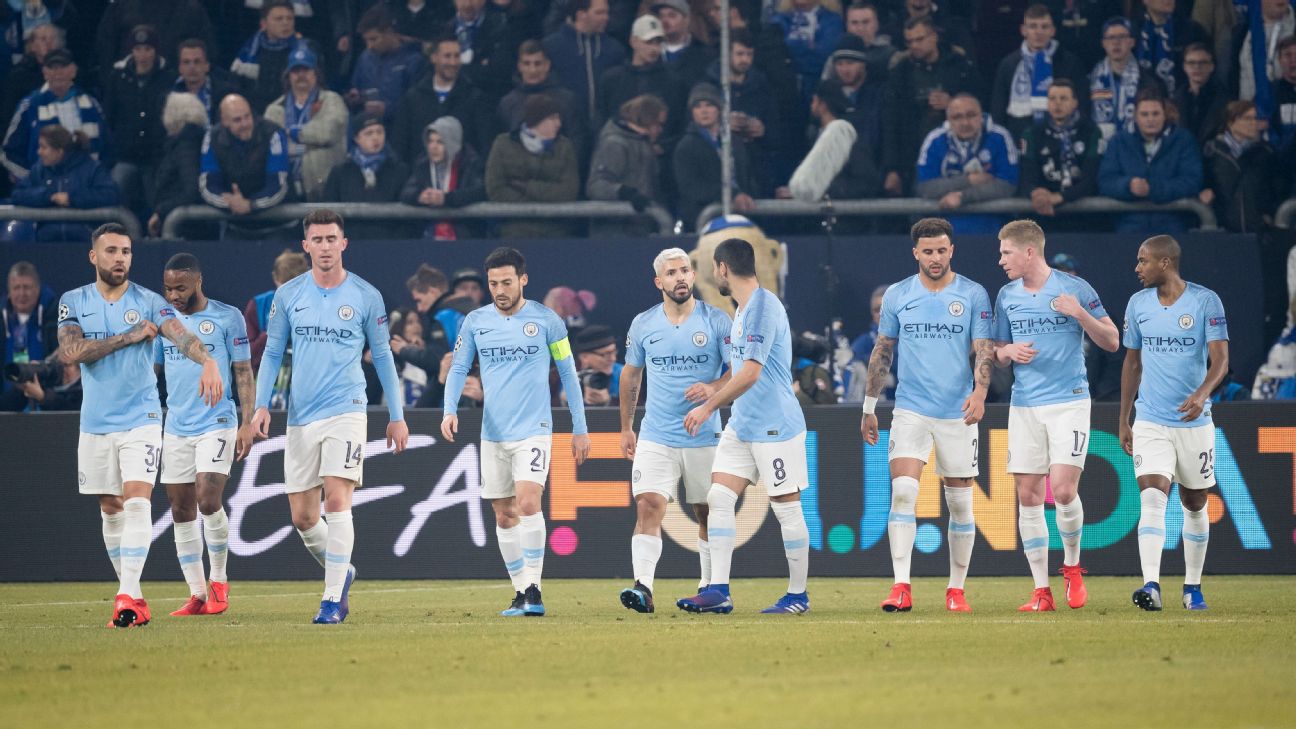 "I trust VAR," Guardiola said. "I am a big fan of that so if it's a penalty, it's a penalty.
"I have arguments for complaining sometimes but not on this one. I think the first is a penalty and the second one and the red card.
"We played with personality but gave away two goals when they didn't do absolutely anything. How many shots on target did they have? I think zero.
"It's not over. I like to live these kind of situations to realise this competition is completely different. We gave too much to the opponent to still be in the game."
Sane, whose long-range free kick brought Man City back into the game and cruelled Schalke's hopes of a famous win, said the victory over his former club was a bittersweet experience.
"I was a little bit sad for Schalke, because the atmosphere was amazing like it always is," Sane, who joined City from the German side in 2016, told BT Sport.
"You can see the will is a lot, we never give up, we always want to keep fighting.
"Schalke did really well, the way they defended made it difficult. At the end we did it, we scored three goals away -- that was the most important thing."
Sterling, who latched onto Ederson's long pass to grab the winner, praised the spirit of the City team to keep going and leave Germany with a vital victory when they looked to be heading back to Manchester with a deficit.
"It was a really tough game, we made it difficult for ourselves at times but we stuck together, even with 10 men," he said.
"For my goal, it was a little nudge in the back of the defender and I took my opportunity and we got the win.
"We have had some difficult patches this season, you can't win every game 3-0 and in the Champions League the opposition can hurt you."
Information from Reuters was used in this report.