Paul Pogba's Manchester United exit Mino Raiola's fault - Sir Alex Ferguson
Sir Alex Ferguson has blamed Paul Pogba's agent for the midfielder's departure from Manchester United.
Pogba, 22, joined Juventus when his contract at Old Trafford expired in 2012 but Ferguson claimed Pogba was willing to sign an extended deal until Mino Raiola became his representative and intervened.
The Scot, who was United's manager from 1986 to 2013, said he and Raiola, whose clients also include Mario Balotelli and Zlatan Ibrahimovic, were like "oil and water."
In his new book "Leading," Ferguson wrote: "There are one or two football agents I simply do not like. And Mino Raiola, Paul Pogba's agent, is one of them.
"I distrusted him from the moment I met him. He became Zlatan Ibrahimovic's agent while he was playing for Ajax, and eventually he would end up representing Pogba, who was only 18 years old at the time.
"We had Paul under a three-year contract, and it had a one-year renewal option which we were eager to sign. But Raiola suddenly appeared on the scene and our first meeting was a fiasco.
"He and I were like oil and water. From then on, our goose was cooked because Raiola had been able to ingratiate himself with Paul and his family and the player signed with Juventus."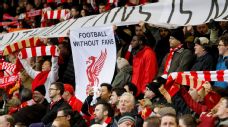 United were awarded £800,000 in compensation when Pogba joined Juventus but theFrance international, who has since won three Serie A titles and helped the Bianconeri reach May's Champions League final, is now valued at €80 million.
Pogba never started a game for United and has since said he was particularly aggrieved when Ferguson chose to pick right-back Rafael da Silva and winger Ji-sung Park ahead of him in the centre of midfield against Blackburn in December 2011.