Liga MX predictions: Chivas back to playoffs, Cruz Azul to fall short again
MEXICO CITY -- On the eve of the new Liga MX season kicking off, what to make of the flurry of transfer moves and coaching changes made after Club America cemented their thirteenth league title? How will clubs like Pumas, Cruz Azul and Chivas rebound after very different disappointments ended their respective seasons? Here are five things to expect in the Clausura 2019:
1. Chivas will return to the playoffs
Even after a disappointing Apertura and the loss of a few key players in the winter transfer window, Chivas has plenty of reason to feel confident of rebounding in the first half of 2019. The additions of Hiram Mier and Jesus Molina are huge for a team that allowed only 22 goals despite a lack of personnel depth in the rear.
Given coach Jose Cardozo's penchant for strong defenses, teams facing Guadalajara can expect a stingy back line. Last season, scoring goals was a problem for Chivas, an issue newcomer Alexis Vega hopes to help with. The former Toluca man is an upgrade over Angel Zaldivar, though it remains to be seen whether Dieter Villalpando can match the production that came to be expected from Orbelin Pineda, who's now been shipped off to Cruz Azul.
Perhaps the biggest argument for an upward swing is frankly, that most clubs on the outside in did not do much to upgrade their squads in comparison to Guadalajara, while a few who did make the playoffs -- like Queretaro -- have gotten significantly weaker.
2. Cruz Azul will mount another title challenge -- and fall short
The regime change headed by team president Ricardo Pelaez and coach Pedro Caixinha was swift and effective. Cruz Azul went from an underachiever to an instant contender thanks to savvy signings and a defined, effective style of play. So what happened? In their championship clash against Club America, the Mexico City side's timid failure wasn't even worthy of their pejorative verb, cruzazulear.
Repeatedly, the toxic pressure surrounding Cruz Azul and their quest for the title after 21 years manages to seep into every member of the team regardless of how long they've been tenured. After dominant defensive showings and brutal, direct attacking defined them throughout the Apertura, Caixinha's boys looked to have stage fright against their most hated rival when it mattered most. This season, it is hard to deny Cruz Azul will be among the top teams in Mexico -- their signings of Yoshimar Yotun and Jonathan Rodriguez will bolster key areas and give them arguably the deepest roster in all the league.
However, unless a full change of the club's culture eradicates their fear of failure, this will likely again end in heartbreak for fans of La Maquina.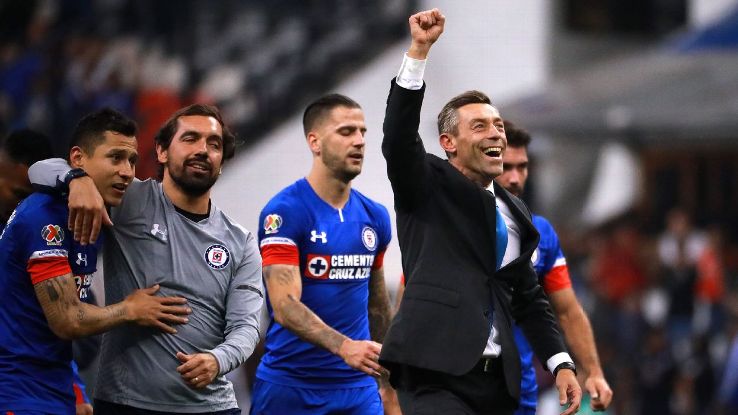 3. Northern clubs will present a strong challenge
Expect all three teams from the north that made the playoffs in the Apertura -- Monterrey, Santos and Tigres -- to be there again in the Clausura. Monterrey made the winter's splashiest signing when they brought talented Argentina midfielder Maxi Meza from Independiente for a reported $15 million over the winter. Paraguay forward Adam Bareiro might also turn out to be one of the signings of the season after a great spell at Club Nacional.
No longer commuting between the Mexico national team and Tigres, manager Ricardo Ferretti will once again give UANL his undivided attention. Despite a quiet offseason, Ferretti's team is blessed with a deep roster and the return of Luis Quinones, who spent the last two-and-half years on loan. Though entering his mid-thirties, striker Andre-Pierre Gignac is showing no signs of slowing down, evidenced by his 14 goals in the Apertura.
Santos Laguna, on the other hand, went through its semi-annual ritual of replenishing its roster with under-the-radar signings to replace departed stars. Gone is Jonathan Rodriguez, but former Morelia midfielder Diego Valdes should be a massive arrival, especially for striker Julio Furch, who is coming off a career year.
4. Tough road for Club America to repeat
The defending champs have not addressed their only pressing need -- signing a striker, and will likely lose 18-year-old wunderkind Diego Lainez to Ajax in the coming days. Last season, Club America rode a horde of unlikely goal scorers who stepped up in key moments to deliver the title, a tendency that history tells us should not be expected again. After a long layoff from injury, the club will regain French attacker Jeremy Menez in late January, but the former Paris Saint-Germain man will have to battle for playing time amid a deep roster.
With other teams at the top (mainly Cruz Azul and Monterrey) getting better over the winter break, Miguel Herrera's boys have the toughest task in Mexican football: repeating. Only two teams (Pumas and Leon) have won back-to-back titles since Mexico's switch to the short format in 1996, and bucking that trend will mean Club America's near-perfect execution on all phases will need to continue.
5. Veracruz will be relegated
There will likely be no repeat of last year's debacle involving promotion and relegation in Liga MX. Atletico San Luis, who are backed financially by Atletico Madrid, won the Apertura and are candidates to repeat this season. Runners-up Dorados, also one of the handful of Ascenso clubs with strong enough finances to join the first division, will likely be there too.
So what does this mean for clubs like Lobos BUAP, Puebla and Veracruz? Well, it means these next five months have to count, or else. Puebla's steady yet unspectacular recent seasons are more than enough to think they'll be able to keep their heads above water, while clubs like Atlas and Queretaro will need only a handful of points this season to secure their spot. Likely, Veracruz and Lobos, with the latter's volatile relegation percentage, will command most of the eyeballs during the final semester.
Lobos' refusal to sell surprise goal scorer Leo Ramos is huge for their chances to survive, while Veracruz's shocking level during the last two-and-a-half years is unlikely to sustain them, despite a huge influx of players coming in for the Clausura.