If PSG's Champions League curse continues, Tuchel's time in Paris may be nearing its end
It's fair to say that Thomas Tuchel isn't really enjoying 2020. Only three months into the new year, and the Paris Saint-Germain manager is under pressure in the Champions League ahead of Wednesday's return leg with Borussia Dortmund.
On his return to Dortmund, where he managed from 2015 to '17, his PSG side lost 2-1 in their round-of-16 first leg as Tuchel got his tactics wrong before and during the match. Afterward, Tuchel was insulted on social media by the brother of PSG defender Presnel Kimpembe, reportedly calling the manager a "son of a b----." He took responsibility for the club's handling of Neymar's rib injury, which the Brazilian criticised after not playing against Bordeaux prior to their Germany trip, and Marquinhos had said that the players played with the fears of making mistakes.
There was his very public altercation with Kylian Mbappe on Feb. 1 on the touchline at the Parc des Princes when the striker was visibly unhappy at being taken off against Montpellier, not to mention the fury shown by Mauro Icardi, who was angry at not even coming off the bench against Dortmund later that month.
Tuchel has been undermined and irritated by the players' public birthday parties around big matches, like Neymar's celebration 48 hours before the game at Nantes and then the festivities of Edinson Cavani, Angel Di Maria and Icardi, 48 hours after the loss in Germany. And what about Thomas Meunier telling the media that no one from the staff, head coach included, warned him that he was on a yellow before the game in Germany?
A source has told ESPN that his days were numbered because of all the reasons mentioned but also the general feeling that the team is not improving as much as it should. But a lot can still change between now and the end of the season. And now Tuchel must prepare for the return leg against Dortmund, which will be played in an empty stadium due to measures intended to prevent the spread of coronavirus.
The game will cause PSG difficulty, but the context is far more concerning. Every year, it is pretty much the same routine. There is a lot of eagerness and enthusiasm once PSG reach the knockout stages of the Champions League. We debate the team's capacity to go far in the competition. We analyse how Neymar, Mbappe or Marco Verratti can carry this team. We underline the strengths and weaknesses. Fans check bookmaker odds. They get excited, anxious, restless. Yet, since the Qataris took over in the summer of 2011, the one constant is their inability to win in Europe.
A history of knockout failure
PSG's karma in the Champions League over the past eight years has been incredible. Every season, something goes wrong and it's not just the fact they get knocked out and can't even reach the semifinals that is most impressive. No, it's the fact that there is always something dramatic about it, as if it was fate.
In April 2013, Lionel Messi came off the Barcelona bench in the Champions League quarterfinal second leg after picking up a calf injury in the first leg in Paris (2-2). With 30 minutes left to play, PSG had the lead and a foot into the next round; then Messi changed the game. Final score: 1-1, and Paris bow out on away goals.
The Parisians were even closer in 2014, but this time, Demba Ba's shin sent Chelsea to the semifinals with a late goal to overturn PSG's 3-1 first-leg win. In 2015, David Luiz recovered from injury to face Barcelona but was humiliated by Luis Suarez and PSG lost the quarterfinal first leg 3-1 at home to the eventual winners.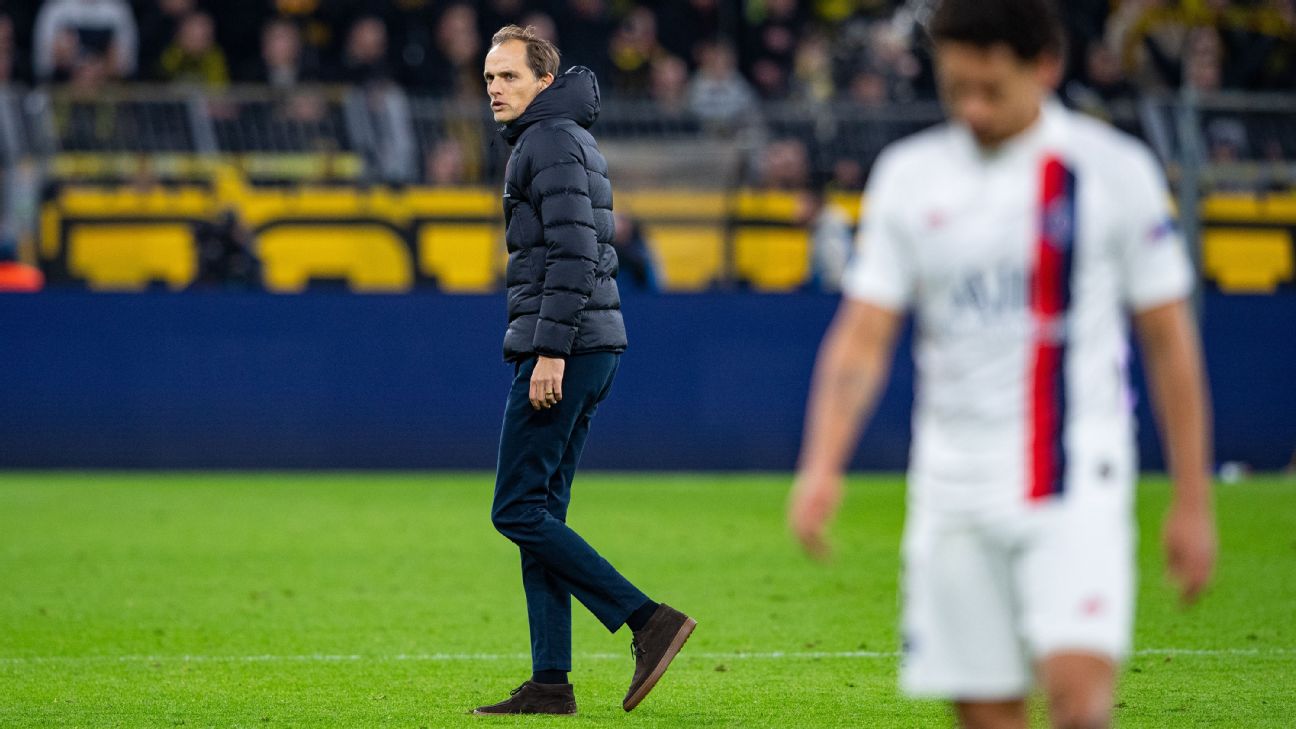 In 2016, a 2-2 draw in the quarterfinal first leg vs. Manchester City had hopes high of reaching the final four, but Laurent Blanc's decision to use a new formation against Pep Guardiola -- one the players had never used before -- led to a 1-0 second-leg defeat and more humiliation. Yet, nothing can beat what happened in 2017. It has a name known worldwide ("remontada") and even if the referee played a (huge) part, Paris and Unai Emery went from a stellar 4-1 win at home against Neymar and Barcelona to a 6-1 loss at the Camp Nou in the last 16. An incredible and unreal night.
In 2018, PSG had Neymar and Mbappe but the Brazilian's injury between the two last-16 legs against Real Madrid ruined their momentum. The Parisians lost in Madrid (3-1) and the second leg proved to be an anticlimax. In 2019, Neymar was injured again and didn't even feature in the last 16 first-leg at Old Trafford against Manchester United. Without him, the Parisians outplayed the Red Devils (2-0) thanks to a transcendent Mbappe but collapsed in the second leg: Mistakes by Thilo Kehrer and Gianluigi Buffon were costly, Mbappe didn't deliver and a controversial penalty scored by Marcus Rashford brought a second remontada, this time at home though (3-1).
So what will 2020 hold against Dortmund? PSG never turned up in the first leg in Germany, losing 2-1. Neymar has not played much since the start of February. There is tension between Tuchel and the dressing room. Verratti and Meunier are suspended, Thiago Silva is doubtful and, more importantly, the game will be played behind closed doors. Talk about karma.
The toll on Tuchel
Tuchel knows he is under pressure. He looked tired in his news conferences. He is short when answering questions. He sighs a lot. He comes across as agitated at times, knowing that despite having signed a contract extension less than a year ago that should keep him at the club until June 2021, his tenure is under huge scrutiny.
For a start, PSG can still qualify for the quarterfinals of the Champions League. It's not beyond them at all to reverse the tie; in fact, there's a lot of belief inside the club that they will go through on Wednesday. The Parisians will also win the league title, again, and are on course for a domestic treble too with the league cup final against Lyon on April 4 at the Stade de France and a French Cup final to look forward to after thumping Lyon 5-1 on March 4. Yet there is a feeling that whatever happens next, Tuchel won't be there next season.
Tuchel will surely have noticed PSG director of football Leonardo talking on the phone at the front of the team bus immediately after the defeat in Dortmund. Leonardo knew the cameras were there too; it was not an innocent photo. He has been observing Tuchel all season: how he manages the dressing room, the substance of his tactical decisions, the nature of his team meetings. The sporting director is also in direct contact with some of the key players in the squad to get their perceptions of what is happening on the pitch. He has heard the frustration of some over some tactical choices and the way Tuchel is struggling to man-manage this dressing room.
It feels at times that Tuchel is out of his depth in Paris, that he has struggled to adapt to a different dressing room and dynamic from what he experienced in the Bundesliga. He can certainly learn from his past mistakes and put things right, even if some players seem to have distanced themselves a bit more from him. There is still a lot of respect for him within the squad and if he's to repair those bonds, making sure his team continues its journey in the Champions League would be a good start.
In the meantime, Leonardo is keeping an eye and an ear open on the managerial market. L'Equipe newspaper recently linked him with Simone Inzaghi, who is doing a great job at Lazio. Max Allegri, a friend of Leo, is still available having taken a season-long sabbatical and they are in regular contact; also unemployed is PSG legend Mauricio Pochettino, who has already declared that one of his dreams would be "to manage the team." Paris would also certainly position themselves for Guardiola if he decided to leave Manchester City this summer and their European ban is confirmed. For a change, PSG will have plenty of options.
As for Tuchel himself, according to L'Equipe, he's still in contact with Bayern Munich, who tried to sign him after he'd already agreed to join Paris. There will certainly be a life after PSG for Tuchel and one after TT for the club. Depending on how the Champions League plays out, that life may come sooner rather than later.