Ronaldo turns 30, but the Real Madrid star shows no signs of slowing down
Cristiano Ronaldo is getting "old" but nobody seems to have noticed, least of all Cristiano Ronaldo. He is 30 today, that milestone that's often a millstone for footballers, the start of the decline, but there is little sign that he's slowing down, or that he's looking back on his achievements, the medals and the trophies and the records, and stopping, satisfied. When the time comes for Ronaldo to leave the building, you get the feeling he might have to be dragged out by security.
His 30th is a birthday Ronaldo will celebrate -- a party was arranged at his home in La Finca, to the west of Madrid -- but not one that he recognises. Not openly, at least. When he received the Ballon d'Or in January, he said: "I'm 29, but I feel like I'm 25." At 30, of course, the end has a nasty habit of rearing into view. Ronaldo may fear its appearance on the horizon, yet he insists: "I can keep playing at a great level for five, six, seven more years."
Ronaldo protests too much? Perhaps, and over the last seven or eight months, it is true that there have been concerns for his fitness. Some doubts have still not been entirely buried: 2015 has not started as he would have wished. Last season did not end as he would have wished, either. Ronaldo struggled to the finish line; he missed the Copa del Rey final, and he made little real impact on the Champions League final and less still at the World Cup, where he limped home, the hurt no longer just physical.
"Others would not even have gone," said his agent, Jorge Mendes.
For every player, the inevitable physical decline is a problem. With Ronaldo, it is legitimate to ask if the impact will be even greater. It would be ridiculous to reduce his game to athleticism alone, but it is central to his success. Some players lose pace but lose little, finding other ways to keep playing well; will Ronaldo lose more? Can his game evolve?
His game has changed already, more rounded but also more focused, the distances covered shorter, the impact greater, more of a central striker. His manager at Real Madrid, Carlo Ancelotti, says: "He is more collective now; he is the best passer in the Spanish league, which shows that he can be decisive playing in an altruistic manner, too."
But could Ronaldo -- and here comes an example out of left field -- make the journey that, say, John Barnes made from flying attacker to slower, more thoughtful central midfielder? Ronaldo could certainly develop into a more conventional, if slightly less mobile, centre-forward. Standing there, heading in ball after ball. "He'll still score 30 goals a season at 39," Mendes boasted.
Those kinds of questions, those evolutions, may matter less, anyway, because Ronaldo's ambition is extraordinary, the dedication unshakable. As Mendes said, other players would not even have gone to the World Cup, but Ronaldo did. Why? "Because he's so professional," Mendes insisted. Now, that can be a double-edged sword -- Ronaldo's determination to play every game risks being counterproductive -- but his commitment to conditioning really is extraordinary. No one can prevent the inevitable, but Ronaldo will do all he can to delay it.
"If I'm able to play more than 60 games per season, it's because I look after myself. I sleep well, I eat well. If not, one can't maintain this rhythm of playing," Ronaldo says.
His manager adds: "If Ronaldo is the best, it is for two reasons: one, he has incredible natural talent and an exceptional physique. He can be grateful to his parents and to Mother Nature for that. But it is also thanks to his work: Cristiano does everything with seriousness and professionalism. No one trains like him or gives as much in games, and he also prepares and recovers better than anyone."
Says Real Madrid assistant manager Paul Clement: "He has reached professional maturity and he really manages himself well. I remember one game where we came back at 3 in the morning and he went to have an ice bath. Another example: 6 in the morning, we had come back from Istanbul, and there's the physio giving him a rubdown."
There has been no sign yet of his decline. In fact, one of the most remarkable things about Ronaldo is that he has been so consistent -- and that the underlying trend is upward.
"He's a player I have always admired because he's a worker who always wants more and more and more," Gerard Pique told World Soccer. "He is a machine, he's so ambitious. He's naturally very strong but he never, ever stops fighting to improve."
"He is the best player I have coached," Ancelotti says. "I have had fabulous players, and lots who can score goals, lots of goals, but none with such consistency as Ronaldo."
Ronaldo's goal-scoring statistics provide one measure, even if not an entirely conclusive one. In five league seasons in La Liga, Ronaldo has scored 28, 31, 34, 46 and 40 goals, and he is on course to surpass his highest total this season. In all competitions, he averaged 0.94 goal per game in his first season at Madrid, 0.98 the season after and 1.08, 1.00 and 1.09 in the seasons that followed. So far this season, he is averaging 1.16.
Ronaldo surely knows that; every year he wants to break his own records -- and everyone else's. The ambition drives him; the sacrifice is sharp in focus.
When Ronaldo received the ESM Golden Shoe recently, he declared his intention to be the best player of all time. He may not get there -- in fact, he probably will not -- but it doesn't matter: the desire to get there drives him.
The pursuit of perfection is obsessive. He is never satisfied. Ronaldo has been voted the world's best player two years in a row, convinced of his talent, yet he works like a footballer who thinks he is talentless and must try harder than everyone else, like a man desperate to eliminate all weaknesses.
That remark at the Golden Shoe event in Madrid also revealed that Ronaldo is aware of the legacy that he leaves, his place in history. Perhaps even more so at 30, even if he says the end is still some way off.
He has won the European Cup with two different clubs, and the second was Real Madrid's obsession: La Decima. He has been the top scorer in the Champions League three times; last year he scored more goals than any other player in any other season. He was recently voted Portugal's greatest player of all time. Some are daring to liken him to Alfredo Di Stefano. And Ronaldo still has targets to chase down: He is only 35 goals away from being the leading scorer in Real Madrid's history, for a start. Not just any club, Real Madrid.
He has won the Ballon d'Or two years in a row. When he cried last year and when he shouted this year, it was clear what it meant to him. Leo Messi had won it four years running. Ronaldo did not resign himself to his fate; he fought back. He has now won three Ballon d'Ors but it is not enough: he immediately announced his intention to win a fourth. If he does that, he will chase his fifth.
Ronaldo admitted that Messi's success has served as motivation, and the Portuguese star suggested that his success motivates Messi, too.
So it comes, inevitably, to Messi. At times, the constant comparisons, the arguments, debates and the accusations, can be tedious. But here's the thing: The rivalry is good for Ronaldo and it is good for Messi. Beyond the motivation that Ronaldo admitted, beyond the fact that Messi propels him to greater heights, the competition between them will make Ronaldo's legacy greater. It will make both of their legacies greater.
Perceived wisdom suggests, certainly on one side of the divide, that the merits of Messi will overshadow and diminish the merits, the memory, of Ronaldo. But the opposite may well be true. Would we remember Bird without Magic? Coe without Ovett? Ali without Foreman? When we look back, both will be remembered together like some sort of epic, historic battle, never to be repeated.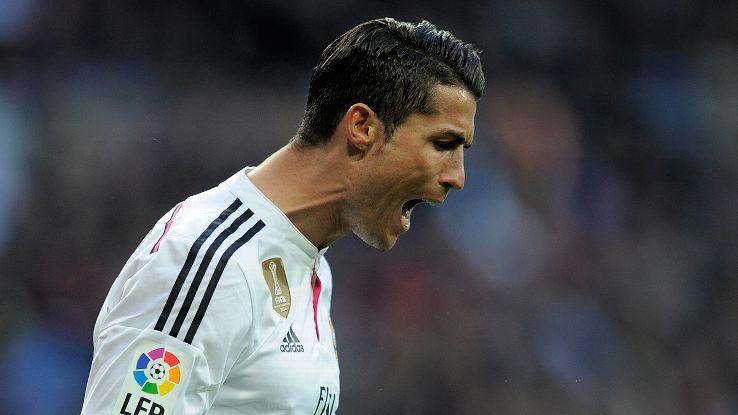 Their successes are their own, but they may also be each other's; the battle will be remembered, the brilliance of their pursuit of each other, the fact that there were two of them. We will look back and think: wow. More than we would have if there had been only one of them. Ronaldo did not just win the Ballon d'Or, he won it from Messi.
In the collective conscious, the memory of Ronaldo and Messi will be enhanced by going head-to-head. Has there ever been a faceoff like this before? So brilliant? So persistent? It has been six years now, and it has been extraordinary.
There is more to come from Messi, and there is more to come Ronaldo. He is 30 years old, but there is much more to do and the determination still to do it. Messi is younger, but Ronaldo won't be keen to leave the field to him. Ronaldo is one of the best there has ever been, even if that "one of" is not enough for him. Maybe when he finally retires he will be satisfied, but not yet. Not for another five, six, or seven years, he says.
Five, six or seven years more to enjoy. So enjoy it. Because one day Ronaldo will do what he has never done before: One day he will stop and decide, that's enough.
Sid Lowe is a Spain-based columnist and journalist who writes for ESPN FC, the Guardian, FourFourTwo and World Soccer. Follow him on Twitter at @sidlowe.