How Lionel Messi's injury will impact Barcelona, Luis Suarez, team tactics
On the face of it, we're about to learn something about the ability, character and talent of Luis Enrique's Barcelona squad while Lionel Messi is absent for at least two months. Who will step up to the plate, who'll be missing, and what "extra" will this bring out of the manager's repertoire? These are the types of questions that fans, media and other teams will be posing.
But I think there's a gaping opportunity to learn more about Messi himself.
Looking back to precisely a year ago and superimposing this "Messi-absent" template on Barcelona's performances from late September to late October, it's genuinely surprising to find that on paper only, the impact would have been very low. The Copa del Rey hadn't started by then, so like now, all that were in play were La Liga and the Champions League.
Had Messi been absent from Sept. 21 to Nov. 22 last year (the span that medics are currently predicting he'll miss), not a single Barça result in La Liga would have changed. They'd have lost out on nine goals and a handful of assists, but while the goal margins would have shrunk in many instances, not one single result would have been altered. Wins would remain wins; the solitary draw and two defeats would remain untouched, too.
So, in theory, Barcelona would have gone on to win the title, hypothetically -- but let's come back to that in a minute.
How about Europe? It's remarkably similar. Even if you remove Messi for the final five group games, erasing his goals and assists, which takes that hypothetical injury absence into the second week of December and strips away precisely 70 percent of his Champions League goals last season, only one result changes: The 2-0 away win at Ajax becomes a draw, but every other result remains identical, albeit with narrower win margins.
Barcelona without Messi in the group stage last season still qualify but in second place behind PSG. Whether they go on to win the tournament via a different knockout route is a fun one for those of you who want to debate it, but it's not my brief.
What I think that really rather strange picture underlines to us is that Messi's importance, his contribution to the team, goes far beyond goals and assists.
Two clear ideas emerge, I believe. First, Barcelona play differently, think differently and approach challenges differently if they have a fit and fully-firing Messi in their ranks -- whether he scores, "makes" a goal or not. I mention again the senior Barcelona player who shared with a friend last Autumn: "we are going to win trophies, not just a trophy, this season because Messi is really enchufado [switched on/in the zone]."
Playing with a problem-solver, someone who scares other teams and who can do things nobody in the current game even dreams of, also changes how robust and how confident the mentality of his teammates will be.
At Barcelona's level (as with Madrid, Bayern, Atletico, Juventus, Chelsea, PSG, Manchester City and, increasingly, Manchester United) the ultimate difference over a significant space of time playing other top sides is mentality. The talent and fitness can be signed and honed, but winning "mentality" in all its forms is both the most fragile and the hardest to control.
A fit, happy Messi in your team is like a tiger in your tank. How to cope without that when he's absent? Question 1 for Luis Enrique.
The other significant element of the two main "hangover" factors without Messi, if his goals and assists don't actually vitally change statistics, is how other teams set up and react to playing Barcelona.
Tracking Messi has always been something of a nightmare; not only will his positional choices lull you into fatal complacency, but so will his tendency to spend a lot of time mooching about the pitch at walking pace as if he'd dropped a contact lens and was looking for it irrespective of the thundering herd around him. Then a split second later, he's gone, you're lost and it's a goal.
Teams will now mark Neymar and Luis Suárez quite differently. They'll go more tightly on the Uruguayan in the knowledge that his first-time flicks and wall-passes are just that fraction less likely now that he doesn't have Messi to play off. Likely they'll attempt to bully Neymar more in the knowledge that free kicks are less likely to be punished with Messi not available and feeling safer that the Brazilian, too, will attempt to dribble more often than he does when Messi is on the pitch. Neymar the sharp and first-touch passer is far less easy to catch and bully than Neymar the dribbler.
Teams who play Barcelona will on the whole be surer that if they pack defensive midfield and the back four (aka "parking the bus") they are less likely to be picked apart by Barcelona without Messi. I suspect we'll see more opponents attempting to suck Barcelona in, thwart any attacks and then charge forward on the break. We shall see.
Regarding Neymar, it's reasonable that the Brazilian's reaction to Messi's absence will be more relevant and more educational than that of Suárez, based on the contention that the Uruguayan's reaction will be much more similar to what you already get at the moment.
When last Barcelona's beacon of brilliance was absent for this length of time (between November 2013 and January 2014) Neymar was less integrated and significantly less mature than now. He more often than not stepped into the central striker role that Messi vacated, and Neymar patently enjoyed that "team leadership" position. His play flourished but not necessarily his goals: He managed just two in the league while Messi was out (albeit a pair in a 2-1 win over Villarreal) and three against Celtic in a Champions League rout.
Where Luis Enrique requires Neymar to play should, in theory, be quite different now. Suarez is well established as the club's centre forward, so much so that Messi moved to the right wing last season and was operating in a quasi-Xavi role this season.
Saturday's 2-1 win over Las Palmas doesn't provide unequivocal proof of anything, but the initial reactions to added responsibility were at least interesting: two smashing goals from Suarez and a missed penalty from Neymar.
So, what of the third striker?
Last season it became clear that Luis Enrique sees something in Munir that he doesn't yet in Sandro. The former lingered on in the first team squad long, long after he really needed to return to Barca B and get the game time his deflated confidence screamed out for.
Sandro was returned back to the B team much more quickly, and while that season was awful for the club and coach Jordi Vinyals, who lost his job, the striker has clearly benefited. Quick, confident, aggressive and physical, Sandro looks ready for duty.
It's pretty clear that Munir has a greater technical array of skills. Without question, Munir is an unpolished gem of a player, but still with the appearance and the actions of a kid. He was first choice to replace Messi after that knee injury made the Argentinian rip off the captain's armband and throw it to the ground in disgust at being forced to quit Saturday's match.
Munir played a pivotal (and creatively clever) part in the first goal and then crossed really intelligently for the second. Head up, waiting for the melee to clear, vision engaged: what the Spanish call pausa. In between, however, Munir constantly showed the inhibiting effect of eroded confidence, choosing the right thing to do over and over but doing it badly over and over. Short with passes, mistiming the connection with a teammate's run; he was talented but timid.
As for Sandro? His position and movement for the last big chance of the game spoke of a guy who's ready now. But his inexplicable ability to shoot just wide from a nailed-on scoring position undermined his case.
You'd imagine that the pace, pressing and maturity of Sandro would win his manager's favour to complete Barcelona's "trident" but knowing Luis Enrique's ability to see the kaleidoscope differently, it'll probably be Munir.
Andrés Iniesta could, of course, play wide left up front with Suarez and then Neymar across the line of three to his right. Were Xavi still at the club to supplant him in midfield, that's what might be about to happen. But any further injuries aside, Barcelona still have options, regardless of whether they are allowed by FIFA to register Arda Turan to compensate for Rafinha's season-long absence.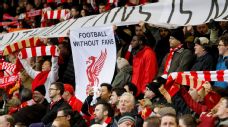 On that subject, what price might Barcelona now pay for their arrogance in telling FIFA that they may have breached some rules on recruiting junior talent but the rules shouldn't really have an impact because the club is "elite" at youth development?
That's the gist of the conversation which ended in this transfer market ban, meaning that the departures of Xavi, Pedro and Martin Montoya couldn't be compensated for by signing players who can be registered and perform in this brutal first half of Barcelona's season.
What is Sod's law? The rule that things will go wrong at precisely the time you can least afford them to. A spate of injuries at a time when Barcelona aren't allowed to replace with new signings? Sod's law. Do people like the departed Sandro Rosell and current president Josep Maria Bartomeu feel a bit peremptory now? A bit stupid? I hope so.
Finally, there's the little genius himself. Doctors reckon that it's touch and go that he makes it back for the first clasico of the season, in Madrid on Nov. 21. Previous injuries have shown us that Messi will be pawing at his physical recuperators, fitness coaches, doctors and coaching staff to let him back early. Previous injuries have also shown us that that can easily be a false boost for him and the team.
The debilitating effect of Messi playing early, following injury, against PSG and Athletic Club in the spring of 2013 was in fact catastrophic for Barcelona's chances to perform competitively against Bayern Munich in the semifinal. There in body but absent in spirit, Messi was anonymous in Munich and not picked for the return in that 7-0 aggregate humiliation.
Have these lessons been learned by club and player? We shall see.
Two months without Messi will mean less fun for all of us, apart from Barcelona's direct opponents. But it'll cast up dozens of ways in which we'll learn a great deal about him, his fellow players, his manager and those who'd like to topple Barcelona from the power seat in Spanish and European football.
Graham Hunter covers Spain for ESPN FC and Sky Sports. Author of "Barca: The Making of the Greatest Team in the World." Twitter: @BumperGraham.