Why Zinedine Zidane should turn down the Real Madrid job if offered
Real Madrid did win 10-2 over the weekend but the emphatic victory hasn't eased the pressure on Rafa Benitez. With speculation intensifying that Zinedine Zidane is next in line for the manager's job at the Bernabeu, ESPN FC's Graham Hunter writes this open letter explaining why the smart move would be for Zidane to turn it down.
Dear Zizou,
I write with a warning. We've only spoken in news conferences but the best advice comes when it is accurate, honest, unflinching and is given whether or not there's much chance of the recipient listening. Sometimes hard things are best said by an outsider so that those close to you don't have to venture it first -- but can say "Well, he might have a point."
You can't have failed to hear the "bronca" that the fans at the Bernabeu gave the team and the president on Sunday afternoon as they scored 10 times against Rayo. The booing, the whistling, the jeering -- the avalanche of disgust and dissatisfaction.
It began while some players were having their names read out before the match, including the famous BBC of Gareth Bale, Karim Benzema and Cristiano Ronaldo. It reached a window-rattling crescendo at 2-1 down but surged back at halftime and in the final seconds before the game ended, as soon as Los Blancos began circulating the ball while waiting for the referee's whistle with the score 10-2.
Madrid's biggest win since 1960 and it didn't even begin to dampen the fury of the fans. In all your career you've never suffered anything quite like that. Whether it made you shiver or made you consider is up to you. But it's time that someone warned you: If Rafa Benitez is sacked, either soon or by the end of the season, do not take the job.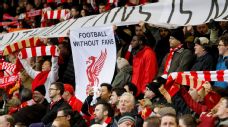 For your own sake, do not take it. Do not take it for the good of the club where you've spent so much of your working life since 2001. By turning it down, you can do a massive service to yourself and, in the same action, begin a process that will allow more and more around the Bernabeu to admit that something's clearly wrong at the club.
Zizou, try thinking of it this way: It has been 15 years since Florentino Perez gave you what you called "the happiest day of my life" by pushing a little serviette toward you across the table during UEFA's annual Champions League gala in Monte Carlo. To his question, "Voulez vous jouer avec Le Real Madrid?" you answered "Yes!" and for you, that wasn't the worst answer you could have given.
The club made you richer, both financially and in terms of the one trophy you yearned for, the Champions League. Your apprenticeship as a general manager, ambassador, consiglieri and junior coach has all been sketched out with Madrid. You even helped Florentino begin his push for presidential power again in 2008 -- you and Ronaldo flanked him in Fez for a brilliant publicity photo-op the day before the UN Match against Poverty captained by you and that brilliant Brazilian striker.
But 2001 was still the time when the fundamental football poverty of Florentino's "Galactico" regime had yet to be properly exposed. And 2009 was the "fool me once shame on you, fool me twice shame on me" moment when the Madrid public said, en masse, "better the devil you know" and let Florentino in unopposed. Shame on them.
Things are different now. Many of those making unhappy protests on Sunday afternoon were simply representatives of a general mood around your club that fundamental change is required -- starting with a realisation that something basic is wrong.
Jorge Valdano, a long-term Florentino acolyte and Madrid's general director when you signed from Juventus, pointed out: "There's something broken between the team and the Bernabeu." It's a strong, telling phrase.
As for the banner that security guards removed from the stadium so that it could no longer be featured on TV cameras or seen by newspaper photographers? In case you missed it: "Not 'Ultra,' not violent -- just tired of your dictatorship, Florentino." Think back less than a month to the "Florentino resign!" chants all around the Bernabeu as Barcelona romped to victory there. Again.
There will come a time when Florentino thinks it expedient to sack Benitez and to promote you. But you need to be aware that he'll be doing it as a palliative remedy for the fans and media. He'll do it to put a buffer between him and the rising tide of "anti-Florentino" feeling and without using your coaching skills as the main criterion for promotion.
All benign dictators who rule unilaterally (and that's certainly how Florentino views his fiefdom) inherently believe that they know better than the plebs -- that the seething masses simply need to be fed some kind of opiate while the "great men" get on with making decisions and making money.
In due course, you'll be that opiate. Unless there's a seismic shift in performances, relationships between the squad and the current coach -- plus a huge shift in the degree to which Madridistas are sick of seeing Barcelona rack up trophies and adoration -- the president will decide that you are his latest "buffer." The fanfare will be understandable: Give a great club into the hands of a great ex-footballer who's been gaining his qualifications, his experience and who's always been as much of a warrior as he was an elegant athlete.
It's a seductive proposition, but think of this from your point of view. There's something fundamentally wrong with how Florentino runs the club.
Players are bought and sold on the wrong criteria -- football-wise at least. Any Real Madrid coach working for Florentino Perez will be subject to the whims of a club president who also considers himself the de facto director of football. He's the emperor who keeps saying "Don't you adore my beautiful new clothes?" to his subjects, most of whom don't dare to point out that he has been reduced to his birthday suit.
Zizou, you once used a phrase about yourself which I loved. "I suppose it would have been easy to have let all the adulation go to my head but I never once mistook all of that for real life. Real life is having people around you who tell you when you've messed up, when you've been an idiot.
"I suppose if you were really stupid you would start believing it when people tell you you're the best but I just saw it as another aspect of my life as a footballer and never felt the need for adulation. My own feet were always firmly on the ground and even when we won the World Cup I said to myself 'That's great: but it's not real life!"
Take a look upward in the organisation. Tell me: Is this how Florentino behaves? How he thinks?
It's feasible that a transfer market ban is in the offing -- something which, if the rumblings prove true, would stunt the club's ability to fully restructure an imbalanced squad that's aging in key positions and is currently populated by two or three major assets who are arguably yearning for pastures new. If you take the mid-term view, then no matter how talented you prove to be as a coach there may well be trouble ahead.
Fine, most "great" men believe that they have the solution. Even that they are the solution. Given your past, your football brain, your personality and your diligent completion of all the relevant post-career qualifications, you are perfectly entitled to feel that way if you choose.
Perhaps in due course, you will prove as excellent a coach as you were a footballer. I'd love that to be true but there's another, bigger, more utilitarian concept to think about when you eventually get that phone call from "Don Florentino." If you say no, there's a real chance that the focus on Florentino's deficiencies (which are very real despite his number of evident qualities) will become irresistibly strong.
The furor over you not succeeding Benitez would die down quickly and attention would turn to a more generic idea. "If Zizou doesn't want to become the next hire-'em-and-fire-'em coach for Florentino, then something is really wrong."
Fans, socios, media, players, directors, sponsors -- the pressure on this faulty president and, more importantly, his sporting philosophy, would potentially be irresistible. Already, one influential radio station is stating that Florentino's most trusted adviser, Jose Angel Sanchez, is counseling that while not mandatory, presidential elections should be set for next summer.
And so this feels like a potentially watershed moment. If the Rafa "experiment" is deemed not to have worked, it will spark a wider public referendum on whether or not the Florentino regime is fundamentally flawed. You could help galvanise that debate and, as such, do your current club a huge favour. Democratise it, modernise it, give it balance, give it a chance at a proper football philosophy.
It's up to you, Zizou mon brave. It's just like your life on the football pitch -- time to do the smart, challenging, forward-thinking thing, not just the easy, obvious one.
With the greatest respect, GH
Graham Hunter covers Spain for ESPN FC and Sky Sports. Author of "Barca: The Making of the Greatest Team in the World." Twitter: @BumperGraham.