Why Alvaro Morata is coming back to Spain after years of struggle at Juventus, Chelsea
Alvaro Morata is coming home, back to where it all began: to a place where he can be happy. His place. That's the hope, anyway, and for all the doubts, for all the dark days, the hope is never entirely extinguished. Not so long ago, Morata said it would have been "easy" to have left Chelsea in the summer; now, it appears that he is about to actually do so. He had been offered to a handful of clubs in search of a solution, and there is optimism now that his destination has been confirmed: he's heading back to Atletico Madrid, the club he joined at age 11, on an 18-month loan.
Morata is 26 now. He has achieved more than many players do in a lifetime. He reached three consecutive Champions League finals and won three league titles in a row; he has played in the three biggest leagues in Europe, and at three of the planet's biggest clubs; he has scored over 100 goals and won 11 major titles. And yet there's still a sense of opportunity lost, of talent unfulfilled or something missing. And it's not everyone else saying that, either; it's him. In his words, there is often a touch of sadness or something deeper, and a need to arrest that.
This explains why he's returning to Spain. This is a way out, a way back: the pursuit of happiness.
Morata was recently asked if he was happy. "Yes," he said, "away from football." He added: "In football, I'd like to be happier."
In April 2017, he insisted: "I have to take off now." Almost two years on, that feeling hasn't gone away entirely; if anything, it has become more embedded and more profound. Time has passed and he's still on the runway. Frustrated, not flying.
In an interview back then, he talked about how unlucky Spain had been at Euro 2016 and how different things could have been: Maybe we would have won it, he said, maybe I would have been top scorer. There was something striking in that retelling of the tale. What might have been.
At the end of 2016-17, Morata had the second-best goals-per-minute ratio in Spain; he was Real Madrid's second-top scorer despite being a backup to Karim Benzema. He won the league -- and in the final decisive weeks, his contribution was colossal -- and the Champions League, too. In Europe, though, he had hardly played. Effectively forced to return from Turin to the Bernabeu when he would have rather stayed, the opportunities he had been told would await him hadn't done. He felt let down and felt he had to leave. He didn't feel so young anymore and had become convinced that he could not wait any longer.
The Premier League called, as he always hoped it would: first Manchester United, then Chelsea. Jose Mourinho wanted him, so did Antonio Conte. Both knew him well -- Mourinho had given him his debut as a 17-year-old, Conte had signed him for Juventus only to be gone by the time he got there -- and were convinced they could get the best from him. They trusted him and were swift to tell him they believed in him. Both talked tough, too; both said they could harden him. Negotiations were not easy and United eventually turned to Romelu Lukaku.
At Chelsea, Conte promised to release the beast inside him and, for a moment, it worked. But then it went wrong. Perhaps that just wasn't him.
"I scored seven in my first seven games -- the fans were singing my name, then I got injured," Morata said later, and slowly, it slipped from him. He tried to play through the injury, he said, which wasn't the right thing to do. On Boxing Day, he had scored 10 league goals; by the end of the season, he'd added only one more in the league. All that promise but by the end, many had given up on him. Relatively few in London will lament his departure now. They're saddened by it, but few fought for him to stay.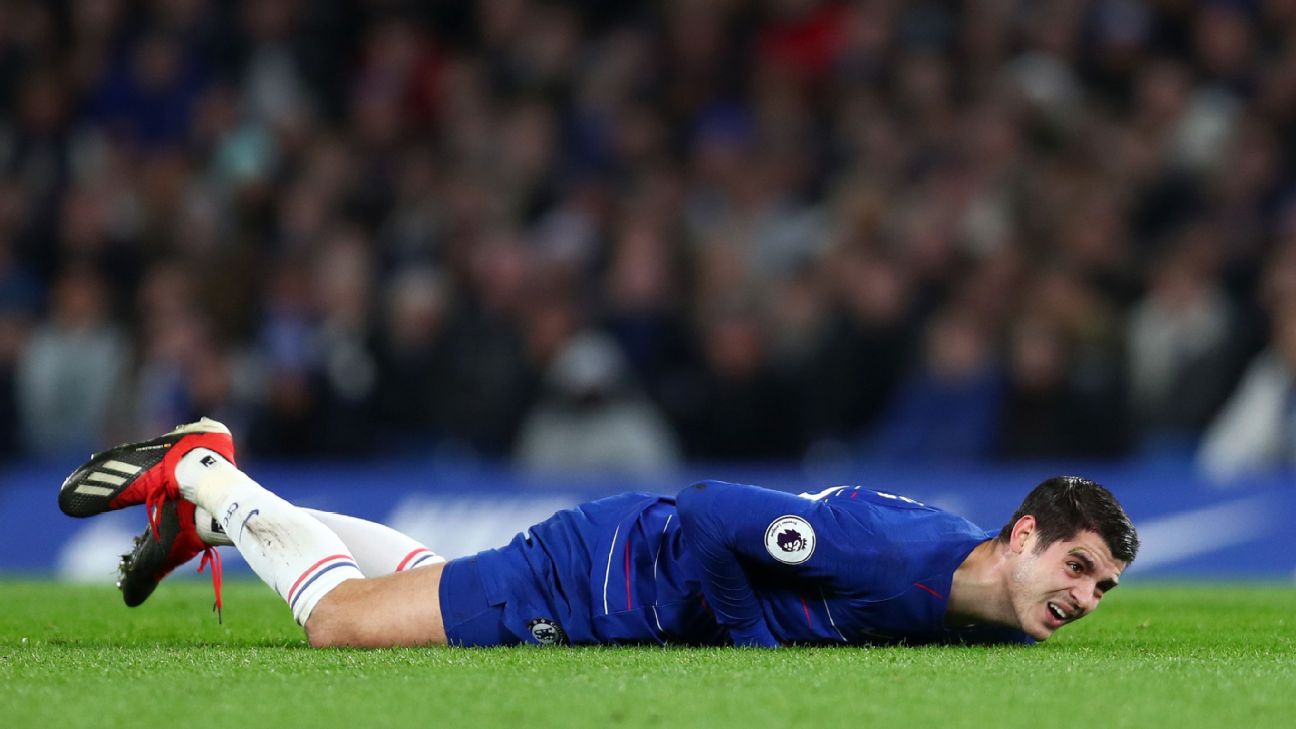 The way he saw it, things had turned against him again: At Juventus, he'd been conditioned by the power Madrid held over his future, uncomfortable at the uncertainty. He endured a 100-day drought. At Madrid, he had Gareth Bale, Cristiano Ronaldo and Benzema ahead of him, and he started to suspect that it wasn't about only sport. At Chelsea, fitness and form left him and at the end of that first season, so did the manager, Conte, who wanted him. Amid it all, the Spanish national team stopped calling, just when he most wanted them to call.
"I left home for a place at the World Cup and I got no World Cup, no nothing," he said.
Something had to change. He needs a way out, a place to play: opportunity, continuity and support. His first coach at Atletico says he fits the club perfectly: A former ball boy at the Calderon, Morata was an Atletico fan like his father and grandfather. He was there at 11. Thing is, he was gone by 14.
"I never understood that," that coach, Armando de la Morena, told AS. "He did not feel appreciated enough and he ended up leaving."
That appreciation has not been easy to find anywhere. As he returns a decade on, the hope is he can find it again. Diego Simeone has long been an admirer.
"Coming back to Madrid could be the spur he needs, a way of finding his confidence again, the consistency he has not had for a while, and for [Spain coach] Luis Enrique to pick him again," Armando de la Morena said. Like Conte and Mourinho, there's that feeling that perhaps Simone can give Morata the one thing he doesn't have.
Morata is a thoughtful, introspective, sensitive, almost gentle man. There is, it can sometimes feel, a vulnerability about him. The honesty is disarming: He has talked, from experience, about how when a player struggles on the pitch there is usually some personal problem behind it, about the downside of the game. There is much he does not like about it, and not without reason. He is likeable, engaging company and there's a depth to everything he says. He thinks. Some around him believe he thinks too much. Some have told him he is too nice. Circumstance hasn't always been right, but it might be about him, too.
At Juventus, Morata had withdrawn into himself, even breaking down in tears one day. Gigi Buffon talked about him being one of the best if he could get over his "mental hang-ups." Maurizio Sarri suggested that he was "fragile." There is a risk of blaming the blameless or of seeing consequence as cause, maybe an element of self-justification in the manager's words. Caution and respect must always be applied when addressing the emotional and psychological, too. But Morata would recognise much of that. He would admit his own part in this search for something he has not yet found. In fact, he has done it with an honesty few employ.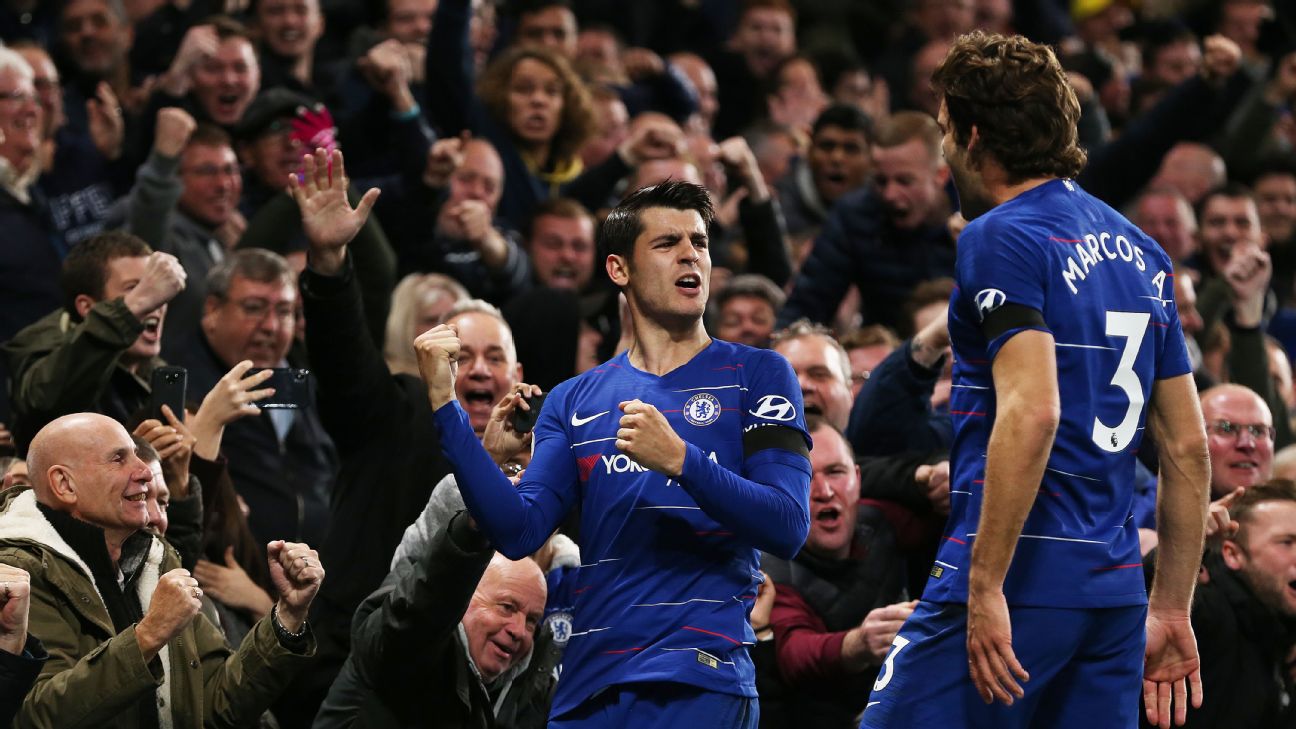 As Morata contemplates the things that have gone against him (and many have), there is a risk of pessimism, a kind of fatalism. He admitted that he struggled in England; he once revealed that at times, his wife suggested he was going down the wrong path. He suggested that he was not judged like others. He said that what he suffered was not a depression exactly, but that he had indeed been through a bad time, that he became enclosed and didn't want to talk to anybody. He has admitted that failures affect him, those missed chances always playing on his mind. That the sense of failure or frustration is not always easy to shake off.
Finding the solution is far from simple.
He needed a way out, a way to break that, another opportunity, a fresh start. He needed to find a new place: somewhere he could play, where he could be.
Alvaro Morata needed to find a club, a new home. Above all, he needed to find himself.