Chelsea captain John Terry would consider MLS if he leaves
John Terry has said he would be open to playing in Major League Soccer if he leaves Chelsea.
Terry, who turns 35 this month, will be out of contract at the end of the season and said there has been no decision on whether he will prolong his stay.
In a lengthy interview with Jamie Carragher in the Daily Mail, the Chelsea captain said he had been "shocked" to be substituted by Jose Mourinho in the 3-0 defeat at Manchester City in August and suggested he would prefer to retire than play a bit-part role.
The centre-back -- who has spent his entire career at Chelsea except for a brief loan spell at Nottingham Forest in 2000 -- ruled out a move to another English club but indicated that the United States would be his first choice if he prolongs his career elsewhere.
Asked if he would join another team in England, he replied: "No. No chance. No chance. America, maybe. But physically I feel like I can still play.
"Do I want to play? Of course I do. But then decisions come in to it with your family. What if you go somewhere and it doesn't work out? Everything else comes into play, doesn't it?"
He is keeping his options open, adding: "I'm doing my coaching badges at the minute. I'm looking at TV."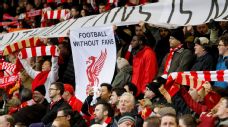 Meanwhile, Chelsea defender Kurt Zouma has told Sky Sports that Terry remains a strong presence at Stamford Bridge.
The defending Premier League champions have had a poor start to the season and are currently 14th in the table, but Zouma said: "Everybody has stuck together.
"I remember one time the captain got everybody together in the dressing room and said: 'Guys, now we are playing much better, let's keep it up -- don't think about the table, think game by game and keep it going, and if we do that we will be back. The boss trusts us, so let's keep going for him, and the fans, and everybody.'
"He's been a big influence on me. So have the other big personalities in the dressing room, Gary Cahill, Branislav Ivanovic, and of course the boss, Mr Mourinho.
"He [Mourinho] always trusted us, is always speaking with us, and we are all together, speaking with each other, and that's why we are playing much better now."