Tottenham's Mauricio Pochettino not feeling pressure to buy in January
LONDON -- Mauricio Pochettino says he will consider promoting an academy player if he cannot find the "right" striker to sign this month, insisting it is not part of the club's "philosophy" to buy players.
Pochettino has previously said that Harry Kane is Spurs' only "proper striker" but he has been insistent that the club will not sign another for the sake of it this month.
The Argentine has said in the past that Heung-min Son, Nacer Chadli, Erik Lamela and Clinton Njie could fill in up front if needed and he also believes that teenagers Shayon Harrison and Kazaiah Sterling, both 18, are among those who could deputise for Kane.
"I am happy with the squad that we have. We have enough quality to fight for different competitions. It's true that maybe the people, or you, are concerned about different things but I am happy with the squad that we have," Pochettino told a news conference.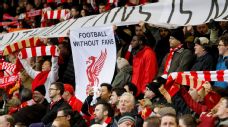 "We need to add the right people, the right players that can improve us. If we don't find a player that can improve us, it's not our philosophy to bring players.
"We have enough quality and we have younger players in our academy with a lot of potential like Shayon and Kazaiah Sterling. I can give a lot of names that are very young, hungry and can help us to achieve everything.
"You are right that we can add some players to improve the squad but if we don't find these players, we have younger ones to help us."
Spurs have been linked with a host of forwards this month, including West Brom's Saido Berahino, Moussa Dembele of Fulham and Toulouse's Wissam Ben Yedder.
Pochettino dismissed the speculation as "rumours" but believes Spurs are an attractive club to play for.
He said: "There's a lot of players and names that want to play with us because Tottenham is a big club. The project is very attractive, the philosophy, how the team plays ... a lot of players want to come. It's important for us to pick the right player. If it's not possible now, it's not a big problem for me."
Kane, who has started every Premier League match this season, could be among those rested for Wednesday's FA Cup third-round replay at Leicester City.
The Foxes made 10 changes and Spurs seven for last Wednesday's Premier League match at White Hart Lane which followed the original FA Cup clash, and Pochettino hinted that he will again rotate his squad at the King Power Stadium.
He said: "We mix because [we] have some players that are in a condition that is a big risk if they play tomorrow. We have a lot of games ahead. We take some decisions to rest some players for tomorrow, yes."
However, the Argentine stressed that football is a squad game, adding: "You need to understand, and this is a clear message for our supporters too, that tomorrow it's Leicester against Tottenham.
"It's not 11 players against 11 players. When you are Tottenham and Leicester, we need to show respect for the whole squad. It's not about names, it's about the team, the club, the squad.
"If not, we need to change the rules and have the capacity to sign only 11 players and 11 youngsters from the U21s and don't have any senior players on the bench or in the squad.
"The squad is 24, 25 players and all are capable to play in different games. It's a football decision, tomorrow is not an excuse. My selection tomorrow is to win and try to go to the next round. If we fail, we fail. But it's football.
"Tomorrow we need to show we're better than Leicester and win the game with one player, or another player."
Pochettino has no fresh injuries concerns ahead of the trip to Leicester City, with Ryan Mason, Alex Pritchard and Clinton Njie still sidelined.
Dan is ESPN FC's Tottenham correspondent. Follow him on Twitter: @Dan_KP.