PSG's Ezequiel Lavezzi set to move to China with Shanghai Shenhua
Paris Saint-Germain manager Laurent Blanc has confirmed that Ezequiel Lavezzi looks set to become the latest high-profile player to move to China.
Lavezzi, 30, had been expected to see out the final few months of his contract at PSG before joining either Chelsea or Inter Milan in the summer.
But the Argentine winger appears to have decided that an offer from Shanghai Shenhua is too good to turn down.
Lavezzi, nicknamed Pocho, did not travel with the rest of the PSG squad for Sunday's 2-1 win at Marseille, and Blanc said after the game that he "can't guarantee" that the player would stay with the French champions.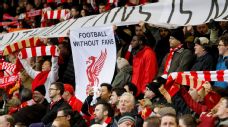 "Honestly, the club could tell you a lot more than me," Blanc said in his post-match news conference.
"He prepared to come here to Marseille and then at the last minute he stayed in Paris to negotiate his departure.
"We already anticipated it a bit because we opened the door for Pocho in the [European] winter transfer window, something that he didn't take advantage of."
Le Parisien reports that PSG could receive up to €10 million if Lavezzi joins former Inter midfielder and Colombia international Fredy Guarin in Shanghai.
Chinese clubs are allowed to buy players until Feb. 26 and Blanc said that PSG could delay Lavezzi's move until after the first leg of their Champions League last 16 tie against Chelsea on Feb. 16.
"The club is discussing it with Pocho's people," Blanc added. "We'll have to think about it, given that if we lose one player we won't be able to replace him.
"So if tomorrow I find we have some attackers with muscle problems... in that case definitely, we'll have to reflect on it."
Liverpool target Alex Teixeira, Chelsea's Ramires, ex-Arsenal attacker Gervinho and Atletico Madrid striker Jackson Martinez are among the big names to have made the switch to China in recent weeks.