Tanzania player Juma Said gets two-year ban for 'act of indecency'
Tanzania defender Juma Said has been banned from football for two years by the country's Football Federation for what it described as "an act of indecency".
Said, who captains Mbeya City, was found to have poked a finger against the backside of Azam's John Bocco during a match between the two sides last month.
Officials ordered the 31-year-old to pay a fine of $930, and he is also under investigation by Mbeya City.
The club said they had set up a disciplinary committee to review the events that led to the incident.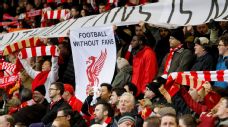 Earlier this year, Said was banned for eight games after appearing to do the same thing to Simba striker Elias Maguli, an incident for which he later apologised.
And in the summer, Chile's Gonzalo Jara was given a three-match ban after he appeared to poke his finger against Uruguay striker Edinson Cavani's backside.
It happened in the quarterfinals of the Copa America, when Cavani was sent off for his angry reaction.
Chile went on to win the tournament when they beat Argentina on penalties in the final.