Swiss Rolled: How Alan Rothenberg became U.S. Soccer President and changed soccer in America

This story is from the winter/spring 2018 issue of Howler, a quarterly magazine about soccer. Get 20 percent off a subscription with promo code HOWLER14 at shop.howlermagazine.com.
THE U.S. SOCCER FEDERATION stands at a crossroads of its own making. With a reported budget surplus of $130 million, its financial position has never been healthier. But after the American men failed to qualify for the 2018 World Cup, fans, the media and voices within the federation itself began to call for a new vision for soccer in the United States. On Saturday, delegates from across the country will gather in Orlando, Florida, to decide who will lead U.S. Soccer into the future.
Orlando is a fitting gathering spot. It was there, on Aug. 6, 1990, that the federation's delegates last met with the opportunity to usher in epochal change. Up until a few weeks before that election, it looked as though voters would be choosing between the incumbent, Werner Fricker, and another member of the federation's old guard, treasurer Paul Stiehl. But a new challenger emerged late in the game: Alan Rothenberg, a man with limited experience in the sport and an outsider to the notoriously insular USSF but who had the tacit support of FIFA.
On that August election day, the federation's voters were faced with a choice between the status quo and a business-friendly outsider backed by soccer's governing body, between a vision of the game's future rooted in America's soccer past and one grounded in the only thing more tangible than victory on the field: money. How the federation arrived at that moment is one of the great and largely untold stories in American soccer history.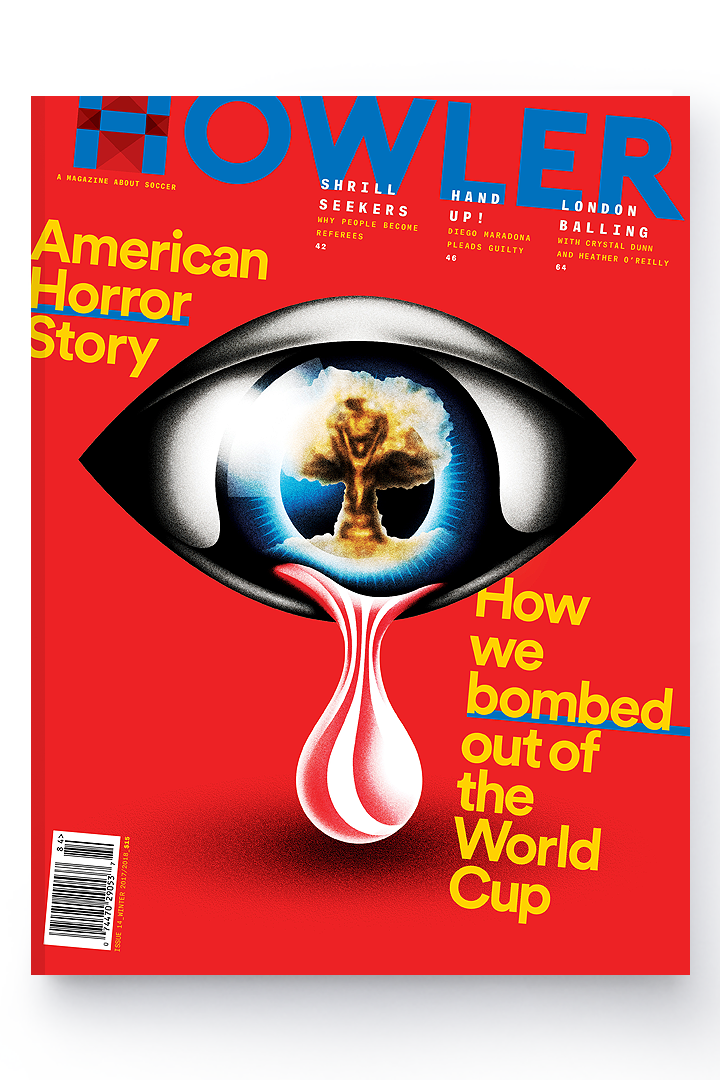 U.S. SOCCER STEPPED ONTO the international stage on an appropriate date: July 4, 1988: the day FIFA awarded the United States the rights to host the 1994 World Cup. Five years earlier, FIFA had shunned the USSF's bid to act as emergency host for the 1986 tournament in favor of Mexico. Now, the U.S. would finally have a chance to show it was worthy of hosting the world's most popular sporting event.
Of course, not everyone was on board with a Yankee World Cup. The reaction from much of the soccer establishment presaged the heartburn expressed seven years ago in response to Qatar's victorious 2022 World Cup bid. "Taking the World Cup to the United States is like taking the World Series to Brazil," quipped one Brazilian delegate. Other cynics among the historic soccer powers privately griped about FIFA's power play -- an opportunity, they believed, to squeeze some money out of one of the world's most lucrative soccer holdouts.
Neither the USSF nor FIFA took such skepticism seriously. The American organizers believed the nation's history of pulling off great sporting spectacles like the Olympic Games and the Super Bowl would make organizing the World Cup a breeze. "We know we have the technical infrastructure in the U.S. without a doubt. And the U.S. has a history of staging major events," said Stiehl who, in addition to acting as USSF treasurer, was also director of the 1994 World Cup organizing committee. "We know the talent is available to pull this off." As far as FIFA was concerned, the U.S. already had the necessary stadiums and other infrastructure in place. What could go wrong?
Well, for one thing, the cost of winning the World Cup bid nearly sunk the federation. By July 1989, it owed more than $650,000. While a seven-figure line of credit kept its World Cup organizing committee staffed, the USSF's financial position was making FIFA nervous. Rumors soon began circulating in Europe that top FIFA officials were privately expressing regret over their decision to award the cup to the U.S.; Paul Breitner, a former German national team member and a columnist for Germany's Bild, said that a source within the organizing committee had told him the U.S. would back out, a claim that American officials went to great lengths to dispel. "I categorically deny the report," Scott LeTellier, then president of the World Cup organizing committee, told the Washington Times. "The World Cup absolutely will be played here in 1994."
Stiehl seized on the chaos surrounding the bid to maneuver against Fricker, who had served as president since 1984. In June 1990, in the midst of the U.S. men's first World Cup appearance since 1950, Stiehl sounded off about Fricker's shortcomings to anyone who would listen. "It's obvious there are major problems within the organization," he told one journalist in Italy, adding that its problems had accumulated "because the current administration does not place trust in anyone but themselves and one or two people outside the organization."
Stiehl was a passionate, diligent supporter of American soccer who had earned Fricker's trust when the two worked together on the failed bid for the 1986 World Cup. Like Fricker, Stiehl was an immigrant from Europe with German roots, moving to the U.S. when he was 8 years old. But in 1989, citing disappointment with Stiehl's performance and perhaps angling to promote LeTellier from within, Fricker dumped Stiehl from his leadership position on the World Cup organizing committee.
STIEHL'S ACCUSATIONS ABOUT FRICKER'S autocratic leadership resonated with some inside the federation. Fricker could be a difficult man to work for, the kind of boss who expected excellence and was blunt when the performance of his employees failed to meet expectations. He could come across as aloof and secretive. As his son, Werner Fricker Jr., put it, "He had very limited tolerance for people that were either incompetent in his mind or weren't workers."
Fricker's demanding personality sprang in part from his origins. He came to the United States from Austria as a teenager after having already fled from his family's ancestral home in Yugoslavia in the years immediately after World War II. When he arrived in Philadelphia in 1951, at age 16, he set about mastering the language and building a professional life in real estate, a far cry from shoe-making, the trade he had been studying in Austria. Later that decade, he became involved with the United German Hungarians, a storied ethnic club on the outskirts of Philadelphia. The decision set him on a path to the very top of the USSF.
Fricker became a vice president of U.S. Soccer in 1974, having worked his way up from his involvement with the United German Hungarians and then the Pennsylvania state association. Along the way, he befriended old federation hands like Jimmy McGuire, Kurt Lamm and Gene Edwards, relationships that helped Fricker (then in his 40s) to rise quickly within the organization.
In his capacity as president, Fricker surpassed the accomplishments of those who had come before him by leading the successful bid campaign for the 1994 World Cup and overseeing the men's program as it qualified for its first World Cup in 40 years.
But when faced with organizing the 1994 World Cup, the greatest test of his presidency, Fricker stumbled. First, he hired and then fired Stiehl from the organizing committee. Next, he promoted LeTellier, a California attorney who had been involved in the sport for nearly two decades, to replace Stiehl. While LeTellier performed adequately as COO and president of the '94 organizing committee, he was only able to staff his bare-bones operation after the federation secured a seven-figure line of credit in the summer of 1989. Soon, with its money problems worsening, the federation negotiated a series of deals under Fricker's leadership that confused some within the organization and at FIFA.
As late as 1990, the federation still hadn't named a director of marketing. That same year, one of U.S. Soccer's few sponsorship partners, Chiquita, withdrew its financial support, a crippling blow to an already ailing organization. To stanch the financial bleeding, the federation hastily arranged a deal to sell the American TV rights for the 1994 World Cup to NBC. Fatefully, it did so without FIFA's approval. With so much money at stake, and with FIFA -- which had long been exasperated by what it perceived as Fricker's opacity -- looking to secure for itself a greater cut of the profits, this was the final straw.
With only a few weeks before the August presidential election, FIFA encouraged a third candidate to enter the race and run against Fricker and Stiehl. Alan Rothenberg's association with FIFA dated back to the 1984 Los Angeles Olympic Games, where the powerful L.A. attorney had worked closely with high-ranking FIFA officials while organizing the soccer event. Rothenberg moved easily in FIFA's elite crowd, cultivating relationships with men like FIFA general secretary Sepp Blatter and president Joao Havelange. In Rothenberg, FIFA had a man it knew it could do business with and a man, it believed, who got things done.
Rothenberg, who was legendary for his stamina, often working 18- and even 20-hour days, possessed a cutthroat personality that would later earn him the nickname "Rothenweiler" from World Cup staffers.
"I don't beat up people because I enjoy beating up people," he once told the Los Angeles Times. "But if I have to leave some strewn bodies in order to win, within the rules, that's the way you have to do it."
Rothenberg had a knack for spotting a good business opportunity and was well-connected, having worked with men like Los Angeles Lakers owner Jack Kent Cooke and Peter Ueberroth, who organized the '84 Olympics before becoming commissioner of Major League Baseball. In soccer, Rothenberg found a mother lode waiting to be mined. Of the U.S. Soccer staff prior to his involvement, Rothenberg said, "Some of these people had to realize there is a big difference between lining the field for a youth-league game and running a potentially billion-dollar business."
As the August election date drew near, the stakes could not have been higher. Sandy Briggs, executive director of the Soccer Industry Council of America, characterized the election as "a battle for the heart and mind of soccer in this country." The choice was between soccer as big business, embodied by Rothenberg, and soccer as pastime, embodied by Fricker. Nothing less than the future of the sport in this country seemed to be at stake.
"We want soccer to be a business," said former U.S. midfielder Rick Davis, summing up the dilemma facing voters in a quote to the Washington Post, "but we don't want it to be at the expense of what soccer is about in this country."
A LITTLE AFTER 6 A.M. on the morning of the election, Stiehl's phone rang. On the other end of the line was Guido Tognoni, FIFA's chief press officer. He wanted to know if Stiehl would consider dropping out and throwing his support behind Rothenberg. Stiehl declined.
By 7 o'clock that morning, he and Fricker were trying to patch up old grievances and make a deal. "One of us would be president," Stiehl told Fricker, implying that the two candidates should strike a bargain to keep Rothenberg out of the presidency. But as events unfolded, neither candidate was willing or capable of making such a deal.
Once the meeting started, Stiehl took to the convention floor to blast FIFA for meddling in the USSF's affairs. He dismissed Rothenberg as an outsider and characterized FIFA's interference as a "hostile takeover."
"We are under siege," Stiehl told voters. "We will protect the powers in this federation. I will defend the palace. We will never sell our federation or our souls at any price. I am asking you, begging you, don't you dare, after all you've worked for, leave us."
Fricker, too, called on the loyalty of the federation's voters, and not without some justification. Under his leadership, the USSF had twice staved off financial calamity, qualified for its first World Cup in 40 years, won its bid to host the 1994 World Cup and achieved unprecedented success at the youth level, finishing fourth in the 1989 FIFA World Youth Championship. Fricker implored -- and expected -- his comrades to rally behind him.
But he had failed to notice the wave of discontent that was building within American soccer. In the weeks leading up to the election, he had tried mediating a long-standing dispute between the federation and the Major Indoor Soccer League. Whatever the source of that dispute -- one journalist suggested that it stemmed from a lack of MISL players on the 1990 World Cup roster, while Fricker's son has said that the league was not in good standing with U.S. Soccer -- Fricker ultimately resolved to sanction the league, which would have rendered its votes obsolete. But whether out of a sense of fairness or because he felt it best not to alienate a league in a country sorely lacking professional teams, Fricker permitted the MISL's owners to vote in the 1990 election.
Rothenberg won on the first ballot with 59 percent of the 583 votes cast. All eight MISL owners supported him. So wide was Rothenberg's margin of victory that even if Stiehl had managed to convince all of his voters to switch to Fricker, it wouldn't have been enough to force a second ballot. And even if it had, Fricker still would've had to convince several of Rothenberg's supporters to back him instead. Crucially, both he and Stiehl had failed to recognize the undercurrents of change driving support for Rothenberg. As former USSF board member Werner Roth put it, his was "[a] vote as much for change as it was for Alan."
FIFA, for its part, never made a secret of its support for Rothenberg and its dissatisfaction with Fricker's leadership. Tognoni confirmed his early-morning conversation with Stiehl, telling reporters that FIFA was "happy" with the election result. "We did not want to interfere," Tognoni said. "On the other hand, we could not ignore the fact that Fricker did not want to take our advice."
Fricker aired his grievances in a testy press conference after the election.
"Obviously I was not well received, and the vote clearly indicates a large majority of the members are not interested in the game," he said. "Their primary objective is politics. People in influential positions that have not been in the game long jumped on the bandwagon and were easily swayed by the newcomer."
In the years to come, however, Fricker would revise his views on the election. After witnessing the overwhelming success of the 1994 World Cup, he told the Philadelphia Inquirer that he had done a poor job developing relationships with FIFA officials and admitted that his successor had succeeded in this critical realm. Privately, according to his son, Fricker even wondered whether he possessed the ability to pull off such a successful tournament.
The 1990 election had a profound effect on the course of professional soccer in America. Rothenberg's victory began the USSF's transition into a more business-savvy organization with a corporate culture that still permeates the federation today. Without Rothenberg's business acumen, there likely would be no Major League Soccer, no Soccer United Marketing and no nine-figure surplus.
Fricker, who passed away in 2001, couldn't have imagined what the American soccer landscape would look like today, 28 years after his defeat. More familiar to him would be the disconnect that remains between the moneyed U.S. Soccer Federation and the grassroots organizations that helped build it, the immigrants and amateurs who preserved the game when there were no professional leagues to sustain it, the men and women for whom soccer meant everything before it made anyone wealthy.
---
This story is from the winter/spring 2018 issue of Howler, a quarterly mag about soccer. Get 20 percent off a subscription with promo code HOWLER14 at shop.howlermagazine.com.
Tim Froh is a writer who lives in Los Angeles. Twitter: @TimFroh