Champions League has €701 million gap between richest and poorest sides
"The highest prize, as always, is the Champions League, but it is a competition where there are no guarantees, and the things you take for granted in domestic football don't always work," Bayern Munich club chairman Karl-Heinz Rummenigge said in 2013. Today, it feels like there are more guarantees than ever in Europe's top competition.
After all, the Champions League feels all too predictable, particularly when it comes to which clubs reach the knockout stages, semis and finals. A growing issue is how rarely we see top teams such as, say, Bayern Munich knocked out by anyone financially weaker in the Champions League. (For the record, it hasn't happened to the Germans since 2010-11, and that was a defeat to Inter Milan.)
Right now, the four most valuable squads in the Champions League are Real Madrid, Barcelona, Bayern Munich and Chelsea, according to Transfer Markt. It does not seem a coincidence that they are the past four winners of the Champions League. It is a conformation of resources the competition was supposed to minimize while creating a more level playing field.
Squad values of 2014-15 CL teams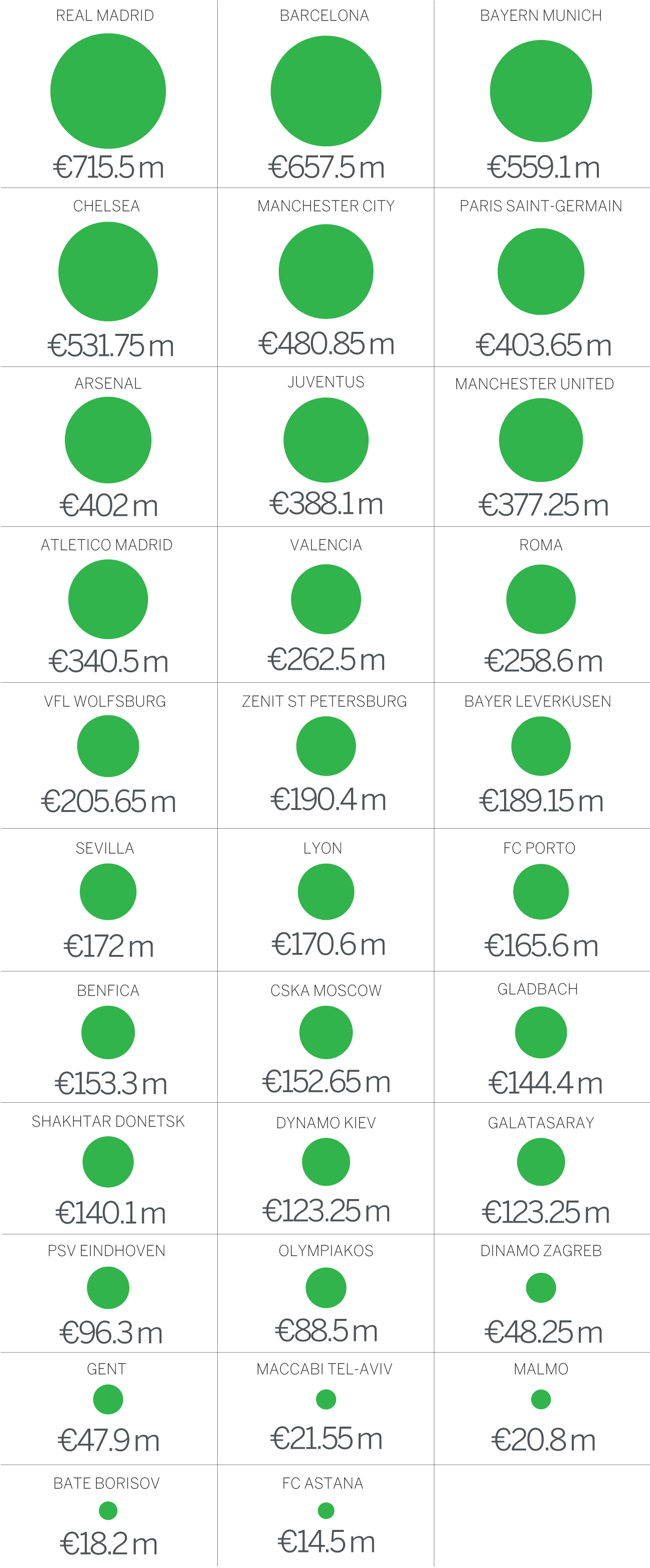 It seems even less a coincidence that Bayern, Barca and Real have occupied 15 of the past 24 semifinal places going back to 2010 (a worrying 62.5 percent). It's a domination that is unprecedented in European Cup history going back to 1955. There has never been such a lack of diversity, but that's because there has never been such a difference in cash.
In the squad values displayed here, the drop after ninth-placed Atletico Madrid becomes drastic. Even in the period after Florentino Perez launched Real Madrid's first Galactico project by buying Luis Figo in 2000 and breaking the world record, there was still more variety in the semifinalists. In the six years following that momentous move, 18 different clubs reached the last four. In the six years after Perez relaunched the Galactico project by buying Cristiano Ronaldo for £80m in 2009, only 11 teams reached the last four.
Of course, the problem is not just that Real can buy Ronaldo. It's that Real and clubs like it can also buy so many players just behind Ronaldo.
The €240m market value of Ronaldo and Messi combined, after all, is more than the total of 20 other Champions League squads. It is little wonder those super-clubs are beginning to beat the rest in the way sides such as Eusebio's Benfica used to do to the champions of Ireland or Northern Ireland in the 1960s.
There has never been such an accumulation and concentration of talent among such a small group of clubs. You only have to look at how quickly PSV Eindhoven's title-winning side from last season's Eredivisie has been stripped apart. A decade ago, they might have built on their domestic success in the Champions League, as the Ajax 2003-04 of Wesley Sneijder & Co. did. But this summer, PSV lost Memphis Depay and Georginio Wijnaldum. The effect is two-fold: The big sides are separating themselves further from the pack, even when it seems the poorer are getting a bit closer, and teams with lesser means are forced to reboot their squads.
This might lead to more defensive football from the minnows -- parking the bus isn't a style of football for them, so much as it is the only way to survive 90 minutes against clubs such as Barcelona. But it might also mean only top coaches such as Diego Simeone and Unai Emery can temporarily stem the side.
In short: the race is stacked.
The disparity between players isn't close either.
Player values in 2014-15 CL

Miguel Delaney covers the Premier League and Champions League for ESPN FC. Twitter: @MiguelDelaney.