Will Lionel Messi or Cristiano Ronaldo top Champions League scoring?
And so it begins again: the Cristiano Ronaldo and Lionel Messi show.
Neither had scored domestically, then both produced the goods in style at the weekend. Six goals between them, six points for Barcelona and Madrid -- and several moments of absolute magnificence.
It's mid-September, which means we are barely a couple of months away from the voting for the Ballon d'Or, an award the two of them have ruthlessly dominated for the past seven years. Messi leads 4-3 in wins and is in position to win another by a landslide, but it's an award he considers a natural byproduct to playing with excellence for other reasons.
Winning trophies.
Meanwhile Ronaldo (and I admire him for making this so clear) craves the Ballon d'Or in and of itself. But there's another contest between them, one that I think is more significant, more motivational for the two stars and far more exciting than the Ballon d'Or given that nobody votes for it and only these two can really influence it.
You see, Ronaldo and Messi are tied at the top of the all-time European Cup/Champions League scoring charts. Each of them has 77 goals: Ronaldo in 115 matches and Messi in 99. In case you haven't studied them recently, it's worth pointing out how utterly exceptional their stats are.
For my money, it's one of the areas that best underlines how far-and-away extraordinary the pair of them are. For example, take the top 30 in this European elite scoring chart. In the top 30 there are only four active Champions League players other than Messi and Ronaldo: Zlatan Ibrahimovic, Karim Benzema, Wayne Rooney and Thomas Muller. (Perhaps Robin Van Persie, in 30th, will return to that status next season?)
The top two are, respectively, 34 and 35 goals ahead of Zlatan and Benzema, 48 ahead of Rooney and 49 in front of Thomas Muller. Enormous figures. Simply enormous.
Historians will note that in its old knockout format, the European Cup allowed far fewer games over a career. It explains why Gerd Muller has only 35 goals in this chart, which is where the "goals per game" ratio comes in.
On that measure Messi beats Ronaldo, by a firm margin (fewer games, fewer years in the competition) but he in turn is bettered by three men: Muller, Ferenc Puskas and Alfredo di Stefano. "Der Bomber" in particular is utterly remarkable, notching a goal per game in his 35 European Cup matches.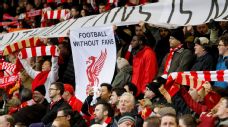 It's not for me to try to settle comparisons between how Puskas and Di Stefano scored in the 1950s and 1960s, and the "worth" of Messi's and Ronaldo's goals now. What I think does stand out, however, is that none of the other modern greats -- Raul, Thierry Henry, Andriy Shevchenko, Zlatan or Didier Drogba -- has a scoring ratio that even begins to compete with Messi, Muller, Di Stefano or Puskas.
If the modern format of the Champions League, with so many guaranteed games season after season, is so much more helpful and friendlier than the old, "dangerous" knockout European Cup, then why is it only Messi and Ronaldo who have such a glut of goals and have brought their scoring average closer to those three, old-time greats?
There's no negating the fact that a knockout tournament held its threats: one bad tie away from home and suddenly you're out, no matter who you are. But in my opinion, the Champions League is more difficult, more testing and more draining. Plus the modern era of fitness, athleticism and exhaustive video analysis makes beating defenders and keepers much, much harder than it was in the days of Di Stefano and Puskas. Possibly those of Muller, too.
(Oh, and for Madrid, Netherlands, PSV and Man United fans, I'm not forgetting Ruud Van Nistelrooy. While his total doesn't threaten Messi, let's not forget how long he missed thanks to a devastating knee injury. If you look at his goal-to-game average, it's pretty much identical to Barcelona's brilliant Argentinian. The numbers say that after these two kingpins, he was the modern European great in terms of scoring.)
So, as of Tuesday night, off go Ronaldo and Messi again.
While I think that their scoring exploits in this elite European contest are one of the special marks of their greatness, there's a much more practical truth about the goal-scoring contest between Messi and Ronaldo at this level.
Between them, they've been part of six Champions League final winning squads. Not once in those years (2006, 2009, 2011, 2015 for Messi and 2008, 2014 for Ronaldo) has either managed to lift the trophy unless he's equalled or beaten his rival's scoring total.
In 2006 it was a tie, Ronaldo won 8-6 in 2008, Messi outscored Cristiano 9-4 in 2009, the Argentinian won again 12-6 in 2011, CR7 thrashed FCB10 by 17 goals to 8 in 2014, and last season the two men each hit the net 10 times.
The message is clear. Winning this individual scoring duel doesn't guarantee it is definitely your year to lift the cup with the big ears, but so far, neither man can win the Champions League unless he ties with or outscores his direct rival.
This season is an anomaly for Los Blancos. None of Real Madrid's group rivals have ever faced them in UEFA competition before. Does that hinder defenders who don't know how to mark Ronaldo, cut off his supply or do whatever it is that puts him off his game? Does it help CR7 gorge goals from back fours unused to his tricks, flicks and power?
Meanwhile, the last time Messi faced Bayer Leverkusen and BATE, it was worth eight goals across three games to him.
Ronaldo has the highest season total (17) by a distance, but Messi scores at a more consistent rate. Ronaldo has been top or joint-top Champions League scorer in each of the past three seasons. Messi has double the Champions League medals Ronaldo has.
Tuesday night at the Bernabeu, Wednesday night in Rome. It all begins again.
We should be grateful.
Bale's bonanza a boon for Ronaldo, Real
It's both natural and fair that Cristiano Ronaldo wolfed up all the weekend headlines. His performance in Real's 6-0 win over Espanyol completely belied recent evidence that his cutting edge was a little rusty.
Also, it's never wise to ignore the basics -- Rafa Benitez is like any manager, he craves three points each time his team trots out over the white lines. That was most important. Then for his Madrid side to score 11 times in two matches silences a lot of the "dull football no goals" rumblings. Better still: when your marquee player and club's all-time La Liga scorer hits form, then you rub your hands in glee.
However, privately, I think the former Liverpool manager will have been absolutely beside himself with delight over a different aspect of Saturday's performance. If Ronaldo was the wrecking ball, Gareth Bale was the crane operator.
The Welshman made the penalty, crossed from the left for one Ronaldo goal, played the delicate pass for Ronaldo to set up Benzema for the Frenchman's goal from the No. 10 position and crossed from the right for CR7's penultimate strike.
This "liberty" that Benitez wants to give Bale, this creative freedom to interact with his strike partners Ronaldo and Benzema, appears to be bearing fruit. Bale was bulging the net against Betis and even if he's a million miles from your archetypal No. 10, there seems to be something in what Benitez is urging the Welshman to do in this role in which he's no longer tied to the right wing.
But the best of all this for Bale and Benitez? Ronaldo's day in the sun might have been orchestrated by Bale, but it's you-know-who that got all the goals and glory.
If (and I mean if) the Portuguese begins to realise Bale isn't a threat to the "established" hierarchy that Cristiano sees as "me, me, me and still me" but a means to greater glory and more goals for CR7, then the Madrileño manager and Gareth-boyo may have a smoother transition for their plan than they ever thought possible.
The always Athletic Aduriz
From the moment Raul Garcia wept his way out of his Atletico Madrid farewell, welling up three times and eventually cutting short his "adios," his addition to Athletic Club's aerial ability looked frightening.
When he and Aritz Aduriz play together, it will be utterly verboten for any opponent to allow them a free kick or throw-in within 50 metres of goal or, heaven forbid, a corner.
The two men have prodigious aerial timing and leaps that would make guys of 6-foot-4 green with envy. Both scored with headers in the 3-1 win over Getafe, but it was Aduriz who got two. It was Aduriz who again showed that he's clever, experienced, menacing, capable of goals off either foot and superb in the air.
It's Aduriz who looks like a means to tell Diego Costa that "the real Costa has to show up for Spain and score goals or here's our replacement."
Every footballer, with the possible exceptions of Messi and Ronaldo, needs to know that there's a player breathing down his neck who will take his place in the blink of an eye.
I think that Alvaro Morata shapes up as Spain's starting centre forward for some years to come. But right now, Aduriz deserves to play for Spain ahead of Diego Costa -- not because Costa isn't good enough or isn't going to succeed for La Roja, but for the simple reason that Aduriz is comprehensively outplaying and outscoring him.
Come on, Marquis Del Bosque: do the right thing.
Graham Hunter covers Spain for ESPN FC and Sky Sports. Author of "Barca: The Making of the Greatest Team in the World." Twitter: @BumperGraham.