Barcelona show resilience in comeback victory over Bayer Leverkusen
Three quick thoughts from Barcelona's 2-1 victory over Bayer Leverkusen in their Champions League Group E meeting at the Camp Nou on Tuesday night.
1. Barcelona, eventually, turn it around without Messi
This was Barcelona's first game since Lionel Messi was ruled out for about two months with a knee injury, and for a long time it seemed set to show just how much the Blaugrana talisman is going to be missed. But late goals from substitute Sergi Roberto and centre-forward Luis Suarez turned around a game in which Barca had been second-best for much of the proceedings.
Barca coach Luis Enrique had been stressing over recent days that the team's style would not change without Messi, and tactically the team lined up in the same 4-3-3 shape as always, with youngster Sandro Ramirez taking Messi's spot on the right wing.
Ramirez actually had Barca's first real chance of the night, when he ran onto a Suarez through ball and hit a decent shot, which was well saved by visiting goalkeeper Bernd Leno. The 21-year-old looked out of place on the wing though and was barely involved in the game. Another chance came his way close to halftime, with Barca 1-0 down, only for his point-blank shot to be blocked by sliding defender Kyriakos Papadopoulos.
Barcelona
Bayer Leverkusen
Game Details
No one player can replace the four-time Ballon d'Or winner, but there was extra pressure on the team's other South American superstars Neymar and Suarez up top. Neymar was busier in the first half, often dropping deep -- Messi style -- to get more involved in the play. But the results were mixed, as he was often surrounded by four opponents snapping at his heels. One run into opposition territory drew a foul and yellow card for Lars Bender. Another run from the Brazilian ended in embarrassment, as English referee Martin Atkinson correctly showed a yellow card for a dive aimed at winning a penalty.
Enrique did switch systems in the second half, with Neymar playing more centrally, especially after Andres Iniesta became the latest Barca player to limp out of the action. But Bayer were looking pretty comfortable as the game entered the last quarter-hour. Or so it seemed.
Substitute Munir El-Haddadi had a big role in the two goals in two minutes that turned the game on its head. The first came after his shot was saved by Leno, only for Roberto to ram the rebound into the net. Bayer were still reeling when Munir got past three defenders down the right wing and squared for Suarez to sweep a superb 15-yard shot into the right corner of the net.
Messi had been missed, but the team had shown grit and no little skill to get themselves out of a difficult position without their superstar.
2. Schmidt's impressive side deserved more
This Leverkusen team are very different from the one that last visited the Camp Nou, for the second leg of the round of 16 in 2012, when Messi scored five times in a 7-1 Blaugrana win. They were beaten again here but with a bit more composure up front -- especially from centre-forward Javier "Chicharito" Hernandez -- they would have gotten at least a point.
Roger Schmidt's team play physical, pressing, high-risk game, just like Celta Vigo, who beat Barca 4-1 last week in La Liga, as Enrique pointed out in his pregame news conference.
And the home side looked uncomfortable right from the start, as Bayer pushed up bravely to press the Barca defence and midfield on the ball. This led to early chances for Hernandez and midfielder Kevin Kampl, with the home defence regularly outnumbered when their teammates lost the ball farther up the pitch, and full-backs Dani Alves and Jeremy Mathieu in particular struggling.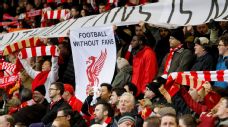 The opening goal also came from exploiting a Barca weakness -- when Hakan Calhanoglu's superb corner was nodded to the net from right under Barca keeper Marc-Andre ter Stegen by Kyriakos Papadopoulos. It did not look good for the German, but Suarez and Mathieu seemed more to blame. Apart from manhandling the huge Greek defender out of the way, there was not that much Ter Stegen could have done, given Calhanoglu's delivery was so good.
Schmidt's team dropped back a bit more in the second half, understandably given they were 1-0 up at the Camp Nou, but still played very intelligently. Ex-Manchester United and Real Madrid player Hernandez really should have made it 2-0, when another quick break found him unmarked near the penalty spot, but he leaned back and fired high into a Camp Nou crowd that had barracked him all night.
That miss seemed bad at the time, but even worse after the final whistle, given how the rest of the game went. Even still, this performance, along with Roma's shocking 3-2 defeat at BATE Borisov in the group's other game, suggests Schmidt's side should really progress to the next round.
3. Barca lacking badly in midfield now
Last season Barcelona had four "interior" playmakers to fill two spots in the club's traditional 4-3-3 shape: Ivan Rakitic, Iniesta, Rafinha and Xavi Hernandez. None of these four were on the pitch as Barca turned the game around late on.
Roberto was well behind all those four, even a few weeks ago, after his poor showing in the 4-0 Super Copa hammering at Athletic Bilbao. But the La Masia-developed youngster has impressed many Blaugrana fans and pundits while filling in for Alves at right-back in recent months. He looks needed in midfield after Iniesta became the latest Barca player to limp off with what seemed another muscle injury.
With 72 minutes on the clock, and Barca running out of ideas, Rakitic was withdrawn and Sergi Roberto sent on in his preferred midfield position. And eight minutes after that he popped up in just the right place to knock the ball into the net after Leno had not been able to hold Munir's close-range shot.
Suarez's superb late winner took the three points for Barca, and eased the immediate pressure on Luis Enrique. But the coach now has some real thinking to do. Iniesta looks sure to miss Saturday's La Liga trip to Sevilla at least, and it could be that Barca just do not have enough suitable players to use the 4-3-3 system through the next few months. We could see wing-backs, or Neymar and Suarez in a front two. Munir's showing from the bench also made a decent case for his inclusion.
Those are thoughts for another day though -- Tuesday night was about showing that Barca could still dig deep and win big without Messi.
Dermot Corrigan is a Madrid-based football writer who covers La Liga and the Spain national team for ESPN FC. Follow him on Twitter @dermotmcorrigan