Sergio Aguero's late penalty lifts Man City to crucial 2-1 UCL win at Gladbach
Three thoughts on Man City's late 2-1 win over Borussia Monchengladbach, a result that could prove crucial in their Champions League group.
1. Sergio Aguero gets City the win
Wednesday night saw Manuel Pellegrini's Manchester City forced to ride out myriad difficulties -- many of their own making -- to rescue victory from a most gallant Borussia Monchengladbach. Sergio Aguero's penalty, won when Fabian Johnson was silly enough to leave out a leg for the Argentine to fall over, was converted with a calm not reflected in much of City's previous 90 minutes.
"To continue the way we always do," Pellegrini had said regarding his pre-match game plan. His lack of tactical variety is a leading reason for City's season juddering to a halt since losing to Juventus a fortnight ago. A libertarian approach leaves things far too open for opponents and a fourth loss in a row was a genuine danger after Lars Stindl's deserved opener for the Bundesliga side.
Borussia Monchengladbach
Manchester City
Game Details
An attacking quartet of Sergio Aguero, Raheem Sterling, David Silva and Kevin De Bruyne had been fielded in the starting lineup for the first time together. While it may be a fantasy football forward line, City often veered towards the type of nightmare defending that Arsenal produced in losing to Olympiakos on Tuesday. They were repeatedly befuddled by Gladbach's fast-breaking football. A fearsome foursome is all very well but if the other six outfield players are struggling, then any team will have problems. The defending was often as chaotic as it had been during City's 4-1 loss to Tottenham on Saturday.
Even before Stindl buried Julian Korb's cutback in the 54th minute after Aleksandar Kolarov had been caught far too infield, goalkeeper Joe Hart had made several fine saves. He made a outstanding penalty stop early in the first half and City were lucky to escape another spot kick after Brazilian Raffael caused huge problems with little more complicated than aggressive, skilful running.
It took one of those previously troubled defenders, Nicolas Otamendi, to force a 65th-minute equaliser, thumping home on the volley after Korb scissor-kicked Martin Demichelis' shot out from behind the line.
Here the rescue could begin. Having that same zero points total as Arsenal after two matches would have been a Champions League crisis point, but City rode it out by belatedly putting together the attacking flow that a team of such riches should be expected to produce.
2. Hart is City's saviour
Pellegrini had expressed satisfaction at the shortening of City's injury list before Wednesday's game. He was able to field the core group of Yaya Toure, Silva, Aguero and Hart together after the first three recovered from knocks, and Hart was recalled following Willy Caballero's nightmare at White Hart Lane. His teammates ought to have been hugely thankful, too; Hart came out on top of a personal duel with Raffael and made a series of fine saves as City's defence gave up chance after first-half chance.
Toure's presence after suffering a hamstring niggle was a surprise; it eventually proved a risk too far when the Ivorian offered little to stop the German side's speedy incursions down the central channel of City's formation. Less of a surprise was a half-time withdrawal in favour of Fernando -- the Brazilian was fitter and more capable of adding ballast ahead of a shaky central defence.
The absence of Vincent Kompany, especially in the form he was producing until pulling up lame against Juve two weeks ago, continues to hurt badly. Despite City being jam-packed with experienced players, only the Belgian has emerged as a true leader, and though he has made some costly mistakes in recent years, it was difficult to imagine him making as daft a foul as Otamendi's slow-motion trip of Raffael for the penalty that Hart saved with such expertise.
Aguero had scored just two previous goals this season, a significant drop in ratio from his usual output, and two first-half misses suggested a continuing lack of sharpness. Raheem Sterling's fifth-minute ball skidded towards the Argentine's path but the finish gave Gladbach goalie Yann Sommer the chance to pull off a sharp save. He then had an opportunity to doubly punish Raffael's penalty miss when Hart's long pass set up a move that put Aguero through, only for him to drag his shot past Sommer's right-hand post.
Last line of defence and attacking inspiration: these were the moments in which Hart revealed himself as the keeper of the flame in Kompany's absence. Silva had also been way short of peak level and was withdrawn in the 65th minute, barely seconds before Otamendi's drive forced City's equaliser.
3. Gladbach unlucky to be beaten
This was the first Gladbach home game in the European Cup since 1978. A club synonymous with the 1970s and stars like Gunter Netzer, Uli Stielike and Allan Simonsen was one of the beneficiaries of Borussia Dortmund's fall last season. Their long road back has taken a recent dogleg as coach Lucien Favre resigned after their matchday one defeat to Sevilla and losing their first five matches.
It is now Andre Schubert's job to finish the good work that Favre failed to build on. His team were inspired by a stadium full of noise and a veritable sea of green. Their dangerous attacking of last season has been rediscovered. Raffael made a 10th-minute counter after a De Bruyne fresh-air shot, and Patrick Hermann might have put Gladbach in front. It prefaced the danger that the Brazilian attacking midfielder caused City for the first hour.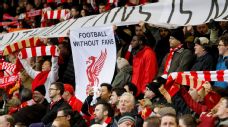 A soft City midfield was frequently exposed with neither Demichelis nor Otamendi, both lacking speed, comfortable on the back foot thanks to several fast Gladbach breaks. Hart was forced to charge out in the 35th minute and smother a free-running Raffael, saving again from Hermann when Raffael had again weaved through the middle. City's keeper was spared the task of stopping another penalty when Fernandinho somehow escaped punishment for clearly bringing down Stindl.
Instead, the German midfielder was injudiciously booked, though he had his moment when scoring his goal. It was reward for a performance of enterprise, though it had the unfortunate side effect of waking their opponent's resolve.
John Brewin is a staff writer for ESPN FC. Follow him on Twitter @JohnBrewinESPN.