Hart, Lewandowski and Ronaldo all make UCL Team of the Week
After the second round of fixtures in the Champions League, here's a look at the best XI from another week of action in the group stage.
Goalkeeper: The Champions League has not always seen the best of Joe Hart but his performance in Manchester City's 2-1 win over Borussia Monchengladbach brought back memories of an astonishing display against Borussia Dortmund three years ago this week. City drew that game; they won this time and that was in no small part thanks to their goalkeeper, whose first-half penalty save from Raffael was perhaps bettered by a one-on-one stop from the same player shortly afterwards. Hart also set up an opportunity that Sergio Aguero squandered with a quick-thinking drop kick. City left it late to get their Champions League campaign up and running but it was their goalkeeper's heroics -- Manuel Pellegrini admitted that Borussia Monchengladbach could have been 3-1 up after an hour -- that gave them the platform to do so.
Right-back: Juventus were not spectacular against Sevilla but as they tend to, they got the job done, and the goal that opened the scoring four minutes before half-time was key. Its creator was Andrea Barzagli, the veteran defender, whose accurate cross gave Alvaro Morata the chance to head home his fifth Champions League goal in as many games. Barzagli, who is usually a centre-back and started last season's final in that position, was calm and intelligent throughout for a defence that gave Sevilla few openings.
Centre-back: Maicon has never been one of Porto's star names but this was a superb display from the long-serving 27-year-old, crowned by the header that sent Jose Mourinho and Chelsea home with nothing. His header was precise and was matched by his work at the other end, where Diego Costa was kept quiet. Maicon now has three goals in eight appearances this season.
Centre-back: German defender Shkodran Mustafi scored the winner for Valencia at Granada last weekend but his was more of a rearguard action in their impressive 1-0 win at Lyon. He was excellent in a hardworking performance that largely kept the likes of Alexandre Lacazette and Mathieu Valbuena quiet and not even the second-half departure of his central defensive partner Aymen Abdennour through injury could destabilise Valencia's back four.
Left-back: BATE Borisov's three goals in the first half-hour against the Serie A giants were comfortably the shock of this match day and their victory owed plenty to Filip Mladenovic's appetite for the unusual. First, with his side already a goal up, he received the ball on the left flank and without a target for a cross, looked up to see Wojciech Szczesny stationed too far to his left. He dipped a low shot from 30 yards towards the vacant half of the goal and despite Szczesny's attempts to recover, his initiative paid off. His second strike was slightly more orthodox, making a clever run inside to receive a pass and finish superbly from a tight angle.
Central-midfield: It seems a little churlish that Astana's dramatic late equaliser in the first group stage game ever to be held in Kazakhstan was officially attributed as an own goal by Galatasaray's Lionel Carole. Putting aside the curiosity that it means the match saw the ball put into the wrong net three times within 12 minutes late in the game, it failed to give enough credit to Roger Canas -- whose quick-thinking header from 20 yards, after Fernando Muslera could only punch a cross in his direction, ended up in the net despite Carole's best efforts to clear. It was just reward for Canas, a Colombian holding midfielder whose presence on the ball and passing range (he completed 68 of 76 attempts) set many of his team's best moves in motion
Central-midfield: Porto won their midfield battle with Chelsea and that was thanks to Danilo, who almost capped a fine performance with a goal when his late header hit the woodwork. Not to be confused with the right-back who was sold to Real Madrid, Danilo joined Porto in the summer from Maritimo. He is a towering presence in the middle at 6-foot-2 and as well as breaking up the play against Chelsea, set his team quickly on the front foot.
Attacking midfield: Talented Greek international Kostas Fortounis, still just 22, was instrumental in Olympiakos' shock 3-2 win at Arsenal. It was his shot that forced the corner that he played cleverly out to Felipe Pardo, alone on the edge of the box, to open the scoring. A second corner, from the other side, then swung in wickedly enough for David Ospina to make his high-profile blunder and gift the Greeks a 2-1 lead. "I saw Ospina a few steps away from his goal and I said to myself: 'Why not try it?'" he said afterwards, explaining that he had purposefully gone for goal. You would certainly be hard pressed to find two more imaginative set pieces over the course of matchday two.
Right- forward: The superlatives have all been exhausted, so here are some statistics. Cristiano Ronaldo's goals in Malmo were the 500th and 501st of his career, and his 322nd and 323rd for Real Madrid. The latter means he is now tied with Raul as Real Madrid's all-time top scorer -- but it would be remiss not to mention that while it took Raul a very respectable 741 games to get that far, Ronaldo has achieved it in 308. That's jaw-dropping stuff.
Wednesday's goals in the win over Malmo were bread-and-butter finishes by Ronaldo's standards, and he could have scored a couple more but the scale of his achievement means a routine group-stage win should be remembered for a while yet. Real will have more heroes after Ronaldo, but it is hard to imagine anyone doing anything like this again.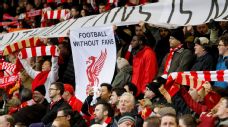 Left-forward: Nico Gaitan had been outstanding in Benfica's win over Astana on matchday one but a trip to the Vicente Calderon asked altogether tougher questions. The Argentinian schemer is in irresistible form at the moment and netted in Benfica's 2-1 win over Atletico Madrid, who suffered just their second defeat in 25 European home games. Benfica are firm favourites for the group now and Gaitan -- who surely deserves to be recognised as one of the world's best in his position -- is the man making all the difference.
Centre-forward: Another selection that owes a little more to a remarkable statistic than anything of special aesthetic merit, although any hat trick in the group stage -- even against a weak Dinamo Zagreb -- should be noteworthy. Robert Lewandowski has now scored 10 times in his last three matches and his third goal here, a scoop over the goalkeeper Eduardo, was the finish of a man who feels as if anything he tries will come off at the moment. "A striker like Lewandowski doesn't need any prodding," said his captain Philipp Lahm afterwards. "He could be even more dangerous than last season."
Prodding or otherwise, it looks a tough ask for Arsenal's defence to lay a finger on him over the next two matchdays.
Nick Ames is a football journalist who writes for ESPN FC on a range of topics. Twitter: @NickAmes82.