Neymar powers injury-hit Barcelona to clean-sheet win at BATE
Three quick thoughts as an injury-hit Barcelona ease to a 2-0 win at BATE Borisov in Tuesday night's Champions League Group E matchday three clash.
1. Neymar + Rakitic = two goals and three points
Two beautiful goals from Ivan Rakitic, and two lovely assists from Neymar, were enough to bring Barcelona a welcome 2-0 win, and to keep last year's Champions League winners in firm control of Group E.
Barca had lots of the ball in the first half, but made few clear chances, and the game was still scoreless at the break. BATE's fans celebrated the half-time whistle with the apparent idea that they could capitalise on the Catalans' recent dodgy away form and get something from the game. But two superb pieces of play from Rakitic and Neymar early in the second half changed all that.
BATE Borisov
Barcelona
Game Details
The opener saw Neymar take an early pass from Sergio Busquets and run 40 yards inside the BATE half, drawing the defence before he timed his pass perfectly to give Rakitic space to strike. The Croatian carefully arrowed a powerful shot to the top corner of the net from the edge of the penalty box for what was his first goal of the season.
Rakitic, who had started the game on the bench, had his second soon afterwards, with Neymar again the creator thanks to a lovely pass, which gave the midfielder time and space to clip a sweet finish over sprawling BATE goalkeeper Sergey Chernik. Two goals in 16 minutes were a decent response to coach Luis Enrique saying recently that he needed more goals from his midfielders.
Neymar's contribution was also key; the Brazilian was Barca's biggest attacking threat throughout. With Lionel Messi still absent, he had seemed keen to do the work himself through the first half, and was also taking most of his side's corners and free kicks around the area.
Twice in the first half Neymar held the ball too long, unwilling to pass to youngster Munir. But the two excellent second-half assists mean the 23-year-old Ballon d'Or podium candidate has either scored or set up all of Barca's eight goals in their last three games.
2. More injury woes for Barca
Barca came into the game still having to deal with a spate of injuries, which sees Luis Enrique shorn of talisman Messi and club captain Andres Iniesta into the medium term. There was at least some positive fitness news with the return of utility backup defender Thomas Vermaelen to the bench.
But any optimism lasted less than a quarter-hour. The first hint there was something wrong was Rakitic being sent to warm up on the sideline, and it soon became clear that Sergi Roberto was the player to be replaced. The youngster played on a few minutes until the change could be made, but was clearly hampered in his movement and soon removed from the play.
Now 23, Roberto had featured in all but one of Barca's La Liga and Champions League outings so far this season, starting eight of the 10 games at either right-back or on the right side of a midfield three. Although he had made his debut, and actually scored against BATE over four years ago, this was already the season with most first-team starts of his career.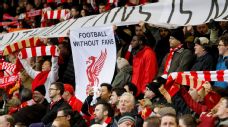 According to early reports, the issue was a relatively minor groin strain, and the La Masia graduate could be back soon. Even still, this was Barca's 14th muscle injury since their globe-trotting preseason, something which must be of concern to both Luis Enrique and his board.
More immediately, along with the injuries to Iniesta and Rafinha and ineligibility of Arda Turan, it means the squad currently has just three fit midfielders. Two of these (Javier Mascherano and Busquets) are only really comfortable in the deeper "pivot" position in the club's traditional 4-3-3 system.
Rakitic is the only true fit creative midfield "interior" available to Luis Enrique, and showed his worth again with Tuesday night's two goals, but he can't realistically be relied upon to play every minute. Blaugrana fans and pundits will be waiting anxiously for news that Roberto -- and especially Iniesta -- are ready to return.
3. A welcome clean sheet
Barca began last season by keeping a club-record eight straight clean sheets in La Liga, but have been leaking goals badly through the first months of the 2015-16 campaign. Pregame, Luis Enrique said everyone -- coaches and all the players -- had to work to improve on their defending. So this shutout, their first since August at home to Malaga, will have been very welcome.
This was admittedly not the Blaugrana defence's biggest test. BATE's success domestically -- they sealed a 10th successive Belarusian championship last weekend -- has been built more on watertight defence than freewheeling attacking. But Roma were 3-0 down to BATE by half-time in their previous Champions League game, and Athletic Bilbao were beaten 2-0 by BATE during last season's group stages.
Barca's defence here had Marc Bartra starting his first Champions League game of 2015 at centre-back. Marc-Andre ter Stegen was back in goal, with the German having not played since the last Champions League game against Bayer Leverkusen, as fit again Claudio Bravo had retaken his place for La Liga games.
Thirty minutes into the game, with the home crowd apparently delighted with 0-0, Ter Stegen had touched the ball just twice. His first proper save came on 77 minutes, and even that was a simple dive to his left to stop a shot from Nikolai Signevich's weak effort. Aleksandr Karnitskiy also tried to catch the German off his line from long range, but the keeper was this time alert to the danger, and the shot drifted well wide.
Bartra had relatively more to do, and looked alert and confident as he regularly stepped in to regain possession, with centre-forward Signevich not getting a look in. The game ended with the visitors' back line never having been seriously worried at all -- a certain relief for Luis Enrique and his staff.
Dermot Corrigan is a Madrid-based football writer who covers La Liga and the Spain national team for ESPN FC. Follow him on Twitter @dermotmcorrigan