Guardiola beating Wenger's Arsenal may give Bayern boss food for thought
They never got round to shaking hands at their last meeting at the Emirates 20 months ago but ahead of Tuesday's group-stage clash, Arsene Wenger and Pep Guardiola smothered each other with politeness. The Arsenal manager referred to serial winners Bayern (12 in 12 in all competitions) as "the best team in Europe" right now and noted that his Gunners were "historically not at the same level" as the German giants, who have five European Cups/Champions Leagues to their name. Guardiola, on his part, maintained that his team were the underdogs of the piece, up against a side who would fight "like animals" in an effort to stave off an untimely elimination from the competition.
The Catalan's words were partially directed at his own dressing room, no doubt. Bayern's invincible run since their Super Cup penalties defeat by Wolfsburg back in August, their great record in the Champions League against the Londoners -- they never lost a match in the group stage and progressed each time they met in the knockout rounds -- as well as Arsenal's mysteriously unfocused start with two defeats away to Dinamo Zagreb (2-1) and at home to Olympiakos (3-2) have created a sense of strong expectation in Germany.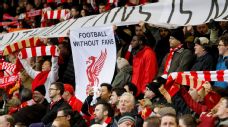 Guardiola's attempts to fight off any complacency will be helped by memories of the 2013-14 round of 16 tie at Emirates Stadium. On a rare occasion when the coach specifically asked his team to keep the ball in the opening minutes -- in order to take the sting out of Arsenal's attacking game -- Bayern were totally overrun by the hosts. The Germans simply got lucky that the momentum of the tide turned, as Mesut Ozil missed a penalty and goalkeeper Wojciech Szczesny was sent off, before they could assert their dominance in the second half.
The issue of mental alertness apart, it'll be interesting to see whether Guardiola will also try to counter the expected onslaught by adopting a formation with three at the back and extremely wide wing-backs, to make the pitch big and Arsenal's pressing more difficult. The emergence of Jerome Boateng as a pinpoint long-distance passer is a further boon in that respect. His punts down the middle proved extremely dangerous in their 5-1 win over Borussia Dortmund, by some distance the best team Bayern have come up against this season.
He still favours a possession game, of course, but striker Robert Lewandowski's irrepressible form and Arturo Vidal's running have seen his team adopt an altogether more direct approach. Bayern don't quite suffocate opposition teams with endless passes anymore, and their pressing has not always been as high as last season, but they have looked just as good as they did in the previous two years under Guardiola before the winter break, if not better. And that's largely without injured wingers Arjen Robben and Franck Ribery and defender Medhi Benatia, and in year one after talisman Bastian Schweinsteiger's transfer to Manchester United.
The game in London should go a long way in showing whether Brazilian winger Douglas Costa and playmaker Thiago Alcantara are fully ready to deliver at the highest level. Cameos from Kingsley Coman, 19, and Joshua Kimmich, 20, could also provide useful insight into the extent of Bayern's successful transition, squad-wise. Two years into his new role at Sabener Strasse, technical director Michael Reschke (formerly of Bayer Leverkusen) has already proved his worth to his employers.
CEO Karl-Heinz Rummenigge reiterated on Monday that he was optimistic about Guardiola staying beyond the summer. A decision either way is only a few weeks away. Carlo Ancelotti is rumoured to be the prime candidate to succeed Guardiola at the Allianz Arena, in case the job does indeed become vacant. The Italian wouldn't offer quite the same star appeal, to be sure, but as a safe pair of hands he'd be a natural choice for a club that could probably do with a bit of a breather after the Guardiola era.
In the meantime, there's still a bit of hope, at least as far as Rummenigge is concerned, that continued progress by Bayern might yet persuade Guardiola that leaving this team for a different "bride" in the Premier League would be a mistake. Bayern beating England's second-best team of the moment and the first Arsenal side who look truly capable of challenging for the title since 2008 could provide some food for thought for the manager. Then again, it's only one game, and most certainly not the most important one in what is likely to be his last season in charge. Bayern should qualify for next year's knockout rounds, irrespective of Tuesday's result.
For Arsenal, there is probably not quite as much pressure as one would assume, either. While an exit in the group stage would be rather embarrassing, it would also instantly be tempered by a much-improved domestic outlook. If Arsenal supporters could trade in qualification for the last 16 for a first championship since 2004, few would think twice. If, on the other hand, Wenger's team were to manage to inflict a first really painful defeat on Bayern, confidence inside the camp would only grow bigger. The great form of Ozil, Theo Walcott and Alexis Sanchez certainly gives plenty of cause for optimism. Guardiola's team tend to struggle against sides with extreme pace in the final third.
The six previous games between Wenger and Guardiola, two men with comparable aims if not methods, have not always lived up to expectations. Their sides are essentially so similar that they can't bring out the best of each other. But this one could well be a minor classic, nevertheless: "animals" vs. "underdogs," Ozil vs. Xabi Alonso, Thiago vs. Francis Coquelin, Lewandowski vs. Per Mertesacker, Sanchez vs. Philipp Lahm, Bayern's expert game-management and tactical versatility vs. Arsenal's intuitive passing and fluid movement.
Raphael Honigstein is ESPN FC's German football expert and a regular guest on ESPN FC TV. He also writes for the Guardian. Twitter: @honigstein.