Bayern relaxed after Arsenal defeat but Pep Guardiola's future still unclear
Friendly applause greeted Pep Guardiola and his team as they trickled into the Landmark Hotel ballroom for Bayern Munich's traditional midnight banquet after Champions League away games. In years gone by, the air would have been heavy with apprehension at that moment. Players, officials, media representatives and VIP guests would have looked at the man with the microphone in the middle of the room and known that the defeat on the pitch would be followed by a second, verbal drubbing.
"Der Kaiser" Franz Beckenbauer and later Karl-Heinz Rummenigge, nicknamed "Killer Kalle" for his icy demeanour, rarely minced their words, brutally bemoaning mistakes or a lack of effort and, above all, a result that was simply unacceptable. Every defeat was a drama, a mini-crisis.
On Tuesday, however, the atmosphere in the plush surroundings of the Marylebone team hotel was one of calmness. After 12 straight wins this season, Bayern may have become so unaccustomed to losing that they have forgotten their usual, highly-strung way to react to such reversals, too. Instead of blame being apportioned and the issuing of demands for everybody to up their game, all the travelling party heard were pretty warm words of support.
"I don't like to sugarcoat defeats," Rummenigge started, "because there's nothing beautiful or good about a defeat. But this was [an] unfortunate defeat, a defeat where the team left the pitch with its head held high."
Another round of applause. "There's a chance to correct that [in the return leg]," Rummenigge added, "if we do that, we will have gone a long way of finishing first in the table." That was the extent of the Arsenal post-mortem, however. Rummenigge quickly moved on to the next Bundesliga game, against 1. FC Köln, as "a chance to extend the record [nine league wins in a row] to 10 and set a benchmark for the history books."
No previous team, not the Bayern of the 1970s with Beckenbauer, Gerd Müller and Sepp Maier, nor later incarnations of the 80s, 90s and 2000s had managed to do that, the 60-year-old emphasised. And then, it was time to eat from the buffet and drink.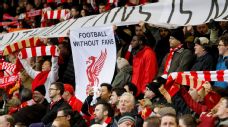 It's extremely unlikely that the mood will be as relaxed if/when Bayern fail to beat the Gunners in two weeks' time but on Tuesday, the wider context loomed so large that a measured reaction was almost inevitable.
Firstly, this was a defeat that need not have any practical consequences, as Bayern's advancement to the knockout stage is not (yet) under danger. Secondly, the phenomenal run of results that Rummenigge mentioned provided a buffer against the disappointment. No one can expect to win every game. Thirdly, there's losing games and there's getting beat badly. Manuel Neuer's calamitous error that gifted Olivier Giroud a goal and "paved the way for the defeat," as the goalkeeper himself admitted after the final whistle, put a slightly surreal slant on the outcome.
You couldn't call it a freakish 2-0 win because Arsenal had certainly made their luck with resolute defending and well-executed counter-attacks, especially in the first half, but they had failed to pose much of a threat in the second half before Neuer effectively threw the game away, jumping past a Santi Cazorla cross 13 minutes before the end. Mesut Özil's injury-time goal merely added a bit of injury to the injury.
Philipp Lahm felt that Bayern had "controlled the game" and Guardiola felt his side's game had been "crazily good," a lack of goals apart. But for all the possession and hugely impressive ball-recovery deep in the opposition half, Bayern had not created too many clear-cut chances.
Going forward the team lacked natural width on the right, with Thomas Müller drifting inside and full-back Lahm primarily looking to patrol the half-space behind Alexis Sanchez. Guardiola briefly moved Arturo Vidal out to the wide in the second half in a 4-1-4-1 formation but then soon called Lahm into central midfield to assist Joshua Kimmich once Vidal and Xabi Alonso were substituted.
The visitors lacked solutions in the final third, a deficit Guardiola implicitly acknowledged when talked about the "need for more players" to come back from injury. Still, against one of Europe's in-form attacking teams, the German champions seemed to have done enough to get at least the point they had come for, only to make the sort of silly, unforced error from which it's hard to recover at this level. The philosophical reaction by everyone in red amounted to one big shrug. Sometimes you play well and still lose; that's football.
But maybe there was a fourth reason for Rummenigge's balanced appraisal. Bayern's executive chairman is ready to make one final, big push in the coming weeks to extend Guardiola's contract beyond next summer, so any direct or indirect current criticism of the Catalan is seen as counter-productive. Rummenigge wants to publicly show just how much the club appreciates Guardiola's work.
Interestingly, not everybody on the board is as determined as the former West Germany striker to make sure Guardiola stays but that reluctance has nothing to do with the manager's work, which is widely regarded as superb at Säbener Strasse.
Guardiola has weathered a potentially tricky transitional period, a first season without Bastian Schweinsteiger, in pretty remarkable fashion. The problem as far as powerful figures in the background are concerned, is his non-committed stance on renewing his contract. Bayern find it hard enough to accept "no" as an answer but no answer at all is seen as a bit of an insult. Rummenigge only has a small window of opportunity to reach an agreement before the discontent about being left hanging by Guardiola grows any further.
Rummenigge isn't naive, either. Rumours about Bayern having had preliminary talks with Carlo Ancelotti intensified in London. The Italian is seen as a safe option that will guarantee stability and, perhaps crucially, is easy to get along with for the board unlike the enigmatic incumbent. Expect some movement by the time Arsenal come to town on Nov. 4.
Raphael Honigstein is ESPN FC's German football expert and a regular guest on ESPN FC TV. He also writes for the Guardian. Twitter: @honigstein.