Manchester United's Anthony Martial signing a 'superb gamble' - Sagnol
Bordeaux manager Willy Sagnol says he is not surprised by Anthony Martial's development, having first tipped the Manchester United striker for stardom two years ago.
Sagnol, 38, is a former coach of the France under-21 team and saw enough in Martial to call on him when he was only 17.
Now 19, Martial has already scored three Premier League goals since his £36 million deadline day move to Old Trafford from Monaco.
While he was surprised by the sum United invested, Sagnol told France Football that Martial "has everything" and represented a "superb gamble".
"He made me think of Thierry Henry, in his style, his ability to beat players and to accelerate," Sagnol said of the first time he saw Martial play. "His talent jumped out at you.
"But at 18 or 19 years of age, there are corners to be turned and decisive choices to be made in terms of your club and game time.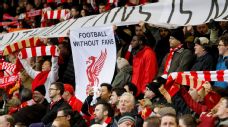 "Last year Anthony's agent called me to talk about his development. I told him that the best way for him to progress was to stay at Monaco to try and win his place in the team.
"I really thought that once he started playing regularly, everything would go very quickly for him."
When Martial made a €5m switch from Lyon to Monaco in 2013, Sagnol said the teenager was of a similar standard to Radamel Falcao and would go as "high as possible" in football.
Last season, the former Bayern Munich full-back admitted that he would love to sign the France international "now, in five years or in 10 years."
But he says that he decision to call him up to the under-21 squad so early was not necessarily popular.
"It's easy to say 'Oh guys, I warned you! Two years ago, Anthony was already a phenomenon'", Sagnol said.
"What's sure is that when I called him up to the under-21s and I started him, he was 17 and he was playing in the fourth division with [the reserve team of] Monaco.
"Some people had a go at me saying things like 'it's not normal. He's not even playing with the pros at Monaco. He's a slacker.'
"They also told me some bad things about him. But he was a kid that I liked a lot -- taciturn and reserved.
"But, when you do a little digging, [you find] he's extremely mature for his age."